Al-HASAKEH -- Syrian Democratic Forces (SDF) on Tuesday (January 25) tightened the noose around "Islamic State of Iraq and Syria" (ISIS) fighters inside a northeastern Syria prison as US forces deployed in the region.
An SDF assault on the prison where ISIS fighters are hunkering down has looked imminent since early Monday, but the Syrian Observatory for Human Rights said Kurdish forces were reluctant to move in due to the presence of hostages inside.
The SDF is counting on the besieged ISIS fighters running out of ammunition and supplies, Observatory head Rami Abdel Rahman said.
He said talks were taking place for some Kurdish forces and prison staff trapped inside to be freed in exchange for medical treatment for wounded ISIS fighters.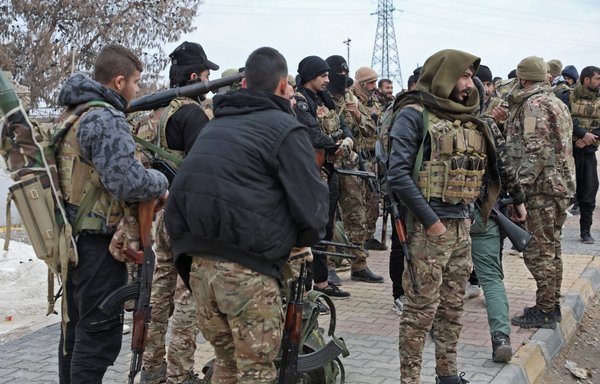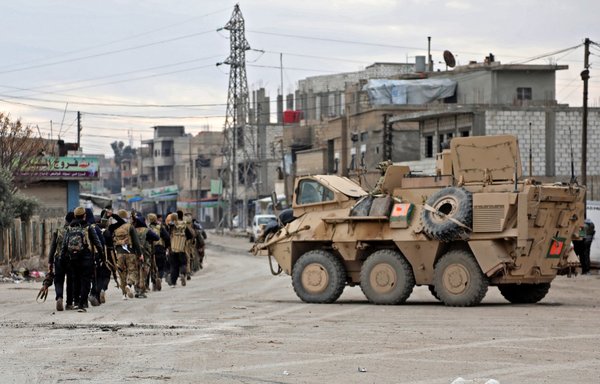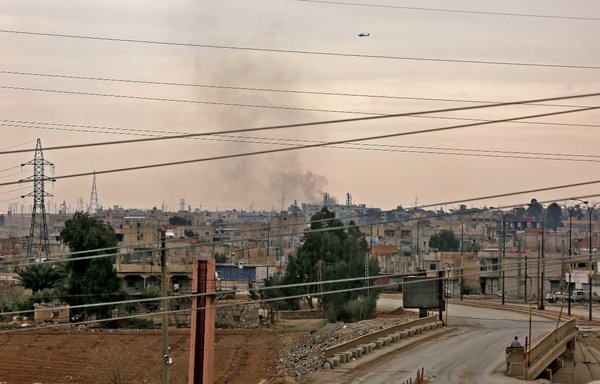 According to the Observatory, there are 27 hostages held inside the prison, with around 40 people whose whereabouts are unknown.
US forces based in the region deployed heavily in al-Hasakeh.
Pentagon spokesman John Kirby said Monday that US forces had been involved in the fighting.
"We have conducted a series of strikes through this days-long operation to include the precision targeting of ISIS fighters who are attacking the SDF from buildings in the area," Kirby said.
US forces also provided "limited" ground support to help establish secure areas, including positioning armoured vehicles on routes of access to the prison, he said.
Prison attack
The latest round of violence began January 20 when around 100 ISIS fighters attacked Ghwayran prison in al-Hasakeh city, in the largest attack since 2019, when the group suffered a stinging defeat at the hands of the SDF.
Ensuing clashes have left more than 160 people dead, including 45 in Kurdish ranks and seven civilians, according to the Observatory.
Some of the estimated 3,500 ISIS prisoners inside the facility -- including some minors -- were bused out to other detention centres in recent hours, but it was unclear how many remained holed up inside Ghwayran.
SDF forces, operating with international coalition air support, have deployed elite units and armoured vehicles in and around the prison, where the presence of hundreds of children inside the prison is complicating an assault.
The Observatory said Kurdish forces "started to infiltrate the part of the prison that remains under the control of ISIS fighters" after freeing several Kurdish fighters and prison staff held captive by the group.
ISIS fighters were holed up in one building on the northern side of the prison, according to the Observatory.
The SDF said that 250 ISIS detainees had surrendered on Tuesday, bringing the total number of surrendered ISIS fighters to 550.
'Human shields'
Kurdish authorities running the region imposed a state of emergency across al-Hasakeh, after at least seven civilians were killed in the crossfire.
According to rights groups and the United Nations (UN), more than 700 minors are thought to be held in Ghwayran, a former school converted into a detention facility.
The SDF charged in a statement that ISIS "continues to hold children hostage and is using them as human shields to protect themselves" from a counter-offensive.
UNICEF spokeswoman Eva Hinds said the plight of the trapped minors, around 10% of whom are believed to be 15 or younger, was a source of "grave concern".
"These children are effectively trapped in Ghwayran prison," said Sara Kayyali, Syria researcher at Human Rights Watch (HRW).
HRW heard voice messages from an injured minor at Ghwayran who reported "there are dead bodies everywhere," Kayyali said.
"It's not clear if they have any kind of medical assistance," she added, explaining that most of the minors were aged between 12 and 18.
Save the Children said it also had received audio testimony indicating that "there have already been multiple child deaths and casualties."
It said the minors in Ghwayran hail from dozens of countries, as well as Syria and Iraq.