The end of the war on the "Islamic State of Iraq and Syria" (ISIS) does not mean "the end of that terrorist group", Iraqi experts said Monday (March 25th).
The group's loss of the Syrian town of al-Baghouz, the last sliver of territory that was still under its control, is a violent shock to ISIS elements, they said, however, the "terror threat will remain".
The Syrian Democratic Forces (SDF) pronounced the death of ISIS's so-called 'caliphate' Saturday, after a nearly five-year battle against the extremists ended in victory in eastern Syria.
But the Arab-Kurd alliance and its backers from the international coalition have warned the fight is far from over.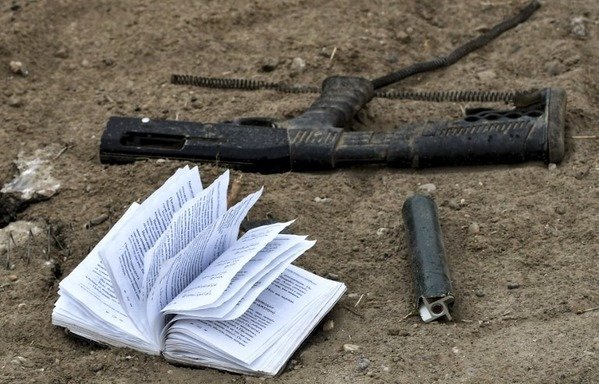 'Covert guerrilla warfare'
ISIS maintains a presence in Syria's vast desert as well as sleeper cells in other areas of the country, and have continued to claim deadly attacks in SDF-controlled areas.
"In the immediate future, we will see ISIS focus entirely on insurgency and hit-and-run attacks rather than efforts to reclaim territory" in Syria, extremist groups expert Tore Hamming told AFP.
"The military resolution in al-Baghouz is a violent shock to the terrorists and marks the end of their group, which has now lost all the territory it seized [in 2014]," strategic expert Ahmed al-Sharifi told Diyaruna.
"The liberation battle in its general aspect is over, as ISIS no longer has an inch on the ground under its control, in Syria or in Iraq," he said.
"At the same time, however, we cannot say that the group is finished because its threat still lingers through its remnants and sleeper cells," he added.
"Defeating these remaining elements is not an easy, short-term task," he said, stressing that after its defeat, ISIS will now turn its focus on regrouping and conducting "covert guerrilla warfare" operations.
Officials also warned of the continuing danger posed by the thousands of detained ISIS foreign fighters in SDF prisons.
"There are thousands of fighters, children and women and from 54 countries, not including Iraqis and Syrians, who are a serious burden and danger for us and for the international community," Abdel Karim Omar, the top foreign affairs official for the country's semi-autonomous Kurdish region, told AFP.
"Numbers increased massively during the last 20 days of the al-Baghouz operation," he said.
On Sunday, dozens of ISIS fighters -- mostly men -- emerged from tunnels to surrender to the SDF, spokesman Jiaker Amed said.
"Some others could still be hiding inside," he said.
New phase of security, intelligence work
"Fighting the group now shifts from military confrontation to a new phase of sheer security and intelligence work that relies on surveillance, reconnaissance and monitoring using advanced technology," al-Sharifi said.
"Iraqi forces are making progress in this regard," he said, stressing the role of the international coalition in providing "highly impactful assistance" that has weakened remnant terrorists.
"Dispensing with this role is a strategic mistake that should be avoided by Iraqi decision-makers under any circumstance because we still need the coalition's support," he said.
"By support we do not only mean training and arming, but also information co-ordination and joint operations targeting ISIS remnants," al-Sharifi said.
"By virtue of its unconventional military capabilities, the coalition provides our forces with information about enemy hideouts and assists us in targeting them."
"We are dealing with terrorists who are scattered in small groups across a vast geographical area with complex natural terrain, and eliminating them hinges on the availability of advanced technology for aerial and radar surveillance and tactical operations," he said.
"We do not have this capability at the present time, and we rely primarily on the assistance of the international coalition in supporting our efforts to destroy the terrorists' cells and hideouts," he added.
Coalition support crucial
"ISIS as an entity and a group no longer exists, as most of its leaders and elements have been killed and they just lost their last redoubt in al-Baghouz," Anbar provincial council security committee chairman Naeem al-Koud told Diyaruna.
"ISIS has totally collapsed in Syria, and in Iraq before that, but we are dealing with a dangerous enemy who could regroup if his remnants are not hunted down and killed and their hideouts are not destroyed," he said.
Al-Koud pointed to a decline in the activity of these remnants as a result of the intensive security operations against them.
ISIS remnants "have become less effective and their attacks are feeble and very limited", he said.
However, "we must continue the open fight with all our strength and with the support of the international collation until they are eradicated", he added.
The coalition's contribution is "the cornerstone of the efforts" to eradicate ISIS, al-Koud stressed.
"Its support for us in the areas of training, information exchange and continuous bombardment of the enemy's terrorist cells has made our cities safer and more stable," he said.