The Kurdish administration locked down the northeastern city of al-Hasakeh on Monday (January 24) to trap "Islamic State of Iraq and Syria" (ISIS) fighters who attacked a prison, leaving more than 150 dead in ensuing battles.
The move came as fighting continued for a fifth day, following the Thursday attack on Ghwayran prison, with the Syrian Democratic Forces (SDF) charging that ISIS was using hundreds of minors as "human shields" inside the facility.
The United Nations children's agency (UNICEF) called for the protection of some 850 minors detained inside the jail, some as young as 12, warning they could be "harmed or forcibly recruited" by ISIS.
The SDF said its advances inside the prison were stymied by the use of hundreds of minors as "human shields" by ISIS elements holed up in a dormitory.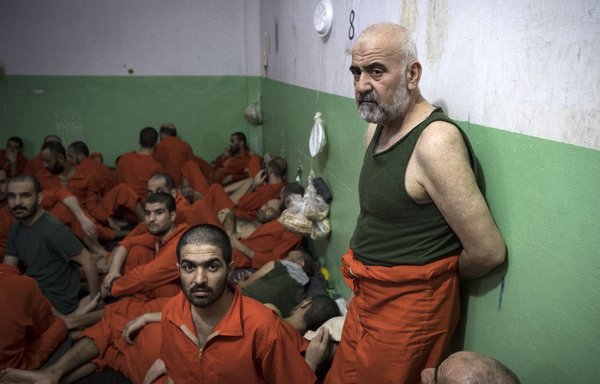 More than 100 ISIS fighters stormed Ghwayran prison late Thursday using suicide truck bombs and heavy weapons, setting off days of clashes both inside the facility and in surrounding neighbourhoods.
The fighting died down Sunday evening as the SDF consolidated control over areas around the jail and declared the entire city locked down for a week.
"To prevent terrorist cells from escaping... the Kurdish administration in northeast Syria announces a complete lockdown on areas inside and outside al-Hasakeh city for a period of seven days," the administration said.
In other parts of northeast Syria under Kurdish administration, a night-time curfew, from 6p. to 6am, was set to go into force Monday.
Businesses in al-Hasakeh were ordered to close, with the exception of essential services, such as medical centres, bakeries and fuel distribution centres.
Civilians in the city hunkered down Monday in their homes as Kurdish fighters backed by the international coalition combed the area for hideout extremists.
The SDF erected several checkpoints at the entrances to al-Hasakeh, with even tighter security measures imposed in neighbourhoods adjacent to the jail.
The Syrian Observatory for Human Rights on Monday said the SDF had moved armoured vehicles inside the main prison yard, ahead of a possible attempt to storm the facility.
ISIS fighters were holed up in one building on the northern side of the prison after "dozens of jihadists surrendered to Kurdish forces" in recent hours, it said.
The Observatory raised the death toll from the clashes to 154 killed since Thursday, including 102 ISIS elements, 45 Kurdish fighters and seven civilians.
"Up to 45,000 people have been displaced from their homes" in al-Hasakeh city since the prison attack, said the UN Office for the Co-ordination of Humanitarian Affairs (OCHA).
Weakened, but still a threat
The international coalition said it conducted real-time surveillance and conducted a series of strikes throughout the days-long operation, to include precision targeting of ISIS fighters who were attacking the SDF from buildings in the area.
"The coalition retains the right to defend itself and partner forces against any threat, and will continue to do everything within its power to protect those forces," it said Sunday.
It said the Ghwayran assault would leave the group weaker because it incurred heavy casualties.
"While ISIS remains a threat, it is clearly no longer the force it once was," the coalition added.
"In their desperate attempt to display relevance, ISIS delivered a death sentence for many of their own who participated in this attack," said Maj. Gen. John Brennan, commander of the Combined Joint Task Force – Operation Inherent Resolve.
Surviving ISIS fighters "will likely disappear again in the desert" after the attack, said historian and Syria expert Pieter Van Ostaeyen.
"I do not see any immediate threat of them conquering swathes of territory again," he said.
But ISIS expert Aymenn Jawad al-Tamimi warned that if enough extremist elements breach the SDF's security cordon, ISIS "capabilities could be bolstered to carry out more sophisticated, large-scale operations".
This would in no way compare to the group's capabilities in 2014, however, when it managed to overrun swathes of land across Syria and Iraq, he said.
"There is still a long way off before getting anywhere near to that and seizing large amounts of territory," al-Tamimi said.
A UN report last year estimated that around 10,000 ISIS fighters remained active across Iraq and Syria, many of them in Kurdish-controlled areas.
Kurdish authorities say some 12,000 ISIS suspects of more than 50 nationalities are being held in several of their jails in Syria's northeast.
Prisoners' wives and children are languishing in overcrowded displacement camps that are increasingly becoming a hotbed for extremism and radicalisation.
Numerous attacks thwarted
In a statement following the Thursday attack, US State Department spokesman Ned Price commended the SDF "for their swift response and continued commitment to the fight against ISIS in northeast Syria".
"We extend our sincere condolences to the families of the guards injured and killed in the initial bomb attack and subsequent fighting."
ISIS had sought to attack the prison for more than a year, he said, noting that it is a credit to SDF and international coalition forces "that they were able to thwart numerous attacks during that period and limit the severity of this one".
The attack highlights the importance of, and the need to fully fund, international coalition initiatives to improve the secure and humane detention of ISIS fighters, including by strengthening detention facility security, he said.
"It also underscores the urgent need for countries of origin to repatriate, rehabilitate, reintegrate and prosecute, where appropriate, their nationals detained in northeast Syria," he said.
"While the coalition has severely degraded ISIS's ability to conduct attacks, the group continues its attempts to destabilise the region," he said.
"The losses sustained by our partners in these attacks are a stark reminder of the very real challenges the region continues to face."