The BBC World Service has once again called on the Iranian regime to end its harassment and intimidation of BBC News Persian Service journalists and their families, as other media outlets report similar threats against their staff.
"For over a decade, the Islamic Republic has carried out a campaign of harassment and intimidation towards BBC News Persian journalists and their families in Iran," the BBC said last month.
"This has included death threats towards BBC journalists and their families in London, an asset freeze, as well as online harassment and gendered attacks on female journalists."
Iran's Ministry of Intelligence and the Islamic Revolutionary Guard Corps' (IRGC) Intelligence Organisation have a long history of interrogating and pressuring the family members of journalists.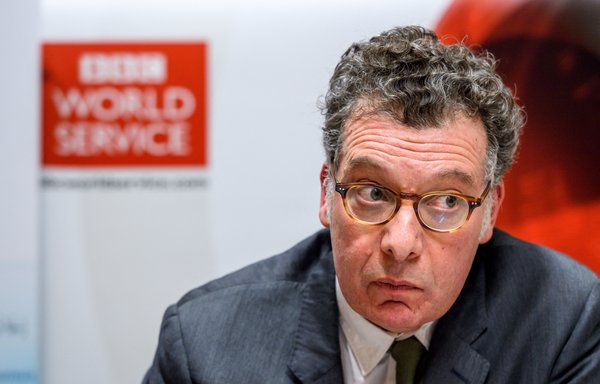 Inside Iran, they have pressured the relatives of journalists working overseas to force them to stop reporting for expatriate Persian language media outlets, many of which have been critical of the Iranian regime.
The BBC submitted a complaint to the United Nations (UN) in 2017 for the first time, after Iranian authorities launched investigations into the personal lives of 152 current and former BBC Persian employees and contributors and their families.
The Iranian authorities had accused them of "acting against national security", according to the BBC.
In March 2020, four UN experts called out Tehran for allegedly intimidating BBC and other broadcast journalists and their families with death threats.
Voicing their "alarm" in a joint statement, the special rapporteurs -- independent experts who do not speak for the UN but report their findings to it -- urged the Iranian authorities to stop threatening reporters.
"Journalists working for the BBC Persian Service and other Farsi-language news outlets outside Iran have faced threats, criminal investigations, unlawful surveillance, freezing of assets, defamation and harassment by Iranian authorities," they said.
"Several journalists have also been targeted for going public about the harassment and seeking protection from the UN."
The BBC said there had been a "recent escalation in harassment" of BBC Persian staff and their families, coinciding with a crackdown on dissent within Iran.
It claimed "express threats" had been made "by state officials" towards the safety of BBC Persian journalists outside Iran, AFP reported.
Threatening messages
Based on a 2017 ruling by a Tehran court, BBC Persian employees' assets were frozen, and they were banned from selling their property in Iran.
The ruling still stands, according to media activist and Iran expert Hamid Farzad.
The ban on sales of assets also impacts family members of the media employees, as it prevents them from selling property, including cars, even in circumstances where family estates are sold for inheritance money, he said.
One of the most notorious cases of media harassment was the campaign against Saeedeh Hashemi, a journalist working for BBC Persian, according to Iranwire.
Iranian security forces raided her father's home in Tehran in the middle of the night and detained her younger sister, who spent 17 days in solitary confinement in Evin prison in 2012.
During this time, via video calls, Hashemi was asked to spy for Iranian intelligence services.
"It was clear from the very beginning of the conversation that in exchange for my sister's release, they expected me to provide them with details of the work at BBC Persian, my colleagues' personal information, my own work circumstances and my salary. This would have been espionage," Hashemi said at the time.
She said she had refused to respond to their questions.
In 2020, BBC Persian journalist Rana Rahimpour said she had received a message threatening that she, her husband and their children would be assassinated within a month.
There also were threats towards her elderly parents based in Iran.
In August, BBC Persian broadcast images obtained by cyberhacking group Edalat-e Ali (Ali's Justice) through hacking into the cameras of Evin prison.
The group also sent documents linked to Evin prison, which were classified as "confidential", to BBC Persian in November.
These revelations may have played a role in increasing the Iranian government's hostility towards BBC Persian, according to observers.
Widespread harassment
A number of media outlets have similarly reported cases of harassment and intimidation.
"The family of Radio Free Europe/Radio Liberty's Persian Service (Radio Farda) also have been repeatedly harassed by the regime in Iran," Farzad said.
"By constantly contacting these individuals' relatives in Iran, which in some cases included summoning and interrogating them, the Ministry of Intelligence and the IRGC have demanded better-known media personalities resign from their positions," he said.
In December 2019, agents of the Ministry of Intelligence reportedly harassed family members of a number of Iran International TV employees as well.
Iran International is a Saudi-funded satellite television channel that has offices in Washington, DC, and in London.
In several cases, Iran International reported, regime agents kidnapped the family members of journalists on the street in Iran or at their workplace, and transferred them to intelligence facilities.
IRGC intelligence agents attempted to coerce them into calling their relatives at Iran International TV to tell them they "must immediately stop working for the television", it said.
"The Iranian government fears the free press and seeks to stifle the voice of independent media," Iran International said in a statement.
"The Iranian regime wants to crack down on popular protests in the country, while no media outlet transmits the Iranian people's voice to the world."