BEIRUT -- Profound sadness permeates the parental home of Malak Bazaza Ayoub, a young mother who lost her life in the devastating Beirut port blast.
Although the laughter of her two children, Muhammad, 4, and Lynn, 2, echoes through the house, the tears of her mother, Rima Bazaza, who has been raising them since her 29-year-old daughter died, have yet to cease.
On Wednesday (August 4), the first anniversary of the explosion, the wounds of the victims' families have yet to heal, and protesters are still demanding answers to their questions and justice for those who are responsible.
They want to know who stored the ammonium nitrate that ignited into a massive explosion that left 206 dead and more than 6,000 others injured, and destroyed swathes of the Lebanese capital.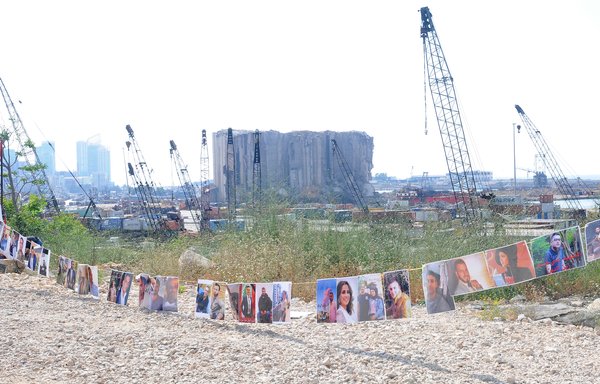 Relatives of some of the victims are planning marches on Wednesday to honour their loved ones, AFP reported, and to demand that the parliamentary immunity of some of the chief suspects be lifted.
Lead judge Tarek al-Bitar is demanding that parliament lift the immunity of three former ministers so he can proceed with investigations, but lawmakers have requested more evidence before deciding on whether to waive immunity.
Al-Bitar last week rejected parliament's request, a judicial source said.
In February, al-Bitar's predecessor as lead judge in the probe was removed.
Judge Fadi Sawan had issued charges against caretaker prime minister Hassan Diab and three former ministers in December for "negligence and causing death to hundreds", triggering outrage from politicians.
Amnesty International on Monday accused the Lebanese authorities of "shamelessly" obstructing the investigation and thereby blocking compensation and insurance payments to the victims.
"Given the scale of this tragedy, it is astounding to see how far the Lebanese authorities are prepared to go to shield themselves from scrutiny," Amnesty's deputy regional director Lynn Maalouf said.
Losing a daughter
The explosion went off while Malak Bazaza Ayoub and her family were dining at Loris Restaurant in Gemmayze. Malak succumbed to her injuries, dying two days after her husband, Ali Abdo Ayoub.
At her home in Beirut's Aisha Bakkar area, Ayoub's mother opens her phone and tearfully peruses her photographs, reminiscing about her daughter's wedding.
"The joy has left us because Malak was naturally joyful and cheerful," she said.
"I could not imagine that I would return from the restaurant without her and her husband, and we would find her dead body two days later in al-Arz Hospital."
"Her husband, Ali, died on the spot, and my other daughter Hanan suffered a serious leg injury for which she continues to receive treatment to this day," she said.
"My pain grows with every sunrise because I miss her," she said. "She was full of life and loved life, as well as her husband. They were a wonderful couple and worthy of a long life."
She demanded "the truth about who stored, blew up and killed".
"I want those who were summoned for investigation to appear before the court, not stall and lie to us," she said. "We want justice for our victims and to see the perpetrators stand trial."
Justice will prevail
William Noun, whose brother Joe died in the blast, said the expression that "time alleviates the pain of parting" is "the biggest lie, especially in Lebanon".
Joe Noun, 27, was one of the 10 heroes of the Beirut Fire Brigade, who rushed to put out the blaze that broke out in the port moments before the explosion.
Joe's remains were buried twice, 50 days apart, his brother said, describing the blast and its aftermath as an emotional time for his family.
He had harsh words for those who were responsible and those in power.
"Every day they commit heinous crimes, evade responsibility and invent false scenarios," he said, with some claiming the investigation is politicised in order to evade appearing before the judiciary.
The victims' families have both the will and the determination to get to the truth, however, and al-Bitar, who is in charge of the investigation, is "stubborn and knows what he is doing", Noun said.
He said he was confident that a comprehensive indictment will be issued.
"It's clear who bears responsibility," he said, adding that "the Syrian regime is responsible for bringing in the ammonium nitrate, facilitated by Hizbullah".
The blame also extends to the security services, port managers, ministers, heads of government, and everyone who knew about the ammonium nitrate stored at the port and stayed silent about it, he added.
Noun himself is on a respirator, after contracting COVID-19. He thinks he caught the disease while taking part in a demonstration in front of the house of Minister of Interior Muhammad Fahmi.
But he will continue to fight for his brother: "I lost my soul mate and everything, and my goal in life is to find out what happened to Joe."
'Our pain grows'
Ibrahim Hoteit, who has served as a spokesman for the families of the Beirut port blast victims, spoke with great emotion about his brother Tharwat, a member of the civil defence, describing him with deep affection.
"My brother was distinguished by his loving, humble, generous, initiative-driven, daring and courageous personality," he said. "Everyone who knew him loved and adored him. His nickname at the Port of Beirut was the 'hero'."
Tharwat, 45, died as he battled to extinguish the port fire.
"Our pain grows by the day and on every occasion and feast, especially the birthdays," Hoteit said. "So our conversations turn into a mourning session. We remember and cry together, because we share the same pain and agony."
"We live in our own Lebanon, in which there is no lying, and we share the smallest details of our daily lives," he said. "Sectarianism and politics between us have melted away, as the calamity has brought us together over the same pain."
On August 4, he said, this pain will be "more excruciating".
"Our goal is justice and the rights of the victims, and to determine who is responsible for killing them," he said, noting that he and the families are following the case closely and "will pursue it to the end".
Activist Maroun Karam, of the Minteshreen movement, said August 4 will be "a pivotal point for confirming the continuation of the protest movement".
The movement will continue to demand for justice for the victims of the port explosion, "for which the political and security apparatus bears responsibility", he said.
"We insist that immunity be lifted and that Judge al-Bitar continues his courageous work to reveal the whole truth in the service of justice."