ADEN -- The United Nations (UN) and the Yemeni government are mobilising support for a donor conference slated for September in New York to ensure the continuation of relief programmes in the war-ravaged country, but officials say more effort needs to be made to ensure the aid actually reaches the intended recipients and not end up in Houthi coffers.
The UN Office for the Co-ordination of Humanitarian Affairs (OCHA) in Yemen on August 19 announced that the UN had received "only less than 50% of the funding required for the Humanitarian Response Plan (HRP) for Yemen, estimated at $3.8 billion".
The plan aims to rescue about 16 million people in 2021.
"There is a need for donors to respond to the UN appeals for food and aid to the Yemeni people who do not have access to food, water, healthcare and shelter," OCHA Yemen spokesman Zaid al-Alaya told Al-Mashareq.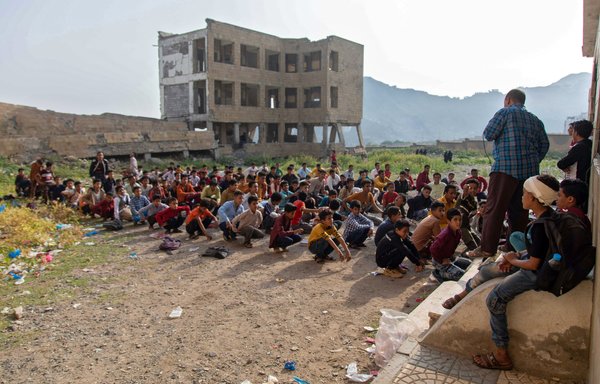 A ministerial-level donor conference will be held on the sidelines of the UN General Assembly scheduled from September 14 to 20, he said.
US envoy to Yemen Tim Lenderking on August 18 called on donor countries to "step up" their contributions, Arab News reported.
"The UN is in constant need of financial support to carry out any programmes that it does that really make a difference inside Yemen, including feeding people who would otherwise starve, working on sanitation, improving distribution networks, rehabilitating ports," he said during an interview with Yemeni American News.
"A lot of this is being done with international funding, so that funding has got to increase," he said.
"The war has caused economic collapse, which puts the Yemeni people at risk of starvation," Martin Griffiths, UN under-secretary-general for humanitarian affairs, told the UN Security Council on August 24.
"There are more than 20 million Yemenis in need of humanitarian aid and some form of protection," Griffiths said. "This number represents nearly two-thirds of the Yemeni people."
Roughly five million people "are one step away from succumbing to famine and the diseases that go with it", he said.
An additional 10 million people "are right behind them", Griffiths added.
Houthi interference
"The Yemeni government supports UN efforts to mobilise resources," Yemeni Deputy Minister of Human Rights Nabil Abdul Hafeez said.
He said a number of government ministers and officials have met with ambassadors of various countries that support Yemen to urge them to provide financial support for relief programmes.
The Houthis collect part of the aid that is sent to Yemen, he said, an issue that needs to be addressed by the UN.
The UN should assess its aid operations to make sure the aid actually reaches its intended recipients, he said.
The Iran-backed group has exploited the placement of the main offices of international relief organisations in Sanaa to interfere in the aid distribution process throughout Yemen.
It has been diverting much-needed food aid to its own fighters, or selling it to fund its war effort, analysts say.
"What is being given to Yemen is not reaching the people of Yemen... due to the Houthis' interference," political analyst Mahmoud al-Taher said.
The public is struggling under economic pressure caused by the war, political analyst Faisal Ahmed said.
The war "is choking" ordinary Yemenis, as it constantly drives the prices of basic foodstuffs higher while many Yemenis do not even receive their salaries regularly, he said.
The majority of Yemenis have little to no income, he said, adding that the depreciation of the value of Yemen's currency against the US dollar has further exacerbated their suffering.
On August 9, the US Agency for International Development (USAID) announced $165 million in additional humanitarian assistance for Yemen.
In March 2020, USAID partially suspended its funding to parts of Yemen under Houthi control over concerns about tampering and obstruction by the militia, before resuming it again in March this year.