A virtual donor conference for Yemen -- hosted by Saudi Arabia, in co-operation with the UN -- on Tuesday (June 2nd) raised approximately $1.35 billion in pledges for the troubled country.
The amount raised is roughly half of the required $2.41 billion that was sought to cover essential aid from June until December.
The largest pledges made at the Yemen Donors Conference in Riyadh came from Saudi Arabia, Germany, Britain, the US and the Islamic Development Bank.
Saudi Arabia pledged an aid package worth $500 million, Britain stepped in with a new aid package worth $200 million, the US said it would offer $225 million, while Germany announced $139.8 million in assistance, AFP reported.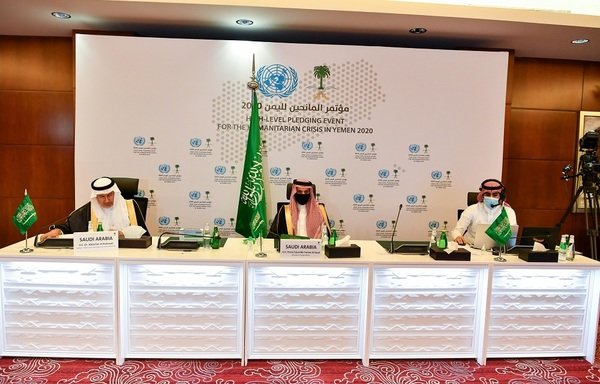 The Islamic Development Bank pledged $100 million in development assistance to Yemen over the next four years.
Conference participants represented 66 countries, 15 UN agencies, 42 international governmental and non-governmental organisations and the Red Cross, Red Crescent and Islamic Development Bank.
The aim of the conference was to put global focus on the humanitarian crisis Yemenis are facing and to raise funds to meet their basic needs.
'Staggering humanitarian crisis'
UN Secretary-General Antonio Guterres, who delivered the opening speech, said Yemen is experiencing a staggering humanitarian crisis that has been exacerbated by the novel coronavirus (COVID-19) pandemic.
Famine and malnutrition threaten at least four million Yemenis, he said, noting that half the country's population does not have access to clean water.
Saudi Foreign Minister Prince Faisal bin Farhan bin Abdullah denounced the Iran-backed Houthis (Ansarallah) for their actions, which he said include imposing tributes on civilians and looting humanitarian aid.
Yet he stressed the need for a peaceful solution to end the Yemen crisis, and called on the international parties to fulfill the pledges they announced last year.
King Salman Humanitarian Aid and Relief Centre (KSRelief) supervisor general Abdullah bin Abdulaziz Al-Rabiah said the kingdom's $500 million donation will support various sectors, particularly public health efforts.
Yemeni Prime Minister Moeen Abdulmalik highlighted the risks the Yemeni people are exposed to as a result of the ongoing war, coronavirus pandemic and other diseases that have spread due to a lack of health services.
He claimed the Houthis had stolen 35 billion Yemeni riyals ($140 million) that had been allocated to the payment of government employee salaries, saying this further exacerbated the current crisis.
Further, he said, the Houthis have failed to respond to calls for co-operation to protect civilians from coronavirus.
'Commitment to transparency'
At a UN-led press conference after the event, Al-Mashareq asked the KSRelief supervisor general if guarantees could be put in place to ensure the aid does not reach extremist groups or the Houthis.
"There are absolutely no guarantees that something like this will not happen," Al-Rabiah said. "However, in co-operation with the UN and donor countries, we will implement monitoring systems inside and outside Yemen."
Should further breaches occur, he added, "we will publish information related to these violations to bring them to the international community's attention and expose the parties that are committing them".
"We will also select the entities and agencies that will be in charge of the donation process carefully by selecting local agencies that have the most credibility," he said.
"We will do what is in our power to reduce these violations."
UN under-secretary general for humanitarian affairs Mark Lowcock told Al-Mashareq the UN is committed to transparency by publicising the pledged amounts and amounts that have actually been paid.
While some countries have not fully fulfilled their obligations, he said, "I can say that 90% of the pledges have already been fulfilled, and some amounts have been late in arriving, but they will ultimately arrive".
"This money is an investment in humanitarian work and has nothing to do with private or political interests, whether the matter relates to Yemen or any other country," he said, noting the UN's commitment to maintaining long-term aid.
Pledges fall short of goal
Norwegian Refugee Council head Jan Egeland welcomed the pledges, but said the amount raised "still falls far short of what is needed to alleviate the suffering", AFP reported.
"Millions of Yemeni people are staring down the double barrel of starvation and a global pandemic," he said.
As the coronavirus spreads, some 5.5 million people risk losing access to food and clean water in Yemen this year, according to a survey by 24 international aid groups, including Save the Children.
Guterres said in the government's temporary capital, Aden, reports indicated the mortality rates from COVID-19 were "among the highest in the world".
Lowcock noted that $180 million of the required funding was needed to combat the fast-spreading virus.
Jens Laerke, from the UN Office for the Co-ordination of Humanitarian Affairs (OCHA), has warned that aid agencies are heading towards a "fiscal cliff" due to a lack of funding that threatens key UN programmes.