Oil exports from the Middle East, which account for around 30% of the global supply of crude, have been consistently disrupted by the aggressive actions of Iran's Islamic Revolutionary Guard Corps (IRGC) and its proxies.
Attacks on oil tankers and production facilities in the region in recent years come as the Iranian regime continues to pursue its expansionist agenda, which includes military interference via proxies in Yemen, Iraq and Syria.
This policy of regional interference has included proxy attacks targeting Saudi Arabia's oil hubs and tankers traversing regional waterways.
Over the last two years, Iran and its proxies have been accused of carrying out drone strikes in Iraq, Yemen and Saudi Arabia and of attacking commercial vessels on international shipping routes.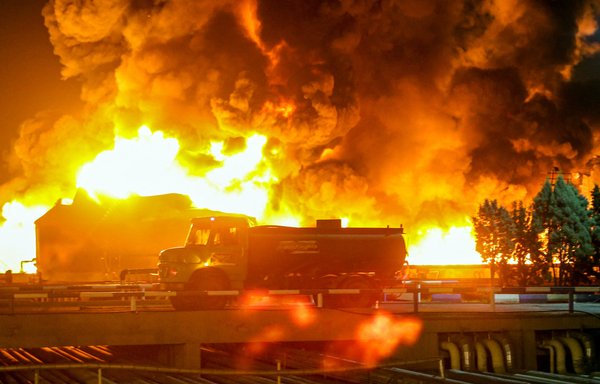 Some attacks have been claimed by the Iran-backed Houthis in Yemen.
Iran observers pointed to a July 3 attack on a cargo ship en route to the United Arab Emirates from the Saudi port of Jeddah as a probable recent example of Iranian aggression.
The staunch support shown for the IRGC on regime-affiliated media outlets immediately following the incident on July 3 and 4 appeared to indicate Iran's involvement, they noted.
Incidents linked to Iran
The attack is one of a string of similar incidents linked to Iran and its proxies.
On March 7, the Iran-backed Houthis claimed a missile and drone strike targeting Ras Tanura on Saudi Arabia's Gulf coast, which is one of the world's biggest oil ports.
The kingdom's eastern region is the heart of Saudi Arabia's oil industry and is home to most of Aramco's production and export facilities.
At the time, the Saudi Defence Ministry said the attacks targeted "the backbone of the world economy, oil supplies and global energy security".
The Houthis also claimed previous missile strikes on a Saudi Aramco plant in Jeddah, on March 4 and on November 24.
In September 2019, attacks on Saudi Arabia's Abqaiq processing plant and Khurais oil field temporarily halved the kingdom's crude output and caused turmoil in global energy markets.
The United States and Saudi Arabia held Iran responsible for those incidents.
Islamic Republic officials have pursued a "vendetta policy" against certain countries under the guise of defending national interests, Iran-based intelligence analyst Sasan Tamgha said.
But their definition of national interest and the actions that stemmed from their aggression have further isolated the Islamic Republic, he said.
Struggling oil market
Sanctions imposed on Iran as a consequence of its destabilising activities have been largely successful in reducing the Iranian regime's funding for terrorist groups in the region, analysts say.
They have cost Iran its oil market, which will likely take years to recover.
A return to the 2015 nuclear agreement, known as the Joint Comprehensive Plan of Action, could see an easing of sanctions, but efforts to revive the deal appear to have stalled as a result of Iran's "brinkmanship".
Iran's maximum oil production rate is estimated at only two million barrels a day, which it struggles to export because of the sanctions it is facing.
Yet the Iranian regime persists in spending on its interventionist activities and proxy militias rather than investing in its oil infrastructure, even amid repeated incidents of fire or explosions in oil and gas refineries.
Most of these have been attributed to infrastructure failures.
Iran is in need of considerable oil industry investment, as the country's dilapidated refineries and oil production equipment severely undercut production.
Misplaced priorities
Iranian Oil Minister Bihan Zanganeh on June 8 called for additional investment of approximately $50 billion in South Pars and other key Iranian gas fields in order to maintain production and export capacity.
This figure is almost as much as Iran has spent on its regional proxies over the past decade, while the regime has failed to meet any of Iran's domestic needs.
"Iran's oil fields need constant pumping," Iran-based economist Houshang Ahmadi said. "A number of our oil rigs are old beyond repair. Sanctions have made it extremely difficult to import new equipment."
Over the past decade, "investment in all of Iran's economic sectors has been in accelerated decline", said Tehran-based economist Moloud Zahedi.
Meanwhile, he added, "depreciation in all production areas, to include oil and gas, has been far greater than the investment in them".
As Iran grapples with setbacks that impair its ability to produce and export oil -- many of which are of its own making -- changes in US oil and gas production policy have paid off in recent years.
The United States has become the largest global producer of oil and gas, achieving a record production rate of some 12.5 million barrels a day.