ADEN -- Yemen's devastating war has seen an increase in the unscrupulous looting and smuggling of the country's cultural heritage, with calls rising to restore and safeguard historic sites and manuscripts, some of which date back to the days of early Islam.
Elements of the Iran-backed Houthis have systematically destroyed Yemeni antiquities with looting, smuggling and bombings, and turned archaeological sites into weapon depots and military barracks, Muammar al-Eryani, Yemen's minister of Information, Culture and Tourism, said in May.
They have smuggled thousands of pieces of antiquities and manuscripts out of Yemen after stealing them from museums and archaeological sites, he said.
Al-Eryani condemned the Houthis' tampering with historic manuscripts, and accused them of marginalising technical and administrative staff at both the Dar al-Makhtoutat (Manuscript Centre) and the Great Mosque in Sanaa by not allowing them to do their job of safeguarding these manuscripts.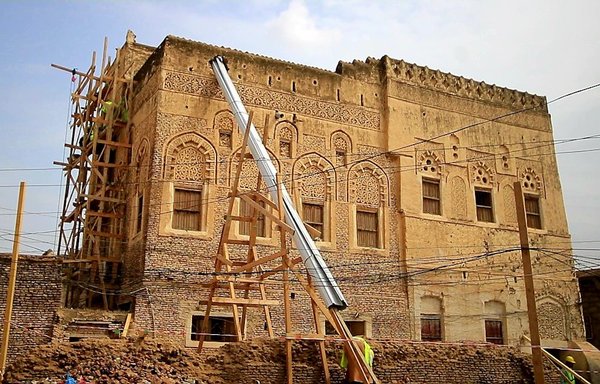 His comments were made at the May 26-27 "Restoring Livelihoods Through Culture in Yemen" virtual conference, organised by UNESCO and funded by the European Union (EU).
The event, held by Yemen's Social Fund for Development (SFD) and the Small and Micro Enterprise Development Agency (SMEPS), discussed ways to protect Yemen's heritage and bolster the nation's cultural industry.
The conference highlighted the progress made on the EU-funded "Cash for Work: Promoting Livelihood Opportunities for Urban Youth in Yemen", which began in 2018.
The initiative, implemented by the UNESCO Office for the Arab Gulf States and Yemen, has rehabilitated more than 150 historic sites in three endangered World Heritage sites in Yemen -- Sanaa's Old City, Shibam and Zabid -- as well as in the historic city of Aden.
To date, the initiative has employed more than 2,360 men and women to rehabilitate those sites. It also has surveyed 8,000 private and public historic buildings to inform evidence-based urban rehabilitation plans.
The initiative includes cultural programming, which has supported more than 500 young artists and eight cultural associations, as well as awareness-raising campaigns and media content that have reached about 7 million Yemenis to promote constructive dialogue about their unique culture.
Project employs youth
Abdul Wahab al-Ashwal, a community officer with the project, said the initiative helps preserve Yemen's cultural heritage while training and employing a number of young people, many of whom have been deprived of their livelihoods by the war -- now in its seventh year.
The SFD has adjusted its operations to comply with donor requirements, such as addressing the economic needs of the youth, some of whom are Internally Displaced Individuals (IDPs), he said.
"Many archaeological sites have been neglected or destroyed, and their restoration is practically forgotten in light of the ongoing war," said Abdulelah Taqi, an economic analyst with the Cash for Work project.
Taqi highlighted the project's rehabilitation of al-Handal market in the city of Seiyun in Hadramaut province, which has become a destination for Seiyun visitors.
Sanaa, Shibam, Hadramaut, Zabid and Aden were elected for rehabilitation work in order to protect them from torrential rains, and 60% of the work has already been done, he said.
SMEPS took part in the project with the goal of supporting local cultural organisations with training on how to preserve heritage sites and manuscripts, Taqi said.
By employing youth, the project also encourages their artistic and vocational skills to strengthen the country's social fabric and provide opportunities for all, he added.
Economist Abdel Aziz Thabet said the €10 million ($12 million) initiative has been a positive development.
He expressed hope that other donors would contribute to similar projects and help repair historic sites destroyed by the Houthis and al-Qaeda militants.
Yemeni antiquities plundered and smuggled abroad by the Houthis are now being offered at most auctions held around the world, Thabet said, adding that the militia wants to "obliterate the identity of Yemeni society".
Some reports indicate that "Houthi leaders managed to smuggle 4,800 antiquities and manuscripts out of Yemen to enrich their leaders and secure funding for the absurd war that serves Iran's regional agenda", he said.