BEIRUT -- Hizbullah chief Hassan Nasrallah's demand that Lebanon purchase fuel from Iran would put Lebanon on a "suicidal course" in terms of its economy and its reputation, Lebanese economists told Al-Mashareq.
In defiance of the Lebanese state and its decision-making process, Nasrallah on June 8 demanded the government take a "courageous decision" and buy fuel from Iran, which is under US sanctions, AFP reported.
If the Lebanese state fails to take action, "we, within Hizbullah, will go to Iran, negotiate with the Iranian government... and buy vessels full of petrol and fuel oil and bring them to Beirut port", Nasrallah said.
"Let the Lebanese state [dare to] prevent the delivery of petrol and fuel oil to the Lebanese people!" he said, issuing a clear threat to the state's authority.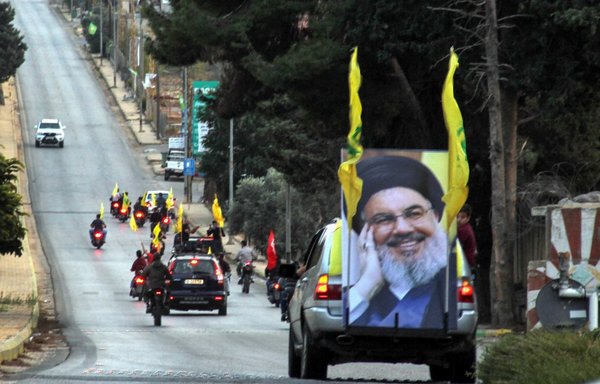 "We can sense dual danger here," said economist Violette Ghazal al-Balaa, commenting on the Hizbullah chief's demand.
On the one hand, she said, Nasrallah showed defiance and "hinted at the use of force" in his fuel scheme, overstepping "all authorities concerned with imports".
On the other, Nasrallah is distancing Lebanon from the international community and the lifeline the International Monetary Fund (IMF) could offer, and "involving it with an eastern camp unable to find a radical solution to the crisis".
With his words, "Nasrallah has revealed the party's political and economic plan for Lebanon", al-Balaa said. "This may be just the beginning, as it may lead to importing medicines and foodstuffs from a market besieged by sanctions."
"What is particularly regrettable in Nasrallah's statements is that they showed the Lebanese state as spineless," she said, noting that the government "hasn't issued any explanations or taken any positions that may save its face".
She said she believes this may lead to more US, European and Gulf sanctions on Lebanon, "which would increase its isolation at a time when it desperately needs to restore the international community's trust to help it out of its crises".
Exposing Lebanon to sanctions
"Hizbullah has long made known its intention to import fuel from Iran," said economic analyst Antoine Farah.
"The party's calls to the Lebanese [government] are suspicious, especially in view of the international sanctions on Iran," he said.
"If Lebanon oversteps such sanctions and co-operates with Iran, this will expose it to international sanctions and isolation," he added, noting that Nasrallah is "defying the Lebanese state and international community".
"Hizbullah is now exploiting the Lebanese people's pain, although it is one of the political parties that have caused such pain," he said.
It is doing this by presenting them just two options: "either co-operate with Iran to provide you with fuel, or face fuel deprivation".
"If the party really wants to help the Lebanese people, then rather than forcing Lebanon to co-operate with Iran and exposing it to dangers, it should monitor the Lebanese-Syrian border and prevent the smuggling of fuel to Syria," he said.
"In this way, it will alleviate and solve a large part of the fuel crisis," Farah said.
Negative reaction to Nasrallah
Nasrallah's defiance of the Lebanese state by demanding that fuel be imported from Iran "confirms that he's doing whatever he wants with his 'state'," said Shia opposition figure Hussein Ezzedine.
Hizbullah "just implements the orders issued by those who hold the purse-strings in Iran", he said, pointing out that Nasrallah's speech was rejected even by the party's popular support base.
His pronouncement was received "with so much disbelief and distrust" that it triggered the launch of a large-scale campaign against him in the country's south, he said.
"The Shia reaction to Nasrallah's defiance of US sanctions and his total disregard for Lebanon's interests -- the Shia's interests in particular -- is a step forward towards the expected uprising against Hizbullah," Ezzedine said.
Lebanese Shia have had enough of "the suicidal course" that the Hizbullah chief is leading them on, he added.
Outlawing Hizbullah
Hizbullah receives funding from Iran and has been recruiting fighters in Arab countries for the past two decades, said Simon Semaan, director of the Lebanese Centre for Information and Studies.
The party's actions "drove GCC countries to unanimously declare it a terrorist group in 2016", he said, noting that 16 European countries have so far designated Hizbullah as a terrorist group.
The Arab League did the same in January 2016.
Many countries and international organisations are now looking to the United Nations (UN) to designate Hizbullah a terrorist group with the hope that this will limit its destructive activities in Lebanon and abroad.
"The legal mechanism, in principle, allows any country to request the UN to designate any entity as a terrorist group," said Paul Morcos, director of Justicia Foundation for Development and Human Rights, a Lebanese nonprofit.
While it has yet to designate Hizbullah, "the UN General Assembly has been seeking to combat terrorism based on a strategic path since 2006", he said.
UN Security Council resolution 1269 of 1999 condemned terrorist acts and called on states to fully implement anti-terrorism legislation.
"The Security Council sought to impose sanctions on entities and countries whose regimes are thought to be involved in terrorism," Morcos said.
Under the UN Charter, the Security Council "takes measures to maintain and restore international peace and security through specialised committees that impose sanctions and restrictive measures on individuals and entities", he said.
Member states can provide information about destabilising activities to the Security Council through their permanent missions to the United Nations.
"There is an international and Arab determination to have Hizbullah designated as a terrorist group by the UN," political analyst Rashed Fayed said.