BERLIN -- The German government said Wednesday (May 19) it is banning three groups close to Iran-backed Hizbullah, which has been partly blamed for the economic and political crisis in Lebanon.
Interior Minister Horst Seehofer "has banned three groups that are financing the terrorist organisation Hizbullah", his spokesman wrote in a tweet.
"Whoever supports terror will not be safe in Germany... They will find no refuge in our country."
Last year, Germany designated Hizbullah a terrorist organisation and banned its activities on German soil.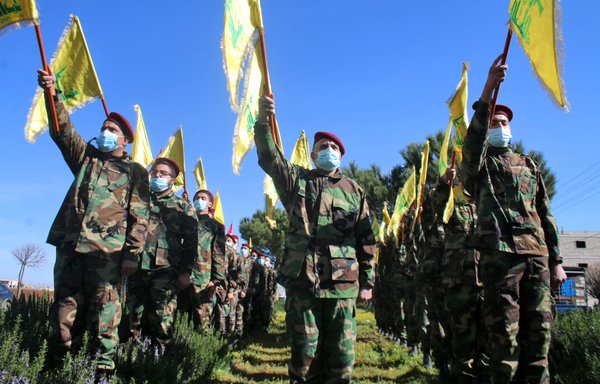 Hizbullah is also designated a terrorist group by much of the West and most of the Arab League countries.
The three banned groups are suspected of collecting donations for Hizbullah's "martyr families" in Lebanon, and of dressing up their operations in Germany with religious or humanitarian goals, Deutsche Welle reported Wednesday.
The Interior Ministry said that searches were currently under way in a number of different regional states in Germany.
According to German media reports, early morning raids had been carried in the states of Hamburg, Bremen, Hesse, Lower Saxony, North Rhine-Westphalia and Schleswig-Holstein.
Source of Lebanon's problems
In the last decade, Hizbullah has grown into Iran's main regional proxy with operatives in Syria, Iraq and Yemen.
The only Lebanese faction to have kept its weapons after the 1975-90 civil war, Hizbullah now has a more powerful arsenal than the Lebanese national army.
Hizbullah's hegemony is widely regarded as the source of Lebanon's problems and as an obstacle to unlocking badly needed international aid.
A steep depreciation of the Lebanese pound along with an explosion of poverty and unemployment have eroded purchasing power. More than half of the population is now living below the poverty line.
The party's blatant interference in the state's administration and its insistence on representation in any new government have damaged Lebanon's ability to function and pull itself out of crisis.
"What Lebanon needs most is an end to the hegemony of Hizbullah and its leader, Hassan Nasrallah," Lebanese Centre for Research and Consulting director Hassan Qutb said in February.
This "Lebanese demand" is the result of the years of extensive harm the Iran-backed party has caused the country, he said.
Harming relations
The latest move by Germany comes amid increasing international pressure on Hizbullah.
French Foreign Minister Jean-Yves Le Drian wielded the threat of more sanctions in Beirut May 7 to prevent what he described as a "collective suicide" organised by members of Lebanon's ruling political class, AFP reported.
France announced late last month it had started imposing entry restrictions on certain figures for their role in the political crisis and in corruption.
"It is indeed urgent to find a way out of the political deadlock," Le Drian told reporters just before wrapping up a two-day visit to Beirut.
"To this day, my observation is that the political players have not lived up to their responsibilities and have still not seriously started working on the country's recovery."
France has taken a leading role in trying to break the political deadlock, with President Emmanuel Macron visiting the country twice last year.
The Gulf states have also made it clear on numerous occasions that they are reluctant to invest in Lebanon while Hizbullah continues to dominate the political decision-making process.
In an interview with CNN in April, Saudi Foreign Minister Faisal bin Farhan warned that "the status quo in Lebanon is no longer workable".
"The kingdom doesn't feel that it is appropriate to continue to subsidise or continue to support the status quo," he said.
The Saudi foreign minister lamented that "a non-state actor, Hizbullah, has a de facto rule, veto, over everything that happens in that country and has control over its key infrastructure".