BEIRUT -- Abject poverty and a lack of job opportunities have dampened the mood for Syrian refugees in Lebanon during the holy month of Ramadan this year, as the country grapples with its worst economic crisis since the civil war.
A steep depreciation of the Lebanese pound along with an explosion of poverty and unemployment have eroded purchasing power.
More than half of the population is living below the poverty line, and many Lebanese have been demanding the removal of Lebanon's entire political class -- widely seen as incompetent and corrupt -- who they blame for the current crisis.
Hizbullah, through its control of the government's decision-making process, has complicated and delayed the country's efforts to obtain essential international support which would help it pull itself out of its economic crisis.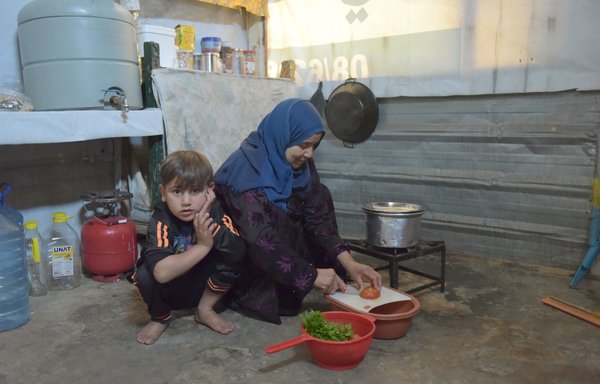 Shama al-Hadid, a Syrian refugee at Saadnayel camp in the Bekaa Valley, tells Al-Mashareq as she shows the contents of her refrigerator: "Normally, there is no space for me to put a finger in it, as it would be full of meat, chicken and vegetables for Ramadan iftars."
"But all we have in it today is a pot filled with stuffed vegetables, which will have to do for two iftars."
Displaced from Homs, al-Hadid has lived in the Saadnayel camp for eight years with her husband, their two teenage daughters and her mother-in-law.
In the past, she said, "after a long day of fasting, I would prepare the most delicious dishes: salads, fattoush, kebabs, chicken, juices and dates."
But this year, "our iftar food is limited to salad, soup and potatoes, and occasionally stuffed vegetables. Sweets have disappeared from the menu," al-Hadid said.
"Our financial situation is very complicated due to the conditions in Lebanon, and I cannot work due to health reasons since I have undergone four cardiac catheterisation surgeries and I was paralysed after a traffic accident," said Khaled al-Ali, 50, her husband.
Lebanon's financial crisis has severely affected their living conditions, he said.
"I spend the 400,000 LBP we receive from the United Nations High Commissioner for Refugees (UNHCR) to buy the minimum amount of food. We have been in this situation for more than a year," al-Ali said.
Shortage of aid
"The challenges of this Ramadan are overwhelming," said Awfa Ali al-Khodr, 43, who lives in a tent nearby the al-Ali family.
For Ramadan this year, they have nothing but beans and rice, and from time to time a salad, said al-Khodr, the mother of eight.
Her eldest son, 20, and her husband are both unemployed.
"The daily iftar meal does not satisfy my children's hunger ... but how can we come up with money when there is no work and food prices are insane?" she asked.
"With 15,000 LBP I used to buy a kilo of meat, bread and the ingredients of fattoush and tabbouleh, but now that's not even enough to buy a kilo of tomatoes and a kilo of potatoes," she said.
"Even the associations that used to provide us with food rations and iftar meals are absent this year," al-Khodr said.
Nine out of 10 Syrian families are currently living in extreme poverty, as the percentage of families living below the poverty line increased in 2020 from 55% to 89%, UNHCR spokeswoman Lisa Abu Khaled said.
Individuals are living on less than 308,728 LBP a month in Lebanon as a result of severe inflation, the coronavirus pandemic and last August's Beirut port explosion, all of which have pushed vulnerable communities, including Syrian refugees, to the brink of destitution, she said.
Since April 2020, UNHCR, along with its partners and in consultation with Lebanese officials, has raised the monthly cash aid from 260,000 to 400,000 LBP per family, and the World Food Program (WFP) has raised its food aid from 40,000 to 100,000 LBP per person, said Abu Khaled.
"The UNHCR can only provide monthly cash aid to 25% of the Syrian refugees, and can only reach 62% of them through the WFP to provide them with food or cash aid," she said.
Dignity destroyed
Conditions in informal camps in Majdal Anjar are especially harsh as many living there do not receive aid.
Ahmed Mohammed al-Ali, 42, lives with his wife Rahma al-Hussein, his four children and his sick mother Nazila al-Ali at one of those camps.
Al-Ali, a carpenter who has been unemployed for two years, sells baked goods and jallab (a fruit syrup prepared for Ramadan) which he makes in front of his tent.
However, the income "is not enough to buy the ingredients of a salad, let alone the staples of the Ramadan table", he said. "We are experiencing the worst throes of poverty in this holy month."
"Every day since the beginning of Ramadan, I enter the kitchen asking myself over and over again what I can prepare for iftar," said al-Hussein, 37.
"I make the same dishes every day: fried potatoes, boiled pasta or rice, and salad, all of which are devoid of meat. Ramadan sweets are also non-existent."
"The crisis in Lebanon broke our backs just as it broke the backs of the Lebanese," she said.
Al-Ali's mother Nazila said she cries over "what has become of us".
She said she used to cook iftar meals and have her children over "in our large house in Homs".
"Displacement has humiliated us and Lebanon's crisis has destroyed our dignity," she said.