A new report focused on the materiel procurement network of militants operating in Bahrain has found that a majority of illicit materiel recovered in the country originated in Iran.
"A Guide to Illicit Iranian Weapon Transfers", published in December by the Atlantic Council, reveals a pattern regarding arms recovered from militants known to have received covert military support from Iran.
It examines the origin of weapons confiscated by Bahrain's Public Security Forces (PSF), as well as those confiscated elsewhere in the region, particularly in countries where Iran's proxies operate.
The 77-page report seeks to quantify the scope and scale of materiel support from Iran to militants in Bahrain, and to serve as a guide to identify illicit conventional and unconventional materiel attributable to Iran.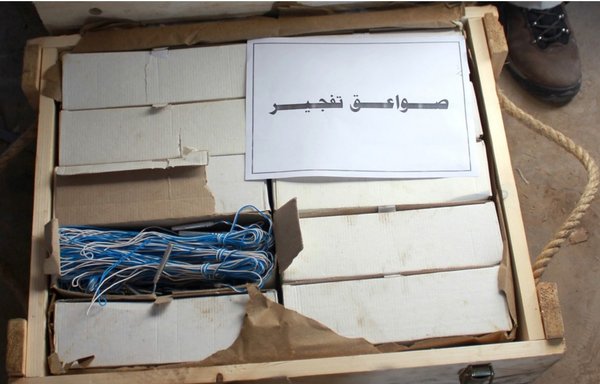 To a large extent, the report -- which focuses on the years between 2013 and 2018 -- constitutes a technical analysis of materiel, including conventional weapons, ammunition and explosives, and related components.
Materiel linked to Iran
Several categories of weapons seized in Bahrain were associated with the Iran regional network or made in Iran, according to the report.
These were identified and linked to Iran based on characteristics such as quality control stickers, sequence numbers and electronic components.
Bahrain's PSF recovered 17 assault rifles and 47 pistols over the five-year period that could be traced back to Iran, albeit not directly, the report said.
These "provide interesting correlations with illicit weapons circulating in the broader region and may highlight alternative procurement sources or smuggling pipelines", it noted.
The PSF also recovered two Chinese-manufactured type 54 pistols and a sanitised type 56-1 rifle from a militant cell in January 2017 after prisoners attempted to flee Bahrain on a speedboat headed to Iran.
The militant cell was responsible for a prison break at Bahrain's Jau Reformation and Rehabilitation Centre, "an operation that was preceded by reconnaissance with a DJI Phantom drone that was programmed in Ahvaz, Iran", the report said.
Bahrain's PSF also recovered two Iranian-manufactured KLF assault rifles featuring serial numbers in close sequence after an interrupted smuggling operation at the port of Nabih Saleh in December 2016.
According to the report, the rifles were recovered along with two fragmentation grenades, Iranian-manufactured ammunition, a Garmin-branded GPS device and Thuraya-branded satellite phone.
Examination of the GPS device indicated the skiff involved in the smuggling operation originated in Iran, and one of the suspects detained in connection with the case testified he had received training on smuggling techniques in Iran.
Maritime smuggling operations
According to the report, "materiel recovered from militants in Bahrain is identical to materiel documented from the Jihan 1", an arms-laden cargo ship intercepted by Yemeni forces in the Gulf of Aden in January 2013.
A UN Security Council panel of experts determined the maritime smuggling operation had originated in Iran. The crew was arrested and jailed in Sanaa, until the Houthis (Ansarallah) staged a coup in Yemen in 2014 and freed them.
Yemeni forces seized another arms-laden vessel, the Jihan 2, in Yemeni territorial waters in 2015, with the cargo widely understood to have been destined for Iran's proxy in Yemen, the Houthis.
The report found that most type 56-1 rifles recovered in Bahrain entered the country as a result of a maritime smuggling operation.
All of the fragmentation grenades recovered in Bahrain are visually identical to grenades manufactured by Iran's Defence Industries Organisation (DIO) and some were imprinted with an acronym representing the DIO, the report said.
The C-4 explosive component, which was recovered in original packaging in Bahrain, is visually identical to Iranian-manufactured M112 C-4 and featured markings that correspond with C-4 recovered from the Jihan 1 interdiction.
Iranian-manufactured ammunition and suppressors also were recovered by the PSF, the report said. The suppressors are visually identical to suppressors documented from the Jihan 1 interdiction and others recovered after a foiled assassination operation in Azerbaijan linked to Iran.
Most of the small calibre ammunition recovered in Bahrain is manufactured by just three countries, with the lion's share manufactured by Iran, the report said.
The materiel seized from the Jihan 1, and the resulting UN investigation, is one of the richest sources of evidence linking illicit weapons in the region to direct state transfers from Iran, Michetti wrote.
Fajr rockets
The body of evidence presented "demonstrates that materiel recovered from militants in Bahrain is -- in many instances -- identical to materiel recovered from Iranian aligned groups in the region", the report concluded.
"Moreover, the quantity of the recovered materiel in these cases comprises the majority of materiel recovered in several categories. Therefore, it is almost certain that a majority of illicit materiel recovered in Bahrain originated in Iran."
The report drew on the combined efforts of UN panels, private weapon investigation organisations, independent researchers and journalists and information from national governments.
"While the public availability of these findings is important, it also is reasonable to believe that Iran may adapt and evolve its techniques, tactics, and procedures in response in order to regain plausible deniability," the report said.
There are already indications Iran has been providing its proxies in Iraq with a primitive version of the Katyusha rocket -- not a Russian weapon as the name would suggest, but a domestic variety produced in Iran.
Known as "Fajr1" rockets, these are 107 mm caliber Katyusha rocket clones manufactured by Iran.
The report called on the international community to "take steps to increase transparency and strengthen monitoring systems to deter illicit weapon transfers".
It also called for pressure on Iran "to accede and adhere to international instruments designed to mitigate the illicit proliferation and misuse of conventional materiel and dual-use components".
Further, it added, regional and international mechanisms must be established to promote "the equitable exchange of information among interested governments with access to different aspects of the illicit arms trade".