Days after "constructive" talks concluded in Vienna about reviving the international agreement on Tehran's nuclear programme, observers are asking whether the Iranian regime is even capable of becoming a peaceful governing entity.
One of the linchpins of the landmark 2015 agreement, known as the Joint Comprehensive Plan of Action (JCPOA), is Tehran's promise to stop the Islamic Revolutionary Guard Corps (IRGC)'s support for proxy militias and terrorist activity.
While Iranian officials often claim that their country has peaceful intentions and condemn regional and global adversaries for alleged human rights violations, the Islamic Republic has never renounced its "revolution" -- one that has left its own long, well-documented track record of abuses and terrorism.
This hypocrisy of touting a moral high ground while concurrently engaging in violence is a regular feature of the Iranian regime.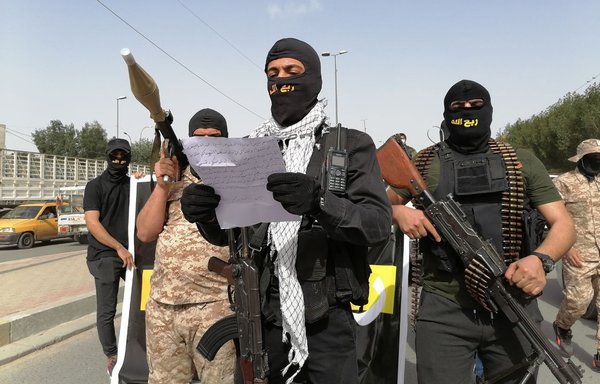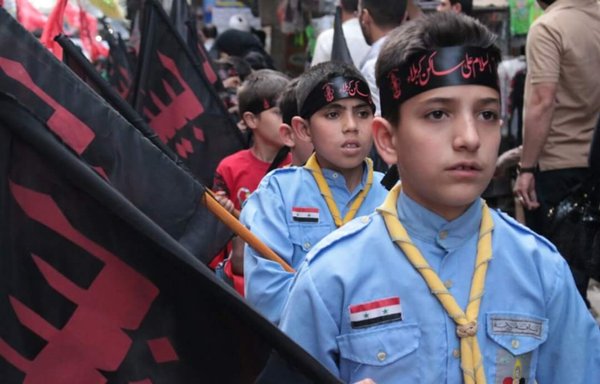 IRGC: instrument of terror
The IRGC claims it exists to protect the Iranian people, but it is used as an instrument of repression at home, while its foreign wing, the Quds Force, is used as an instrument of terror abroad.
The Quds Force trains, funds and directs regional proxies that use violence to advance the Iranian regime's expansionist agenda. Beyond the Middle East, it has planned assassinations and bombings to demonstrate Iran's reach.
In one recent example of the IRGC's ongoing activity, a group calling itself Awliyaa al-Dam -- a "smokescreen" for prominent Iran-backed Iraqi militias such as Kataib Hizbullah and Asaib al-Haq -- claimed the deadly February 15 rocket bombardment of a military complex in Erbil.
A US contractor was killed, and nine other people, including a US soldier, were wounded in the attack in Iraq's Kurdish region -- the latest of many such acts of violence carried out by Iran-backed militias in Iraq.
Following that terrorist act, the United States on February 25 carried out a retaliatory air strike near an eastern Syria border crossing with Iraq, through which Iran-backed militias had been transporting weapons and personnel.
In a statement, Iranian Foreign Ministry spokesman Said Khatibzadeh described the US air strike as "an illegal aggression" and "a violation of human rights", yet omitted any mention of Iran's deadly use of proxy militias.
Citing abuses while funding terrorism
In addition to mounting numerous attacks on US and Western interests in Iraq, Iran-backed militias have undermined the authority of the Iraqi government and security forces and attacked or intimidated Iraqi civilians.
They are also the main beneficiaries of a corrupt customs-evasion cartel that is diverting billions of dollars away from state coffers to line their pockets.
In Syria, Iran-backed militias supported Syrian President Bashar al-Assad as he unleashed a deadly military campaign on his own people to crush a popular uprising and engaged in numerous human rights abuses.
Members of the European Parliament (EP) have repeatedly called on the Syrian regime, Russia and Iran to bear responsibility for the heinous crimes they continue to commit in Syria and the economic consequences of their military interventions.
On March 10, the EP called on Russia, Iran and Lebanese Hizbullah to withdraw all forces and proxies under their command from Syria.
It said it "deplores the role of Russia and Iran in backing the Syrian regime's all-out repression of its civilian population, and their takeover of Syria's political process and economic resources".
In Yemen, Iranian officials often cite Saudi Arabia as the perpetrator of human rights abuses, yet the Iranian regime for years has backed the Houthis (Ansarallah) with illegally smuggled weapons, which are used to target oil installations in Saudi Arabia and terrorise Yemen's own population and international aid workers.
Saudi King Salman bin Abdulaziz took aim at Iran during his speech at the annual United Nations (UN) meeting of world leaders on September 23.
He accused Iran of spreading "chaos, extremism and sectarianism" in the region and called for a comprehensive solution to contain it and to stop it from getting weapons of mass destruction.
The Iranian regime has also assassinated some 360 people outside Iran since the Islamic Revolution, according to the US State Department.
Those assassinations have been carried out in 40 countries, mainly by way of the Quds Force, the Islamic Republic's Ministry of Intelligence or proxy groups such as Hizbullah, it said.
Almost all of the victims have been dissidents or members of the Islamic Republic's opposition.
With this type of behaviour, IRGC leaders and other senior Iranian officials "have completely destroyed Iran; now they want to do it to the rest of the region", said Sara Beygi, a retired schoolteacher living in Iran.
Touting peace while planning assassinations
In September, multiple news outlets revealed an Iranian plot to assassinate then-US ambassador to South Africa Lana Marks.
An unnamed US official said at the time that the plan was one of several options the Iranian regime was considering in retaliation for the US air strike that killed IRGC-QF commander Qassem Soleimani in Baghdad in January 2020.
As the Iranian regime was deliberating these plans, Iranian President Hassan Rouhani delivered s September speech at the UN, where he put forward a deeply misleading picture of the Iranian agenda.
"We in Iran strive to build peace and promote the human rights of peoples and nations," he proclaimed during his address. "We never condone tyranny, and we always defend the voiceless."
The evidence inside Iran undermines Rouhani's statement, as does Iran's behaviour abroad.
After Soleimani was killed, an IRGC official said he had been involved in operations to suppress widespread protests in Iran in the spring of 2009.
More recently, from November 2019 to January 2020, the IRGC cracked down on popular protests against the Iranian regime's domestic and foreign policies.
The regime is concerned enough about the public's dissatisfaction that in 2020 the Interior Ministry established a "committee to monitor public discontent", which reportedly has a branch in every province of Iran.
"About half of the Iranian population are convinced they have no choice but to support this regime, because that's the only way they can make a living," Beygi said.
"The other half is composed of people who are either selling everything they have to move abroad, or people who are effectively imprisoned in this country by the regime, because they do not have the financial resources to emigrate."