The Iran-backed Houthis (Ansarallah) claimed a missile strike Thursday (March 4) on a Saudi Aramco plant in the western Saudi city of Jeddah amid an escalation in cross-border attacks on the kingdom.
Houthi spokesman Yahya Saree claimed a Quds-2 missile hit an Aramco facility in Jeddah at dawn Thursday in a post on Twitter.
There was no immediate confirmation of the attack from the oil giant.
The Houthis have struck Aramco facilities in the past, and in November hit an Aramco plant in Jeddah with a Quds-2 missile, tearing a hole in an oil tank and triggering an explosion and fire, the company said.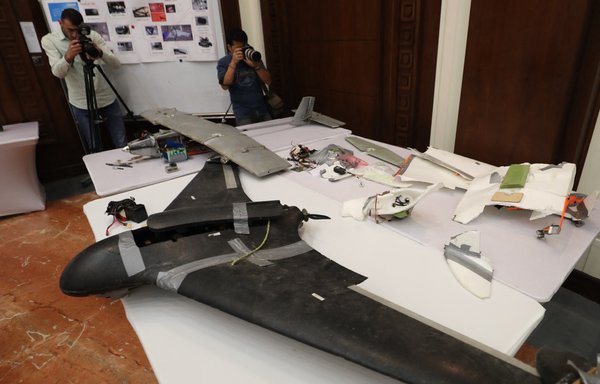 Increase in cross-border attacks
The Houthis have escalated attacks on the kingdom in recent weeks, while they step up an offensive to seize the Yemeni government's last northern stronghold of Marib.
Arab coalition forces on Thursday morning intercepted and destroyed a bomb-laden unmanned aerial vehicle (UAV) launched by the Houthis "to target civilians and civilian objects in Khamis Mushayt", said spokesman Turki al-Maliki.
Separately, he said, the Royal Saudi Air Force on Thursday morning intercepted and destroyed a ballistic missile "launched systematically and deliberately by the terrorist Houthi militia to target civilians and civilian objects in Jizan".
On Wednesday and Tuesday evening, coalition forces also intercepted and destroyed two bomb-laden UAVs the Houthis had launched to target the Southern Region, he said.
He described the attacks as "acts of aggression to deliberately and systematically target civilians and civilian objects".
On Saturday, the Arab coalition said it thwarted a Houthi missile attack, which sent shrapnel raining down on civilian homes.
It also intercepted six Houthi drones targeting the kingdom that day, including the southern cities of Khamis Mushayt and Jizan.
Houthi commanders sanctioned
The Houthis' latest claim comes after the United States on Tuesday imposed sanctions on two Houthi commanders, blaming them for civilian deaths and denouncing their ties with Iran.
Mansur al-Saadi "has masterminded lethal attacks against international shipping in the Red Sea", the US Treasury said in a statement.
It accused him of commanding forces that have "repeatedly dispersed naval mines, which strike vessels irrespective of their civilian or military character".
Al-Saadi, who has received extensive training in Iran, also has helped smuggle Iranian weapons into Yemen, the US Treasury said.
Ahmad Ali Ahsan al-Hamzi, the commander of Yemen's Houthi-aligned Yemeni Air Force and Air Defence Forces, as well as its UAV programme, "has acquired Iranian-made weapons for use in the Yemen civil war", the Treasury said.
Like al-Saadi, al-Hamzi has received training in Iran.
The actions of the two men "have prolonged Yemen's civil war and exacerbated the country's humanitarian crisis", the Treasury said.
It accused them of orchestrating attacks impacting Yemeni civilians, bordering nations, and commercial vessels in international waters.
Destabilising agenda
"These actions, which were done to advance the Iranian regime's destabilising agenda, have fueled the Yemeni conflict, displacing more than one million people and pushing Yemen to the brink of famine," the Treasury said.
"These individuals command forces that are worsening the humanitarian crisis in Yemen," said director of the Office of Foreign Assets Control Andrea Gacki.
"Iran's involvement in Yemen fans the flames of the conflict, threatening greater escalation, miscalculation and regional instability," Secretary of State Antony Blinken said in a statement.
The Houthis use "Iranian weapons, intelligence, training and support to conduct attacks threatening civilian targets and infrastructure in Yemen and Saudi Arabia", he said.
Blinken condemned the Houthis' continued offensive and said the United States would provide the Saudis "the tools they need to defend themselves".