ADEN -- Six years into a war that began when the Iran-backed Houthis (Ansarallah) staged a coup in Sanaa, Yemen's economy is in crisis, leaving its financial system splintered and its people starving.
The country is in imminent danger of the worst famine the world has seen in decades, United Nations Secretary-General António Guterres warned in November.
According to Human Rights Watch, more than 20 million people in Yemen are experiencing food insecurity and 10 million are at risk of famine.
The devaluation of the currency -- which has eroded people's purchasing power -- is at the heart of Yemen's food crisis, with the rival Central Banks in Aden and Sanaa contributing to the plunging value of the Yemeni riyal.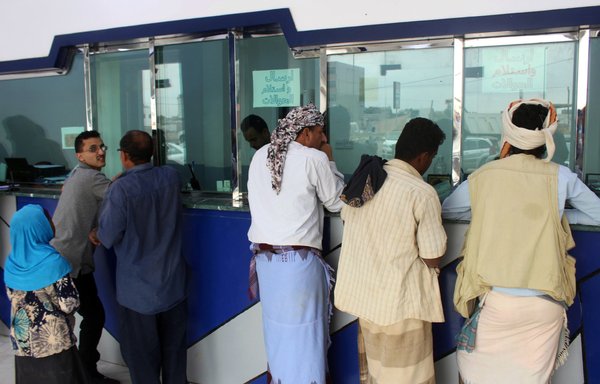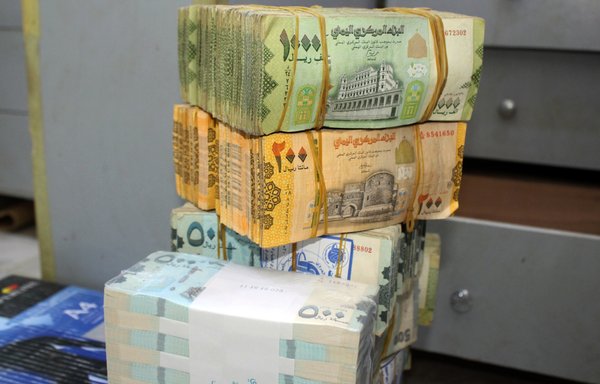 The Yemeni government moved the Central Bank from Sanaa to Aden, where it has established its temporary capital, in 2016. But the bank's historic home in Sanaa is still operating under the Houthis.
This has brought the Yemeni riyal-based system to the point of collapse, which has driven people to use hard currencies such as the Saudi riyal.
In January 2020, the Houthis banned the use of new banknotes printed by the Central Bank in Aden, and residents and money changers stopped dealing with them under the threat of a 10-year jail term.
This left a glut of newly printed bank notes in circulation in government-controlled areas -- exacerbating inflation -- while residents of Houthi-controlled areas scrambled to convert their old notes into hard currencies.
As a predictable consequence, there have been several recent reports of banknote forgery, with seizures of counterfeit currency -- both Yemeni and Saudi riyals -- in several areas, and a crackdown on forgery networks.
For years, observers have been pointing their fingers squarely at Iran's Islamic Revolutionary Guard Corps (IRGC) Quds Force for the counterfeit chaos.
Counterfeit currency seized
In November 2017, the US Treasury sanctioned a network involved in a large-scale scheme to help IRGC Quds Force counterfeit currency.
The network, comprised of individuals and entities, had procured advanced equipment and materials to print counterfeit Yemeni bank notes potentially worth hundreds of millions of dollars for the IRGC Quds Force, the Treasury said.
Since then, counterfeit currency has been a regular news feature in Yemen.
Most recently in December, police seized forged Yemeni banknotes in markets in the Shabwa provincial capital of Ataq, Al-Mashhad-Al-Yemeni reported. The search was extended to local money exchange shops, and several arrests were made.
Later that month in Lahj province, Al-Ayyam reported, security services set out to track down a currency counterfeiting network, after seizing forged Yemeni and Saudi banknotes in a supermarket and electronics store in al-Houta.
In April 2020, Al-Anbaa news website reported that Yemeni forces in al-Jawf province had confiscated some counterfeit money, in 5,000 riyal denominations, from Houthi elements, on the Laqshaa front.
Counterfeiting currency is "classified as a criminal offense by the Central Bank of Yemen, due to its disastrous consequences on the devaluation of the Yemeni riyal", said economist Abdul Aziz Thabet.
The devaluation of the riyal is directly related to an increase in food prices, he said, pointing out that the IRGC's proxy war, carried out by the Houthis, "has consumed everything" in Yemen.
The World Food Programme in December reported that the protracted war in Yemen has led to a 250% drop in the value of the currency, and the price of food has increased by an average of 140% as a result.
Houthis' parallel economy
"The Houthis drained the state's financial institutions and usurped its revenues for their own use, to enrich their leaders and to create their own parallel economy," said political analyst Waddah al-Jalil.
This parallel economy was created at the expense of the state's economy, he said.
"It would have behooved the Houthis to work to maintain the strength of the Yemeni economy, because they control its economic institutions and banks, including the Central Bank in Sanaa," al-Jalil said.
Responsible fiscal management would have generated "considerable amounts of money to serve their interests", he said.
Instead, there has been a total disruption in Yemen's economic and financial systems, he said, and the national currency is in crisis.
This is largely a result of Iran's meddling in Yemen, via its proxy, the Houthis, he said, pointing out that "the Houthis are Iran's tool and implement what is dictated to them by the IRGC".
Like other IRGC-affiliated militias, the Houthis have attempted to fill their coffers and fund their war effort via dubious means, said Abdulsalam Mohammed, director of the Abaad Studies and Research Centre in Yemen.
They have engaged in arms and drug smuggling, he said, as well as counterfeiting currency, with the aim of creating a parallel economy "to ensure the funding of their military operations".