ADEN -- The United Nations (UN) is seeking to raise $4 billion to fund the Yemen Humanitarian Response Plan for 2021 at a virtual pledging event to be co-hosted by Sweden and Switzerland in early March.
Yemen needs $4 billion to fund humanitarian operations in 2021 in order to prevent a famine, Mark Lowcock, UN undersecretary general for humanitarian affairs, told the Security Council on February 18.
"Yemen is speeding towards the worst famine the world has seen in decades," he said, warning that "we are running out of time".
He also noted that "delivering aid in Yemen is much harder than it should be" -- especially in the country's north, which is controlled by the Iran-backed Houthis (Ansarallah).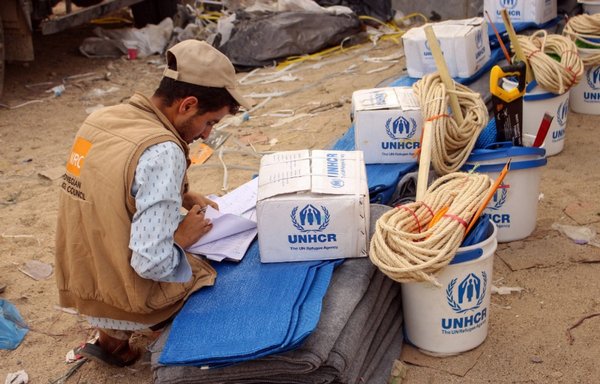 Lowcock said the Houthis regularly delay routine processes, attempt to interfere with aid delivery and harass aid agencies and staff.
"This is unacceptable," he said.
The Food and Agriculture Organisation, UNICEF, World Food Programme and World Health Organisation recently warned that 2.3 million Yemeni children under the age of five are projected to suffer from acute malnutrition in 2021.
In a joint statement issued February 12, the four UN entities noted that 400,000 of the 2.3 million children are expected to suffer from severe acute malnutrition and could die if they do not receive urgent treatment.
The UN organisations warned that current levels of acute malnutrition are among the highest recorded in Yemen since the escalation of conflict in 2015.
Significance of relief programmes
Organising a donor conference to support the humanitarian response plan in Yemen is a significant step towards enabling relief, said Abdul Raqeeb Fateh, former minister of local administration.
Thirty programmes were suspended last year due to lack of funding, he said.
In 2020, Fateh said, the UN called on the international community to raise $3.4 billion to fund the humanitarian response plan, but only about 61% of that amount was raised.
He called on relief organisations to refrain from centralising aid in Houthi-controlled Sanaa, noting that the militia has tampered with aid distribution and diverted the aid towards its own supporters and operations.
Fateh said the High Relief Committee has proposed that aid be distributed through five hubs and directed to neighbouring provinces from each hub, so the Houthis would not be able to control the distribution.
Under this proposal, aid would be distributed from a hub in Aden to seven provinces, from Marib to three provinces, and from Sanaa, al-Hodeidah and Hadramaut each to four provinces, he said.
"The government will make every possible effort to ensure the conference's success, and will be a key advocate for mobilising resources for the delivery of aid," said Deputy Minister of Human Rights Nabil Abdul-Hafeez.
Abdul-Hafeez also called for an evaluation of relief programmes and aid organisations and their distribution processes, noting that "only 30% of the aid goes to [targeted] beneficiaries".
Studies and Economic Media Centre chairman Mustafa Nasr said resource mobilisation is extremely important to boosting aid to Yemen during this critical stage, especially due to the exacerbated humanitarian crisis.
It is important that all global organisations push for a ceasefire and subsequent peace in Yemen in order to pursue a solution to end the current famine, he said, likening Yemen to a patient in intensive care.
Aid is what keeps this patient alive, he said.