Iraq has joined a growing number of countries worldwide opting for acquiring the Pfizer-BioNTech coronavirus vaccine over the less-trusted vaccines touted by Russia and China.
In late December, health ministry spokesman Seif al-Badr announced Iraq had "formally signed a preliminary deal" with US pharmaceutical company Pfizer to bring in 1.5 million vaccine doses in several stages in early 2021, enough to vaccinate 750,000 people.
The next day, Iraq's cabinet said the finance ministry had set aside $3 million as an advance payment to Pfizer and had secured the remaining $12 million for the full delivery.
President Barham Saleh has said Iraq aims to provide the vaccination for free to its 40 million citizens, AFP reported.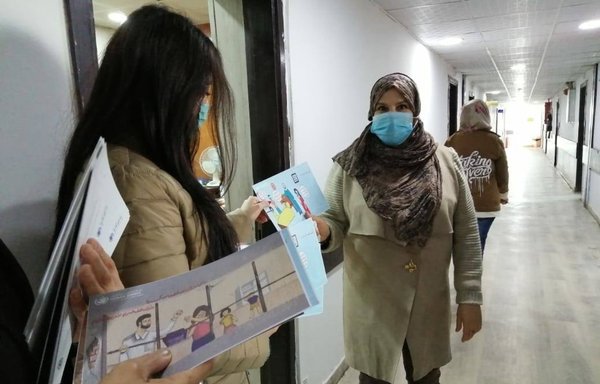 Priority in vaccination will be given to health and medical personnel, followed by the elderly and those with chronic diseases, and then members of the security forces, according to the health ministry.
Iraq has been among the hardest-hit by COVID-19 in the Middle East, with more than 580,000 reported cases and 12,700 deaths.
'Human lives are not a game'
Iraqis from all walks of life said the have serious doubts about COVID-19 vaccines manufactured by Russia and China.
Aziz al-Badairi, a resident of Baghdad's al-Marifa neighbourhood, said he is afraid of taking any Chinese vaccine because he does not trust any "made-in-China" product.
"It is well known that Chinese products in general are of poor quality or are less efficient compared to similar products manufactured in other countries that set strict conditions and quality standards for manufactures," he said.
China, where the pandemic first emerged, has been racing against the West to develop its own COVID-19 vaccines, with five already in large-scale phase 3 clinical trials but none officially approved yet.
The Chinese regime has struggled to gain international trust for its vaccine candidates, hindered by a lack of transparency on test results.
On December 30, Chinese pharma giant Sinopharm announced that phase 3 trials of its coronavirus vaccine found it was 79% effective, lower than rival jabs developed by Pfizer-BioNTech and Moderna, which have 95% and 94% efficacy rates, respectively.
The announcement was the first data released regarding the efficacy of a Chinese vaccine candidate.
Basra university student Zainab Jassim said she is concerned Chinese and Russian vaccines have been "rushed" and have "not been put through sufficient trials to discover any negative effects, or even their effectiveness against the virus".
"There is a lack of transparency and a shortage of information about the results of the tests," she said.
"Human lives are not a game," she added.
'Right move'
International observers have also expressed doubt over the Russian vaccine since it was first announced in August, raising concerns that the Kremlin's "race" to be the first to develop a vaccine could impact efficacy and safety.
Russian efforts to promote Sputnik V as equally effective as or more effective than Western alternatives -- without providing accurate, verified data -- have shaken public confidence in the vaccine candidate.
Scientists and observers around the world first shook their heads in consternation when the Kremlin on November 11 said Sputnik V was 92% effective -- two days after Pfizer and BioNTech announced their vaccine had greater than 90% efficacy.
Less than a week later, American biotechnology company Moderna, which developed its COVID-19 vaccine with the US National Institutes of Health, said that early results showed its candidate was 94.5% effective.
In a seeming bit of one-upmanship, the Russians on November 24 raised the reported effectiveness of Sputnik V to 95%.
It seems that China and Russia have taken a "purely commercial approach" to developing a vaccine, said Baghdad resident Saif Saad.
The two countries "have chosen to market vaccines that were not fully ready and had not been officially approved by international drug agencies, with the sole aim of making money", he said.
Adhra Muayyid, a resident of Baghdad's al-Amin neighbourhood, said Iraq made the "right move" to buy the COVID-19 vaccine from "well-known international companies with long experience in producing pharmaceutical drugs".
"We trust the vaccines produced in the US or in Europe, as they have passed several tests to prove their efficacy... and lack of side effects," she said.
It must be stored at -70 degrees Celsius (-94 degrees Fahrenheit), a temperature much lower than in standard freezers, forcing the company to develop special containers for transport.
Iraq is one of the hottest countries in the world and has a dilapidated power generation network that results in daily cuts to power supply.
"The issues of transportation and financial transactions are still being worked out," al-Badr, the ministry spokesman, said, adding that Iraq had the necessary equipment to safely distribute the vaccine.
Iraq has committed $170 million to be among the first countries to receive the vaccine, according to the World Health Organisation.