Gulf leaders signed a solidarity deal Tuesday (January 5) after the leaders of Saudi Arabia and Qatar publicly embraced, bringing Doha back into the regional fold after a three-year rift.
Saudi Arabia's Crown Prince Mohammed bin Salman announced the Gulf states had signed an agreement on regional "solidarity and stability" at a summit in the kingdom's northwest aimed at resolving a three-year embargo against Qatar.
"These efforts helped us reach the agreement of the Al-Ula statement... at this summit, where we affirm our Gulf, Arab and Islamic solidarity and stability," he said, thanking the US and Kuwait for their mediation.
Oman also served as a mediator.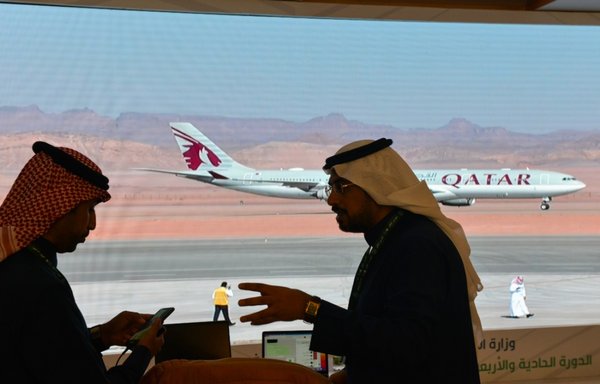 "There is a desperate need today to unite our efforts to promote our region and to confront challenges that surround us, especially the threats posed by the Iranian regime's nuclear and ballistic missile programme and its plans for sabotage and destruction," the crown prince said.
'Historic achievement'
Leaders of the six-member Gulf Co-operation Council (GCC) signed two documents, the Al-Ula declaration, named after the Saudi city where the summit was held, and a final communique.
Their contents were not immediately released, but hopes for a deal to end the impasse were raised when Saudi Arabia earlier announced it would open its borders to Doha.
Kuwait's new emir Sheikh Nawaf al-Ahmad Al-Sabah congratulated the GCC leaders on the Al-Ula declaration, describing it as a "historic achievement", the Kuwait News Agency reported.
In a speech delivered at the summit, he said the declaration "reminds us" of the "huge endeavors" undertaken by his predecessor, the late Sheikh Sabah al-Ahmad Al-Sabah, to make reconciliation possible.
"Calling our declaration the Solidarity Agreement reflects our keenness and conviction in its importance, and it reflects on the other hand our conviction that restoring it is a continuation of our desire on unity of our Arab nation," he said.
Saudi media, which is influential throughout the region, quickly adopted a tone in stark contrast to past coverage of Qatar, highlighting "unity" and "fraternity".
In the UAE, Abu Dhabi's Minister of State for Foreign Affairs Anwar Gargash posted an image of the stunning Maraya venue on social media, saying that "from the Hall of Mirrors in Al-Ula, begins a bright new page".
Warm welcome
Qatar's leader Sheikh Tamim bin Hamad Al-Thani arrived in Saudi Arabia Tuesday to a warm welcome from Prince Mohammed, who greeted him with a tight embrace. The pair chatted as they walked to a waiting limousine.
Sheikh Tamim's attendance at the summit was his first visit to Saudi Arabia since the crisis began in June 2017.
"These are first steps or a first phase of reconciliation that will be followed by other steps," said Kuwait University assistant professor Bader al-Saif.
"Any step toward reconciliation is better than no step at all," he said. "The GCC requires a major reset and can offer much more than it has."
Al-Jazeera's Hashem Ahelbarra, reporting from Doha, said the summit will likely set the tone for wider talks that would take place in the short to medium term to resolve other outstanding issues.
"It is a crucial gathering because this is when they will have to start talking about some of the outstanding elements," Ahelbarra said of the summit.
"They will have to decide on the modalities of the agreement," he said.
"Later, they will have to say that the core issues are ones that will need some time to solve because we are talking about a wide range of issues that have to do with the region and other parts of the world," he added.
Isolating Iran
The US has intensified pressure for a resolution to the crisis, insisting Gulf unity is necessary to isolate Iran, amid growing regional tensions.
Saudi Arabia led a coalition of countries in the Gulf and beyond that cut ties and transport links with Qatar in June 2017, charging that it was too close to Iran and backed radical Islamist groups -- allegations Doha has always denied.
Late Monday, Kuwaiti Foreign Minister Ahmad Nasser Al-Sabah announced on state television that "it was agreed to open the airspace and land and sea borders" between Saudi Arabia and Qatar, effective immediately.
Drivers south of Doha on the Salwa highway towards the Saudi border at Abu Samra sounded their horns and waved their arms from their car windows in the wake of the announcement.
"We will see all Saudis here, also all Qataris will visit Saudi Arabia, and we will be friends as we were before and better," said Hisham al-Hashmi, a Qatari.