Iran has started the process to enrich uranium to 20% purity at its underground Fordow facility, state media reported Monday (January 4), going well beyond the threshold set by the 2015 nuclear deal.
It is the latest and most important suspension of nuclear commitments by Iran under the landmark deal.
"The process of gas injection to centrifuges has started a few hours ago at Fordow enrichment complex and the first product of uranium hexafluoride (UF6) gas will be available in a few hours," Iranian state media quoted government spokesman Ali Rabiei as saying.
"The process has started after taking measures like informing the UN nuclear watchdog," he said.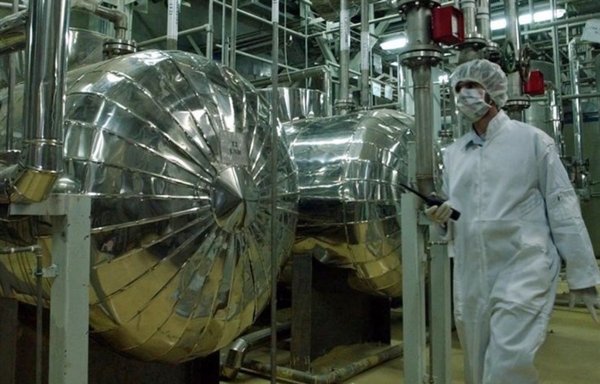 Following Tehran's announcement, International Atomic Energy Agency (IAEA) Director-General Rafael Mariano Grossi is expected to submit a report to member states later today, a spokesman for the nuclear watchdog said by email.
According to the latest report available from the IAEA, published in November, Tehran was enriching uranium to levels greater than the limit provided in the Vienna agreement (3.67%) but not exceeding the 4.5% threshold, and continued to comply with the IAEA's very strict inspection regime.
But there has been turmoil since the assassination in late November of Iranian nuclear physicist Mohsen Fakhrizadeh.
In the aftermath of the attack, hardliners in Tehran pledged a response and the Majles (Iranian parliament) passed a controversial law calling for the production and storage of "at least 120 kilogrammes of 20% enriched uranium per year" and to "put an end" to the IAEA inspections intended to ensure that the country is not developing an atomic bomb.
The move was met with strong opposition by the Iranian government, headed by Iranian president Hassan Rouhani, in a rare public show of defiance against hardliners aligned with Iran's Islamic Revolutionary Guard Corp (IRGC).
Uranium enriched to a 20% level would give Iran the ability to convert its entire stockpile to bomb-grade levels within six months.
Continued threats
Iran's moves come amid an increase in threats by the regime coinciding with the anniversary of the killing of top Iranian military commander Maj. Gen. Qassem Soleimani.
For more than two decades Soleimani led Iran's IRGC Quds Force, an elite branch of the Iranian military responsible for exporting terror and for arming the Iranian regime's proxy militias throughout the region, including in Iraq, Syria, Lebanon, Bahrain, Yemen and Afghanistan.
"They will witness a severe revenge. What has come so far has only been glimpses" of it, Iran's judiciary chief Ebrahim Raisi told a gathering at Tehran University on Friday.
"Those who had a role in this assassination and crime will not be safe on Earth," he said.
The Iranian leadership has called the US strike that killed Soleimani a "slap" and vowed that "severe revenge" awaits.
Soleimani's successor, Esmail Qaani, warned during Friday's event that the revenge may take place "anywhere".
"It is even possible that there are people inside your home (the United States) that will respond to your crime," he said.
'Serious implications'
In Brussels, EU spokesman Peter Stano said that Iran's move to enrich uranium to 20% "would constitute a considerable departure from Iran's commitments".
This would have "serious nuclear non-proliferation implications", he said.
The US military has ensured that assets in the region are prepared for any Iranian miscalculation.
A US nuclear submarine crossed the Strait of Hormuz last month in a new show of force. The USS Georgia was the first US nuclear submarine in eight years to cross the strait, which is a key maritime route that is essential for the passage of global energy supplies.
Gen. Frank McKenzie, commander of US forces in the Middle East, told journalists in late December that Washington is "prepared to react" if Iran attacks US assets in the region.
In September, a US aircraft carrier, the USS Nimitz, crossed the Strait of Hormuz. It has been patrolling Gulf waters since late November.
"The USS Nimitz will now remain on station in the US Central Command area of operations. No one should doubt the resolve of the United States of America," said acting US defense secretary Christopher C. Miller on Sunday (January 3).