Iran's Islamic Revolutionary Guard Corps (IRGC) recently started producing primitive rockets that resemble Katyushas and distributing them to regional proxies in its drive to arm militias.
The IRGC is "definitely capable of producing Katyusha-type rockets", a retired Iranian naval analyst told Al-Mashareq on condition of anonymity. "Most of these are based on Chinese and North Korean missile technology."
They include the 107-millimetre Hesab rocket -- closest in range to the Katyusha -- and larger rockets with longer ranges, based on similar technology, he said.
"The IRGC's problem is not copying basic rocket technology," he said, which it is capable of doing. "Its issue lies in refining the technology."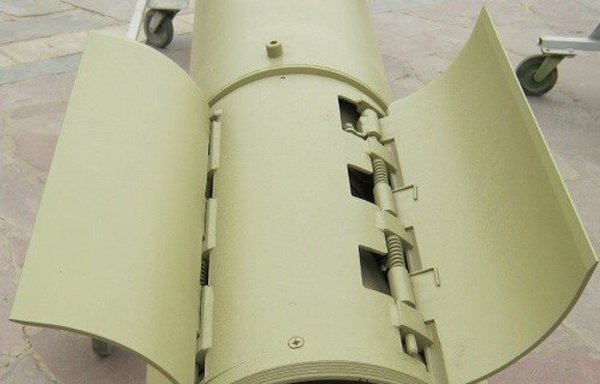 These missiles are not very accurate, so out of necessity the focus has been on "quantity over quality", he said, based on the assumption that when they are fired in large numbers, some are likely to hit their target.
'Flagrant attacks'
The naval analyst noted that a December 20 barrage of eight rockets hitting Baghdad's Green Zone resembles those carried out by Kataib Hizbullah and other Iran-backed militias in Iraq.
Residential buildings were damaged, and the US embassy building suffered minor damage, according to a statement from the US diplomatic mission in Iraq.
Following that attack, US military sources said further Iranian miscalculations could have devastating consequences.
"Iran-backed militias once again flagrantly and recklessly attacked in Baghdad, wounding Iraqi civilians," US Secretary of State Mike Pompeo said on Twitter.
"The people of Iraq deserve to have these attackers prosecuted," he added. "These violent and corrupt criminals must cease their destabilising actions."
US media reported that the assailants used "small rockets", but it is unclear if those were Katyusha-type rockets.
As of December 23, no group had formally claimed responsibility, but US-based Iranian journalist Shahin Mohammadi said an Iraqi army statement has blamed an "illegal group" for the attack.
Previous attacks on US interests in Iraq have been claimed by groups that both US and Iraqi officials have described as smokescreens for well-known Iran-aligned armed factions in Iraq, including Kataib Hizbullah.
There is little doubt that the rockets came from Iran, he said, adding that "terror groups in Iraq would not move to swat a fly without getting direction from Iran".
In the past year alone, IRGC-backed militias have on several occasions attacked Baghdad's Green Zone and other areas of Iraq where the United States has a presence.
Weapons produced in Iran
The IRGC's Quds Force provides its proxies with rockets and other weapons produced inside Iran, including the short-range rockets commonly referred to as Katyusha rockets, US-based Iran researcher Amir Toumaj noted.
IRGC-affiliated Tasnim News in an August 2 report described the "new capability of guiding a rocket up to the point of impact" as "one of the most important developments in the recent unveiling of IRGC weaponry".
Tasnim News reported that IRGC ground forces improved "what is commonly called the Katyusha rocket in Iran" but is in fact an "Iranian made 122-millimetre rocket".
Depending on the variety, the so-called "Iranian-made Katyusha rockets" have a range of 1.6 kilometres to 21 kilometres, according to the report.
Khabar Online also reported on these rockets, referring to them as the IRGC's "creative production which will help the Palestinians and Lebanon's Hizbullah with their resistance movement".
The website stated that "compared to previous models, these new rockets are less susceptible to errors".
Significant resources have been expended to improve the reliability of the IRGC's arsenal of rockets and missiles. In 2017 alone, the Iranian parliament (Majles) designated some $300 million to "missile development".
It designated another $300 million for the Quds Force "to fight terrorism" -- a reference to the Quds Force's support for militias across the region.
This figure does not include the IRGC's other sources of funding, the mostly opaque Quds Force budget, or recent revelations that Iran's Central Bank helps the IRGC funnel funds in a bid to circumvent sanctions.
Iran's newest budget proposal allocates $6.9 billion to the IRGC, roughly three times the amount set aside for the country's regular military.