Iran's long reach into Iraqi affairs is spearheaded by Kataib Hizbullah, a militia founded by former Popular Mobilisation Forces (PMF) deputy head Abu Mahdi al-Muhandis and fiercely loyal to the Islamic Revolutionary Guard Corps (IRGC).
After al-Muhandis was killed alongside IRGC Quds Force commander Qassem Soleimani on January 3rd, competition among Iran-backed Iraqi militias has intensified.
Kataib Hizbullah, however, has so far maintained its position as the most prominent among them.
Despite the ambiguity surrounding its military and administrative structure, the militia has clearly outlined its ideology as a faction that follows the Wilayat al-Faqih (Guardianship of the Jurist) doctrine, said former Iraqi MP Taha al-Lahibi.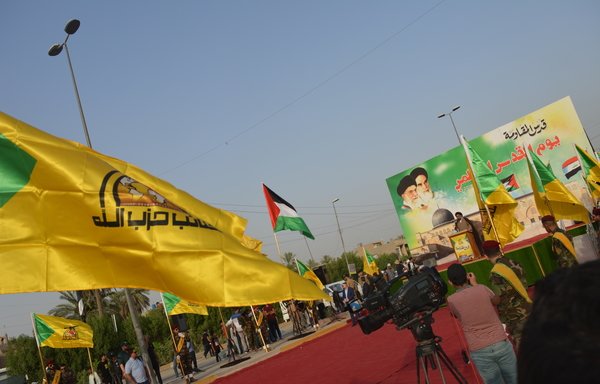 "This militia is fiercely loyal to Iran, and its members only obey the orders of Iranian Supreme leader Ali Khamenei and the IRGC, that directly oversee their funding, arms supplies and training," he told Diyaruna.
"Unlike other prominent militias, this group has no political representation, giving it more freedom to go about its business and challenge the government and stir unrest in service of Iran's agenda," he said.
Kataib Hizbullah assumed its present form in April 2007 when five armed factions active since 2003 -- Kataib Abu al-Fadl al-Abbas, Kataib Karbala, Kataib al-Sajjad, Kataib Zeid Ibn Ali and Kataib Ali al-Akbar -- joined forces.
Several Iranian and Lebanese commanders have been responsible for training Kataib Hizbullah, the most prominent of whom was Jihad Mughniyah, the former Lebanese Hizbullah leader who was assassinated in Syria in 2015.
Iran decided to use the name "Kataib Hizbullah" to reflect the militia's similarity with its ally, Lebanese Hizbullah, in an attempt to win support for its activities and add legitimacy to its presence.
Recent estimates indicate there are about 7,000 militiamen in Kataib Hizbullah's ranks, mainly deployed in western Iraq, along the Syrian border and other areas in Iraq. About 1,500 are deployed in Syria.
The US Department of State designated the militia as a terrorist group in July 2009 and on February 26th this year it added Ahmad al-Hamidawi, who replaced al-Muhandis, to the list.
Threat to civil peace
Kataib Hizbullah has "a long history of criminality and tampering with the security and sovereignty of Iraq and the safety of the region", said Iraqi journalist and political analyst Ziad al-Sinjari.
"Since its birth, this group has sought to dominate the Iraqi decision-making process," he told Diyaruna, noting that it "still poses a serious threat to civil peace as it feeds off of sectarian strife and unrest".
Since 2014, Kataib Hizbullah has been "involved in the displacement of no less than 50,000 civilians from their homes in the administrative district of Jurf al-Sakhr", south of Baghdad in Babil province, he said.
The militia kidnapped thousands of civilians from areas liberated from the "Islamic State of Iraq and Syria" (ISIS) and then "spirited [them] away to secret prisons in this administrative district", al-Sinjari said.
Kataib Hizbullah turned this lawless area "into a headquarters for itself, impenetrable even for state security services", he added.
"The militias have committed war crimes, including torturing and killing detainees and burying them in mass graves," he said.
The discovery of 31 unidentified bodies in the vicinity of Jurf al-Sakhr in August 2019 caused an uproar among the local population, who pointed the finger at armed groups operating outside the law.
Using Iraq as a launchpad
Al-Sinjari accused Kataib Hizbullah of "ethnically cleansing and demographically changing" the populations in parts of the country liberated from ISIS. He also accused it of "using Iraq as a launchpad to threaten neighbouring countries".
The militia has carried out "constant missile strikes on Iraqi military bases, where advisors from the international coalition are stationed, as well as embassies and diplomatic missions in the Green Zone in Baghdad", he said.
"Its violent suppression of Iraqi protests against Iran's influence has exposed the true nature of this militia as nothing but a gang that wants to harm Iraqis for the benefit of Iran," he added.
"The youth protests in Iraq thwarted the plans of Kataib Hizbullah to stir sectarianism and tear apart the national identity," Iraqi strategy expert and political analyst Alaa al-Nashou told Diyaruna.
"Iraqis are fully aware of these plans and they revolted against them, rejecting the dominance of these and other Iran-backed militias in Iraq and their influence over the internal affairs of their country," he said.
"Iran uses the militias as tools in its indirect confrontation with the US and the world," he said. "But it certainly does not want to sacrifice its elite militia force, in the form of Kataib Hizbullah, by engaging in losing battles that could be suicidal."