Iran has been using the waters of the Arabian Gulf to carry out smuggling operations that finance its proxy wars and expansionist agenda in the Middle East, experts told Al-Mashareq.
US Navy and international coalition forces have managed to curb these operations, in co-operation with the countries of the region, thus blocking a key source of funding for the Islamic Revolutionary Guard Corps (IRGC).
A French ship working in support of a Combined Maritime Forces (CMF) task force seized on November 8th over one tonne of hashish worth $8 million from a suspicious vessel in the Arabian Sea's "Hash Highway".
Smuggling has been a problem in Gulf waters for some time, Col. Rashid Mohammed al-Marri, formerly of the Dubai Police Anti-Narcotics Department, told Al-Mashareq.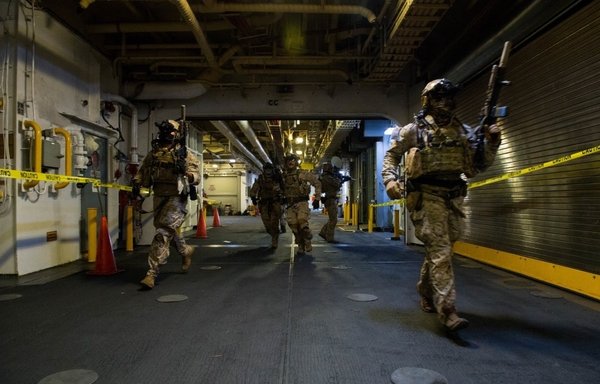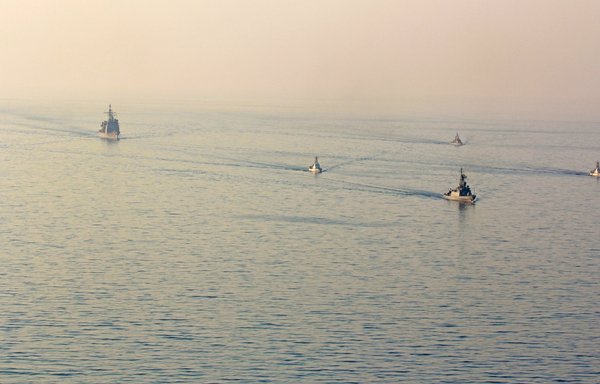 There has been trafficking in all kinds of illegal goods, including narcotics, weapons, and even human trafficking, he said.
This used to be the domain of gangs of smugglers and pirates, al-Marri said, but when the IRGC emerged, it took over most of these covert operations.
Traditional gangs were scared away by regional tensions, he said, and these operations became almost exclusively the domain of the IRGC.
"Consequently, all anti-smuggling operations are now directed against the IRGC's operations," al-Marri said.
Smuggling operations of all kinds "are a major source of funding for the IRGC's affiliates in the region, especially drug smuggling, which brings in an enormous amount of money", he said.
"The stepped up surveillance and disruption of these operations will undoubtedly cripple IRGC affiliates, as money is essential for their work," he added.
US Navy operations, carried out in co-ordination with regional units, have resulted in "thousands of tonnes of drugs stopped and seized", al-Marri said.
US forces have been providing regular training to military and security units of the Gulf states, he said, to help them deal with this issue.
Ground forces have received training on securing the coastline, from which smuggling operations are launched, with naval units participating in the training exercises, he said.
The training also extends to customs detachments, which conduct regular patrols in regional waters in order to monitor suspicious activity, al-Marri said.
Resumption of training exercises
"Anti-smuggling operations require high-level skills that are only acquired through training and exercises that simulate reality," Egyptian military expert Talaat Moussa told Al-Mashareq.
Operations in the Arabian Gulf "require co-ordination and co-operation between the US forces deployed in the region and units from the Gulf states and other countries taking part in surveillance, search and inspection operations", he said.
The US Navy is preparing to resume "Visit, Board, Search and Seizure" (VBSS) drills in the Gulf. These include maritime boarding to conduct inspections, capture enemy vessels and combat terrorism, piracy and smuggling.
In the interim, he added, "US forces continually conduct exercises that focus on tactical aspects related to surprise, quick boarding and quick searches, which are the basis for similar operations".
On October 28th, sailors, marines, and coast guardsmen conducted a training on boarding procedures aboard the Military Sealift Command dry cargo and ammunition ship USNS Matthew Perry.
This kind of training is necessary as it requires full co-ordination between the many units that "provide air cover and precise traditional and electronic surveillance, in addition to providing protection for the teams doing the storming", Moussa said.
"These exercises are very important due to the risk involved in the raids, which could escalate into real battles with the smugglers," he said.
Moussa noted that "the IRGC often employs gangs and smugglers to carry out these operations", both to evade accountability and because smugglers are "intimately familiar with the smuggling routes and know how to evade surveillance".
Gulf waters have long been one of the most important commercial conduits, as they are a link between many countries, including for the transport of oil, Saudi police officer Maj. Jamal al-Nukhaifi told Al-Mashareq.
"Large quantities" of weapons have been seized off the shores of Bahrain, Saudi Arabia and other Gulf states, he said, "and their source was determined to be Iran, which aimed to distribute them to its affiliates in the Gulf states".