The US "maximum pressure" campaign has successfully prevented Iran from making significant progress in its nuclear and missile development programmes, which it could use to threaten the region, observers told Al-Mashareq.
Although Iranian officials say the Islamic Republic only uses its missile capabilities for defensive purposes, their rhetoric belies that.
"We will use our missile power to aid our friends," Iran's president Hassan Rouhani said on August 20th, addressing the ceremonial unveiling of the new 1,400-kilometre "Haj Qassem" missile.
"Haj Qassem" is named after slain Islamic Revolutionary Guard Corps (IRGC) Quds Force commander Qassem Soleimani, who was killed in a US airstrike on January 3rd.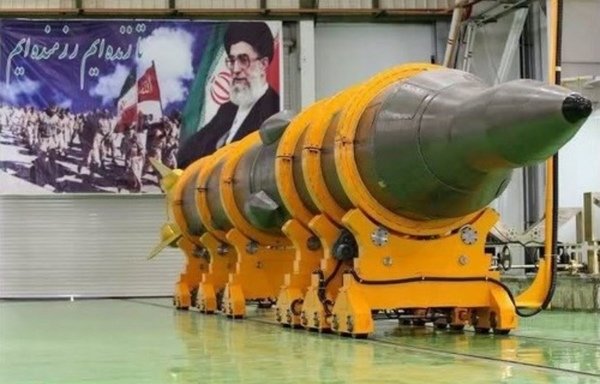 The missile's namesake is widely credited with organising and arming militant Shia groups across the region, including Kataib Hizbullah in Iraq, which has repeatedly targeted coalition forces in Iraq and Baghdad's Green Zone.
Iran's missile program: 'long-term threat'
Iranian officials have repeatedly boasted that Tehran can strike any target within 2,000 kilometres of its territory. Though Tehran denies it, Western experts and media have said that some of Iran's missiles, including the "Sejjil", could reach as far as the borders of some NATO-allied countries in Europe.
US-based Iran researcher Amir Toumaj told Al-Mashareq, "The Islamic Republic's missile programme is a long-term threat to Europe as Iran advances its intercontinental ballistic missile (ICBM) programme."
Observers said the US "maximum pressure" campaign has also significantly slowed down Iran's progress toward becoming "a nuclear weapons-capable" state. Obtaining nuclear weapons would give Iran a free hand to continue its regional expansionism and hegemony, they said.
"The US sanctions may not have completely stopped Iran's nuclear and missile programmes," said US-based Iran analyst Mohsen Hoseyni, "but they have slowed them down due to their financial impact."
"No country is going to do Iran any favors," Hoseyni told Al-Mashareq. "Other countries [such as Russia or China] will only give Iran missile and nuclear technology if it can pay for them, which it cannot," he said, emphasizing the success of US sanctions as part of the broader pressure campaign.
Published data show that on the heels of harsher US sanctions, Iran's GDP shrank by 13% and its military spending fell by 2% between 2018 and 2020.
'Genocide in Syria'
The Iranian regime has been open about continuing to arm terror groups across the region. Iran's military spokesman Abolfazl Shekarchi said on September 22nd that the Islamic Republic has shared missile technology and expertise with Yemenis.
The revelation effectively undermines Tehran's longstanding assertion that it only provides "advisory support" to the Houthis.
"There are no ovens with smoke stacks," US-based journalist Shahin Mohammadi said in reference to World War II-era Nazi death camps. But, he added, "that does not mean what Iran does in the region is not a violation of human rights."
Referring to Iran's multi-year intervention in Syria in support of Syrian president Bashar al-Assad's regime, Mohammadi told Al-Mashareq: "To protect al-Assad, the IRGC trained his [military] forces and urged them to attack peaceful protestors."
The IRGC also "participated in [the Syrian army's] mass killings -- including chemical attacks -- and the use of barrel bombs, targeting Syrian civilians", he said. "What IRGC commanders did in Syria amounts to genocide."