When she learned that Lebanon's border with Syria would be re-opened, after a recent closure to curb the spread of coronavirus, Syrian refugee Fida Moufdel Khudr instructed her children to begin packing their belongings.
On the morning of June 28th, she took a taxi to the Bekaa Valley with her son Jalal, 16, and daughter Abeer, 14, to cross back into Syria and return to the village of Maan in rural Homs, which she fled eight years ago.
"The difficult economic and financial conditions in Lebanon necessitated that I make the decision to return," she told Al-Mashareq, on the eve of her departure.
"I fought to protect my children, but we have reached a point where we are no longer able to survive," she said, noting that there are increasingly fewer job opportunities available to Syrians as a result of the financial crisis.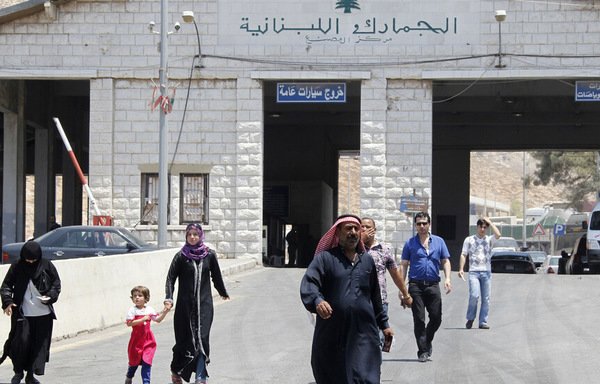 When she first arrived in Lebanon, Khudr and her three children settled in Metn, where she rented a modest room in the Zekrit industrial area.
But rent increased last year, she said, and the family was forced to move to Mazraat Yachouh, where Khudr rented a room in a building after renovating it at her own expense in exchange for an affordable monthly rent.
In early June, however, her rent was suddenly raised.
When she saw a television report announcing the reopening of the borders with Syria, "I did not hesitate for a moment to make the decision to return", she said.
Returning to Syria with the Caesar Act in effect is risky, but Khudr says she wants to "turn the page on being a refugee and return to my village".
Returning to Syria
After seeing their purchasing power in Lebanon diminish due to the steep decline in the exchange rate, rise in food prices and diminished job options, many Syrian refugee families have decided to return home.
Shaker Mohammed Ibrahim told Al-Mashareq he decided to return to Syria's Idlib because "after seven years in Lebanon with my wife and three children, I have found myself unable to support them, because of the financial crisis".
He had opened an auto repair shop in east Beirut's al-Nabaa, but even this was not enough, he said.
"Today, like all Lebanese and my Syrian brothers, I am caught between the coronavirus epidemic and the economic crisis," Ibrahim said.
Muhammad Azzam, a refugee from rural Aleppo, also said he has decided to return home with his family, after more than five years in the Bekaa Valley.
"Despite the circumstances that Syria is facing today and the repercussions the Caesar Act may have on us as a people, the decision to return is irreversible, because I can no longer provide anything for my family," he told Al-Mashareq.
"I used to work in a warehouse for a monthly salary that was barely enough to cover the rent of the room and food, but was laid off due to the difficult circumstances in Lebanon," he said.
Impact of economic crisis
Syrian refugees are suffering amid the economic crisis, and their situation has been greatly exacerbated by the restrictions necessitated to stem the coronavirus pandemic, UNHCR spokeswoman Dalal Harb told Al-Mashareq.
According to a survey the UNHCR conducted in late April, more than 70% of Syrian refugees said the difficulties they are facing in Lebanon are related to purchasing food, she said.
More refugees are resorting to borrowing to pay for basic needs, she said.
UNHCR "estimates that three quarters of the Syrian refugees in Lebanon at the very least are currently living below the abject poverty line", Harb said.