BEIRUT -- Many Syrian refugees are facing abject poverty and hunger amid Lebanon's current political and economic woes, with some families forced to make horrible choices merely to survive.
Circumstances are increasingly difficult for Abdel Wahab Shami, a refugee from Aleppo who now resides in al-Nabaa in Beirut's eastern suburbs with his family.
Shami restores, repairs and cleans carpets with his wife and five children, the oldest of whom is 15, bringing in around 1.2 million LBP per month for his work.
"This amount allows me to buy only a very small amount of grain," Shami told Al-Mashareq, noting that the family can no longer afford to eat meat.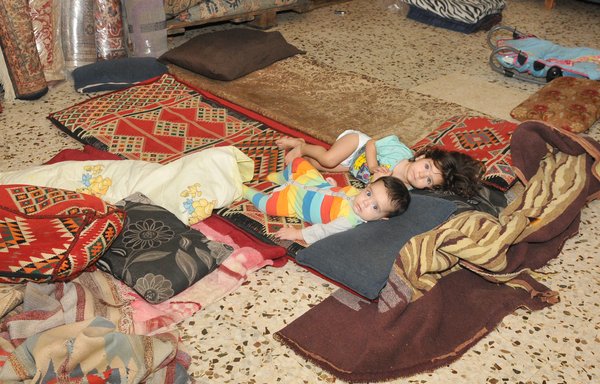 "Lebanon's crisis has affected the sustenance of my children because I can no longer provide them with healthy food," he said.
He said he used to receive 400,000 LBP per month in assistance from the United Nations High Commissioner for Refugees (UNHCR) but no longer gets this help, "which means more poverty and reliance on the generosity of our neighbours".
"Our situation is more difficult than one can imagine," said Shami's wife, Nabila Hassoun. She has not enrolled her children in school because of the cost of transportation, she said, and can barely afford to feed them.
"I stave off my children's hunger with sandwiches of oil, salt, and cumin, because my kitchen is empty except for a very small amount of beans and rice."
"The situation is difficult for all of us refugees because Lebanon's economic conditions have negatively affected us," said their neighbour, Laila Mohammed Khalil, who has two sons, aged 11 and 13.
She and her husband, Mohammed, are struggling to afford even the most basic foods, she said, as together they bring in under 2 million LBP per month. Of this, 1 million goes to pay their rent.
The family of seven occupies a single room.
Food insecurity
All Syrian refugees in Lebanon are facing similar circumstances, said Abu Ahmad Saiba, who heads The Voice of Syrian Refugees in Lebanon.
This is confirmed by the preliminary findings of the Vulnerability Assessment of Syrian Refugees in Lebanon for 2021, the UNHCR, World Food Programme (WFP) and UN children's fund (UNICEF) said in a September 29 statement.
The assessment shows Syrian refugees are facing miserable conditions as a result of Lebanon's economic, social and health crises, and that nine out of 10 of them live in extreme poverty.
It also shows the majority have been forced to resort to begging or borrowing, have stopped sending their children to school, stopped paying rent or reduced their spending on health care in order to stay alive.
The assessment showed an increase in the number of family members who were forced to accept low-paying or high-risk jobs or additional work shifts to earn the same income the family was able to earn in 2020.
It indicated that the more than 85% decline in the value of the Lebanese currency increased food prices by 404%, which led to alarming levels of food insecurity for 49% of refugees in June.
It also forced two thirds of refugee families to reduce the size of food portions or the number of meals consumed daily.
"About 900,000 Syrian refugees are facing a very serious situation as a result of Lebanon's crisis, especially in Arsal, where 75,000 Syrian refugees live," Saiba told Al-Mashareq.
The refugees recently received 300,000 LBP in assistance from the WFP, and winter assistance from the UNHCR of 950,000 LBP at the end of September, he said.
But the value of assistance is decreasing, due to the rise in the exchange rate of the dollar and increase in prices, he added, noting that food prices have increased by 400%.
Many refugees "can no longer afford to buy meat, chicken, certain cereals or medicine because of the outrageously high prices and live without electricity as they cannot afford to subscribe to private generator services", Saiba said.
Many are living in tents, preparing to face yet another winter and yet another rise in fuel prices, he said.
Survival funds
The overall deterioration of living conditions has "led to an increase in humanitarian needs and the prevalence of negative coping and adaptation mechanisms", UNHCR spokeswoman Lisa Abu Khaled told Al-Mashareq.
"UNHCR has stepped up its humanitarian assistance to reach more people in need and support the most vulnerable and fragile segments of the Lebanese and refugee population," she said.
This involves various types of assistance, including cash aid, she said, noting that UNHCR is adjusting its programmes to support these communities and is urging the international community to continue to stand by them.
Abu Khaled said the UNHCR "is able to provide monthly cash aid to 57% of refugee families, or 171,100 Syrian families", and can reach 80% of refugees with monthly cash and food assistance through the WFP.
She said the UNHCR, WFP and partner organisations, after reaching an agreement with government partners, "increased the value of multi-purpose cash and food aid from 400,000 to 800,000 LBP per family per month".
Individuals now receive 300,000 LBP per month for food aid, she added, up from the previous 100,000 LBP.
This will support refugee families living in extreme poverty with an amount closer to the minimum expenditure needed to survive, she said.