Jamila Darwish bends over her sewing machine at her workshop in the Miniyeh region outside Tripoli, racing against time to complete an urgent order of 2,000 face masks that would help protect against the novel coronavirus (COVID-19).
"My late husband and I owned a sewing workshop for more than 50 years, but I abandoned it after my husband died years ago and never thought of restarting it," she told Al-Mashareq.
But two years ago, an official of the USAID-funded Livelihoods and Inclusive Finance Expansion (LIFE) project visited the factory to assess whether it could be used to train women on sewing.
Darwish, 65, a mother of eight children, has loved sewing since a very young age and helped her husband establish the factory.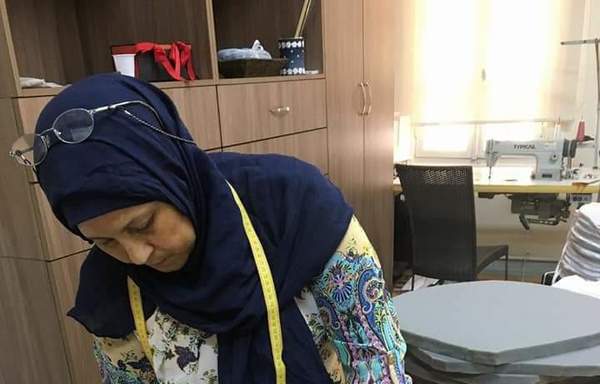 After being away from it for 14 years, since her husband's death, the LIFE project got her back into the profession.
"I did not reopen it for money because God has blessed me with more than I deserve," she said. "I reopened it to help women and girls and train them on sewing so it can become a source of livelihood for them."
"The LIFE project provided me with new and modern sewing machines and I received training on how to market what we produce," she said.
Darwish periodically trains young women on the basic fundamentals of sewing. Most recently, 10 young women from Tripoli's Jabal Mohsen district were trained on sewing face masks, which were later distributed free of charge.
The Baladi programme
USAID's BALADI programme in Lebanon also has recently held a mask and personal protective equipment (PPE) sewing course for women from across Lebanon.
Mother of two Rachida Itani, 50, works at al-Makassed Philanthropic Islamic Association's atelier in Beirut, sewing artisanal clothing. But recently, after she enrolled in BALADI's sewing course, she started designing and making face masks.
The course "was very helpful to me", she told Al-Mashareq. "It developed my capabilities and will enable me to open my own business in the future."
"It also helped me earn money to support my family," she added.
Zainab Hayawi, 35, a Syrian refugee from Deir Ezzor who lives in Beirut also enrolled in the BALADI course.
She is currently sewing face masks at the al-Makassed atelier, which allows her to provide for her family of eight.
The course "provided me with work, improved my family's financial situation, boosted my self-confidence and eased the hardships brought on by our displacement", Hayawi said.
Support for vulnerable communities
USAID "has supported and continues to support local communities with a range of interventions in many sectors, and has increased its coronavirus-fighting support to those communities", a source with the agency, who asked to remain anonymous, told Al-Mashareq.
Through the BALADI Capacity Building (CAP) programme, the agency provides grants to municipalities, civil society and religious organisations to support vulnerable communities, he said.
"A number of women were trained on sewing techniques and they are now sewing masks and PPE for use in preventing the spread of COVID-19," he said.
The programme also is planning to support home health care providers by supplying them with training and PPE.
Meanwhile, the agency's project development programme is helping companies meet additional needs related to containing COVID-19, such as companies that produce antiseptics and masks, as well as food distributors.