The financial support the Iranian regime provides to Yemen's Houthis (Ansarallah) has enabled the militia to sustain the conflict, to the detriment of the Yemeni people, analysts told Al-Mashareq.
The Iranian regime has been quietly transferring funds to the militia via front companies established for this purpose, they said, thus enabling the Houthis to recruit fighters and launch attacks that in turn have prolonged the war.
Iran conducts similar operations to fund its proxies in Iraq and Lebanon, all for the sake of establishing regional influence.
Hundreds of recently leaked intelligence reports show just to what extent the Iranian regime is willing to go to embed itself into the affairs of these countries.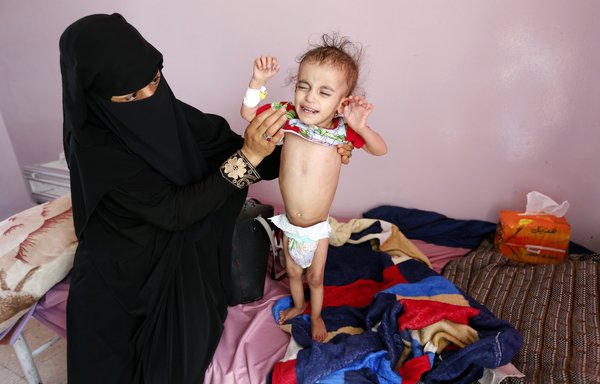 The documents, contained in an archive of secret Iranian intelligence cables obtained by The Intercept and shared with The New York Times, expose Tehran's vast influence in Iraq.
The presence in Yemen of a high-ranking financier and official of the Islamic Revolutionary Guard Corps' Quds Force (IRGC-QF) is another clear sign of Iranian interference in Yemen's affairs.
The office of US Iran envoy Brian Hook on December 5th announced that the State Department's Rewards for Justice programme was offering a reward of up to $15 million "for information on the financial activities, networks and associates of Abdul Reza Shahlai".
Shahlai, who is based in Sanaa and goes by a number of aliases, was listed as a Specially Designated Global Terrorist by the US Department of the Treasury in 2008 and 2011.
He also has been blacklisted by Saudi Arabia, the EU, the UK and Bahrain.
Shahlai has been charged with a long list of crimes that include planning assassinations of members of the international coalition forces in Iraq and the provision of weapons and explosives to Iran-backed militias in that country.
"Given Shahlai's track record of terrorism and destabilisation in Iraq, we remain gravely concerned by his presence in Yemen and potential role in providing advanced weaponry of the kind that we have interdicted to the Houthis," Hook's office said.
"Iranian unmanned aerial vehicles (UAVs), missiles, and explosive boats have been used by the Houthis to threaten key civilian and economic interests and otherwise wreak havoc in the region," it added.
"This designation, together with the recent interdiction in Yemen, underscores our commitment to deny Iran the means to run an expansionist foreign policy. We call on the international community to join us in holding Iran accountable for its acts of terror both against the nations of the world and against the Iranian people."
Funneling money to the Houthis
In recent years, the Iranian regime has established a network of front companies to funnel money to the Houthis, which has enabled them to keep Yemen in a state of war, said al-Hodeidah province governor al-Hassan Taher.
These include currency exchange, money transfer and maritime transport companies, as well as "humanitarian aid" operations that are merely covert ventures that provide financing to the Houthis, he told Al-Mashareq.
"Fuel and other oil derivatives are smuggled aboard Iranian ships that anchor near the northern ports of al-Hodeidah," he said.
The Houthis unload them and transport them via small boats to the areas under their control, where they sell them on for a profit, he added.
Hashish also is smuggled to the Houthis, who use the money generated from the trade as a source of financing, Taher said.
"There is no question" that the Houthis are funded through various Iranian front companies that funnel them weapons, drugs and other goods, he said.
Iran conducts similar smuggling operations to Iraq and Lebanon, he added, noting that in these countries its interference also "undermines their security and stability and usurps their peoples' wealth and resources".
Iran's financing of the Houthis also presents a "challenge to UN Security Council and UN resolutions related to fueling the war in Yemen", Taher said.
Iranian support fuels Yemen war
Iranian support provides the Houthis with the cash that enables them to pay the salaries of their fighters and collaborators, said General Union of Yemeni Chambers of Commerce and Industry member Ali al-Taizi.
This enables the destruction and devastation of war to continue and frustrates any prospect of relief or resolution, he told Al-Mashareq.
Newly issued foreign currency is circulating in Yemen among Houthi-affiliated front companies in Sanaa at a time when the poverty rate is rising to record levels, he said.
"Were it not for Iran's ongoing support, the bloodshed and destruction would not have continued on for all these years," al-Taizi said.
"The method used to finance 'Iran's tails' is very similar in all countries," Yemeni journalist Mohammed al-Dhabyani told Al-Mashareq.
The Iranian regime is financing the Houthis via "oil and drug smuggling, the hashish trade and direct financing through front companies", he said.
The ultimate aim of Iran's actions is to "block the prospects of any political solution in Yemen", al-Dhabyani noted.
"There is no state or group in the world that stands with the Houthis other than the Iranian regime, which provides them with arms and money in order to control [Yemen's] sovereign decisions and usurp its resources," he said.
By supporting the Houthis, Iran also seeks to "extend its influence over the Bab al-Mandeb strait, a gateway for global trade that Iran wants to control", he said.