Saudi Arabia and the UAE have been providing assistance to Syrian refugees in Lebanon to help them survive the harsh winter season, which has this year included several severe winter storms.
The Gulf states stepped in to help following a decline in assistance provided by international organisations which has led to a shortfall in food and basic goods.
"Nearly nine years after our displacement to Arsal, I felt for the first time how incapable I am of meeting my family's minimum living requirements," said Jamal al-Mohammed, a Syrian refugee living in a camp in Arsal.
"We are facing a very cold winter, heavy rainstorms and snow, at a time when I cannot provide food and heating supplies for my family of seven children, my wife and my parents," he told Al-Mashareq.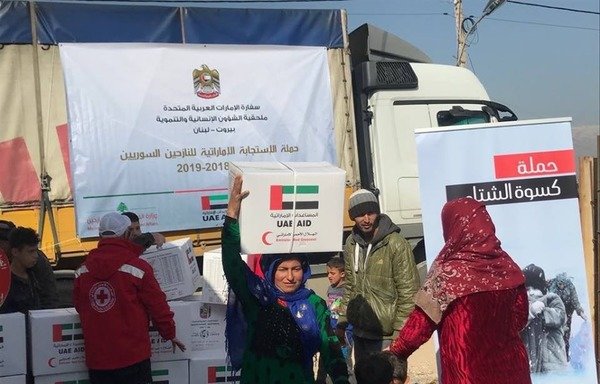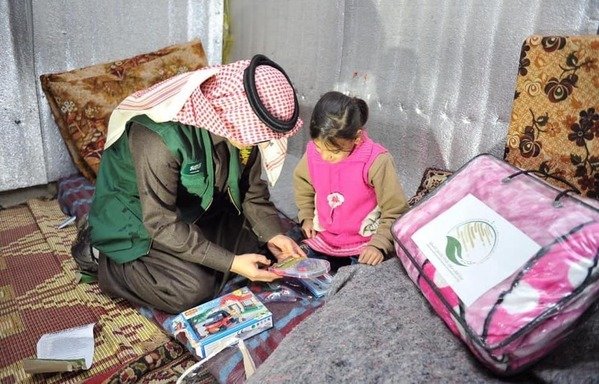 The UAE embassy distributed food rations to his family, he said, as did Saudi Arabia's King Salman Humanitarian Aid and Relief Centre (KSRelief).
These rations included "cereals such as rice, chickpeas and lentils, milk, sugar and canned food, as well as blankets", al-Mohammed said.
Bar Elias camp resident Fatima al-Yassin told Al-Mashareq the Emirati and Saudi food rations were distributed after "the decline in the aid provided by UN organisations", especially the aid provided through the smart-card programme.
The needs of her family of five children "are growing by the day, and we cannot meet them because my husband, who works as a farmer in the Bekaa Valley, does not work during the winter", she said.
"We receive aid from different sources to hang on and survive until our situation is resolved," al-Yassin added.
Emergency plan launched
KSRelief responded to complaints about the shortage in aid, and in mid-January launched an emergency plan to distribute humanitarian assistance in Lebanon.
In response to an appeal for aid from Syrian refugees in Arsal, KSRelief "acted based on the emergency plan" which outlined winter priorities, KSRelief director in Lebanon Fahad al-Qannas told Al-Mashareq.
"We determined that they need food, so we distributed 15,000 food baskets in the Bekaa governorate, each basket weighing more than 37 kilogrammes," he said.
These included a selection of food items in large enough quantities to last several months and meet the needs of the entire family, he said, adding that 40,000 blankets also were distributed.
The emergency aid campaign "covered all areas in Lebanon, and the aid and blankets were distributed in co-operation with Dar al-Fatwa's Relief Committee to Syrian refugees in Arsal, Baalbek, Bar Elias, Sidon and Tyre", al-Qannas said.
Refugees in areas as far to the north as Wadi Khaled on the border with Syria benefited from the campaign, he said.
The distribution of aid will continue throughout Lebanon, he noted, and it is expected that an additional 10,000 food baskets will be distributed.
UAE Response Campaign
Food rations are being distributed to refugees in Lebanon via the UAE Embassy as part of the Winter 2019 UAE Response Campaign for Displaced Syrians.
These are being distributed in co-operation with Lebanon's Ministry of State for Displaced Persons Affairs and the Office of the UN High Commissioner for Refugees (UNHCR).
The Emirati campaign covers all areas where Syrian refugees are present, particularly in the Bekaa Valley and northern Lebanon, and includes the distribution of food rations to Lebanese citizens in host communities.
Khaled Raad, of the government's Arsal refugees co-ordination committee, said the aid distribution since January has been "good compared to previous years".
Food and fuel rations have been delivered unevenly, however, as "rations varied from one camp to another", he told Al-Mashareq.
Rations were not distributed to refugees living in rented rooms, he said, "even though their situation is just as bad as that of the refugees living in tents".