For the seventh consecutive year, the holy month of Ramadan comes as a burden for Wahiba al-Hamad, a Syrian refugee from the Qalamoun region, for she is unable to prepare her four children's favorite dishes for the iftar meals.
"I used to prepare the most delicious dishes daily, and a large number of our family members used to gather at our table," said al-Hamad, who now lives in a refugee camp in Bar Elias in Lebanon's Bekaa Valley.
"I used to prepare soup, meat and chicken dishes and sweets," she told Al-Mashareq. "However, today I prepare none of that. I lost my husband in the war and I rely on the aid I receive to get through the dark days."
Al-Hamad said she receives some Ramadan food rations from local charitable organisations, which supplement any meat a butcher near the camp can spare.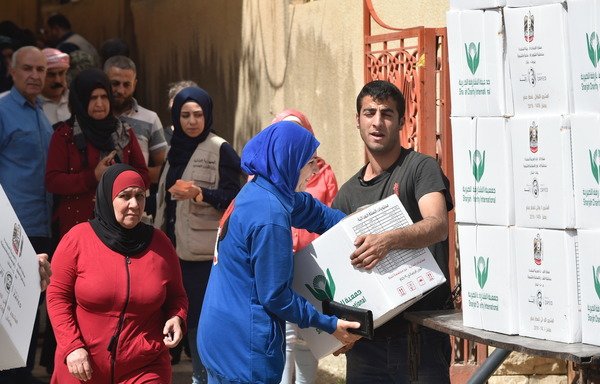 But this year, she noted, Ramadan "did not bring with it the aid we received in past years, as there is a drop in donations, and it is limited to what we receive from some Arab embassies".
Decline in Ramadan aid
Ramadan has been difficult for Syrian refugees this year, as there has been a decline in donations and aid from donor countries, international organisations and civil society groups that often used to increase during the holy month.
Ramadan initiatives for the benefit of Syrian refugees and host communities in need of assistance are largely reliant on aid provided by the Saudi and UAE embassies and the UN High Commissioner for Refugees (UNHCR).
On May 17th, the King Salman Relief and Humanitarian Action Centre launched a campaign to distribute food to Syrian refugees and eligible Lebanese families during the holy month.
The UAE embassy also launched a Ramadan campaign to provide iftar meals to Syrian refugees living under difficult circumstances and others in need, UAE Ambassador to Lebanon Hamad Saeed al-Shamsi told Al-Mashareq.
The annual Emirati Iftar Project is supported by donations from UAE charitable institutions that are committed to this humanitarian mission, he said.
The current campaign was launched on the first day of Ramadan in co-ordination with the Ministry of Social Affairs, Higher Relief Authority, the Relief and Humanitarian Aid Organisation of Dar al-Fatwa and other organisations.
"Food rations are being distributed in all areas of Lebanon, from Beirut to Sidon, Tripoli, Zgharta, Zahle, Akkar, Western and Central Bekaa, Baalbek, Arsal, Iqlim al-Kharroub, Chouf, Marjayoun, Hasbaya and Tyre, with the aim of reaching about 125,000 Syrian and Lebanese beneficiaries," al-Shamsi said.
The UAE is committed to supporting refugees and host communities via "our humanitarian, charitable and social role, not only in Ramadan, but with humanitarian campaigns conducted throughout the year", he said.
A platform for zakat
"UNHCR is doubling its efforts during the current month of Ramadan to support the huge number of Syrian refugee families displaced to Lebanon," said UNHCR public information official Lisa Abu Khaled.
"To this end, UNHCR launched its global 'Hand in Hand' campaign to raise awareness about the urgent needs of Syrian refugees, particularly women and children, and provide them with financial aid," she told Al-Mashareq.
The majority of Syrian refugees in Lebanon live in extreme poverty, she added, with many observing Ramadan away from their country for the seventh year.
They need all the support, assistance and solidarity they can get, she said, noting that "UNHCR is continuing its monthly aid programmes, especially those related to food rations".
The Hand in Hand campaign, launched May 20th from Dubai, continues throughout Ramadan and included the launch of UNHCR's global zakat platform.
"The global zakat platform provides a reliable and effective means for zakat and to ensure that all payments are made directly to the neediest refugees in Lebanon and Jordan," Abu Khaled said.
The zakat initiative is in full compliance with sharia, and is backed by five fatwas issued by prominent Muslim scholars and Islamic institutions, UNHCR said, and is subject to strict governance standards that ensure transparency at every step.
The UNHCR's online system for zakat payment can be found at: zakat.unhcr.org