Syrian refugees residing in informal camps scattered throughout Lebanon grappled with strong winds and snowfall due to a second snowstorm to hit the country in less than two weeks.
Snowstorm Miriam, which hit the country on Sunday (January 13th) and lasted for a few days, brought with it strong winds of up to 100 kilometres per hour and waves up to seven metres high, along with heavy snowfall.
Last week's snowstorm, dubbed Norma, battered north-eastern Lebanon for some days and displaced many Syrian refugees from their tents, which have collapsed as a result of heavy snowfall, rainfall and high winds.
The force of that storm wreaked havoc on the informal refugee camps in the Bekaa Valley, the north and Mount Lebanon.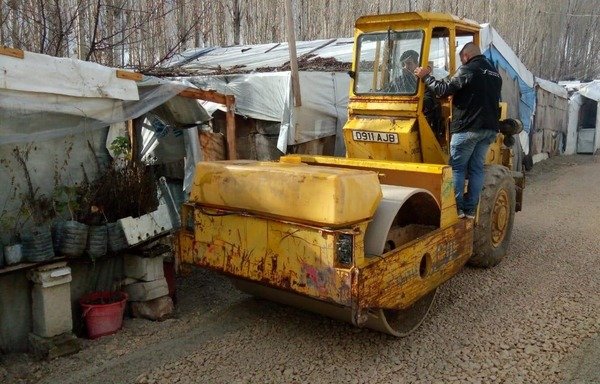 In the aftermath of snowstorm Norma, Syrian refugees reinforced their plastic tents which were uprooted by the storm or flooded by water from the Litani river.
Aid organisations helped the refugees shore up their tents, and provided them with lumber, plastic tarp, blankets, mattresses, winter clothing, food and heating material.
In a statement issued on January 12th, UNHCR appealed to all governmental, non-governmental and civil society organisations "to stay ready and work together to protect the most vulnerable from further extreme weather conditions".
Opting to return
With the arrival of snowstorm Miriam, a large number of refugees remained in the shelters to which they were moved after the first storm hit, while many others returned to their tents.
Zakaria Shehadeh, a Syrian refugee from Homs who lives in al-Hindi refugee camp in Bar Elias with his wife and four children, returned to the camp to prepare for snowstorm Miriam.
"We were forced to move to a shelter when our tent was flooded, but we returned to it and dried up our belongings," he told Al-Mashareq.
Shehadeh dug a trench around his tent to help drain the rainwater and water from the Litani river in the event it floods, he said.
He also surrounded the tent with sandbags to prevent water from seeping in.
"Our situation is tragic," he said. "Our bodies were drenched with water in the first storm and I do not want this to happen again, especially that I have very young children between the ages of 15 days and seven years old."
Sawa for Development and Aid supplied the family with an amount of mazout (fuel oil), while the Basmeh and Zeitooneh organisation provided food items, he said, "which we hope will be enough to get us through the current storm".
Abu Talal Khaled Ali, a Syrian refugee from Homs displaced to an informal camp in Bar Elias, opted to stay in the town's mosque with his 14-member family.
He decided against returning to the camp because "water soaked all our belongings, mattresses and blankets, and a large section of the tent collapsed and requires a lot of work to get it back to the way it was".
"My grandchildren are very young, and there are babies among them, and there is nothing to reassure us that the river will not flood again," he told Al-Mashareq.
"It is better for us to stay in the mosque until the current storm passes, because food and heating are available," he added.
Crisis management operations room
Sawa has set up a crisis management operations room to co-ordinate aid efforts with other organisations, including Basmeh and Zeitooneh, Dar al-Salaam, Women Now for Development, the LAHA Initiative and Syrian Eyes, said Sawa operations co-ordinator Meshaal Haider.
Sawa "was the first organisation to rush to aid the refugees when the camps were flooded", he told Al-Mashareq.
"We moved 350 families to our seven centres, co-operated with other organisations to meet their needs, and provided those who stayed in their tents with heating material, mattresses, blankets and three meals a day," he said.
"We dug trenches to drain the water in the camps in Deir Zanoun, near Bar Elias, to prevent the water from getting into the tents again," Haider added.
Sawa tapped into funds from the its budget to provide a complete basket of food and personal hygiene supplies to 900 families, he said.
Basmeh and Zeitooneh "rushed to rescue the refugees during the previous storm, and moved 200 families to its centres", said co-ordinator Diana Saleh.
It has provided mazout, blankets and mattresses to the refugees, she said, and reinforced tents at the Bar Elias camps with strong and water resistant plastic tarps, in addition to digging trenches around the tents.
Winter aid initiatives
Meanwhile, several initiatives were launched this year to assist Syrian refugees and their host communities, including the UAE Response Campaign for Displaced Syrians, "Winter 2019", launched by the UAE Embassy in Lebanon in early January.
As part of the campaign's Kiswat al-Shitaa initiative, winter clothes were distributed to Syrian refugees through a donation from the Emirati Red Crescent.
Food aid also was distributed at the al-Semmaqiyeh school in Akkar, which hosted a large number of refugees after the flooding of the al-Nahr al-Kabir river on the Lebanese-Syrian border last week.
The initiative was done in collaboration between UNHCR and the Ministry of Refugee Affairs.
The King Salman Humanitarian Aid and Relief Centre (KSRelief) will also be launching a major emergency relief campaign to assist Syrian refugees in camps in Arsal, the Bekaa and Akkar.