More than 95,000 people have been "forcibly disappeared" since the outbreak of the Syrian conflict in March 2011, the vast majority of them by the Syrian regime, the Syrian Network for Human Rights revealed on August 30th.
The revelation is documented in a report produced by the non-governmental, independent network, which serves as a primary source for the Office of the UN High Commissioner for Human Rights on death-toll related analyses in Syria.
The Rome Statute of the International Criminal Court defines enforced disappearance as "the arrest, detention or abduction of persons by, or with the authorisation, support or acquiescence of, a State or a political organisation, followed by a refusal to acknowledge that deprivation of freedom or to give information on the fate or whereabouts of those persons, with the intention of removing them from the protection of the law for a prolonged period of time".
According to the network's report, "A Tunnel With No End", at least 95,056 people have been forcibly disappeared in Syria by all parties to the conflict.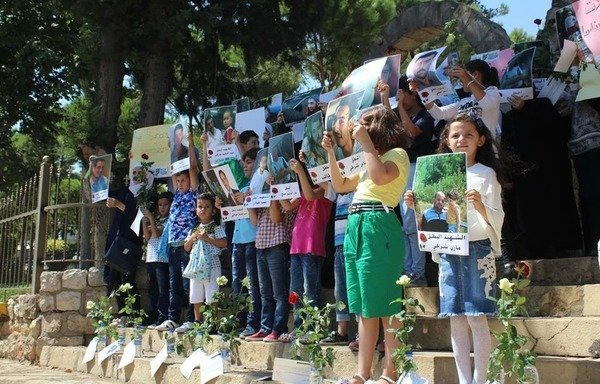 The Syrian regime is responsible for 85.9% of these disappearances, the report says -- or at least 81,652 people -- including 1,546 children and 4,837 women.
Issued on the International Day of the Disappeared (August 30th), the report claims that the regime's detainees and forcibly disappeared persons "have been subjected to extremely brutal and sadistic acts of torture".
Between March 2011 and August 2018, the report documents, 13,608 people have been killed by torture in regime detention centres.
Six years in prison
Nour Burhan al-Huda stands in front of a portrait of her son, Ahmed, which graces the wall of her home in the town of Ghazze in Lebanon's Bekaa Valley.
She studies her son's facial features, offering a silent prayer that he is still alive.
"September 9th marks the end of the sixth year my son has spent in the Syrian regime's prisons," she told Al-Mashareq.
Ahmed, a father of two, was arrested on September 9th, 2012, at the age of 27, while working the family's land in the Syrian city of al-Zabadani, she said.
Since that day, she said, the family has received no information about his whereabouts, "other than that his wife was informed that he is still alive".
"I live my days hoping that he will return to my bosom and the bosom of his family and two sons," al-Huda said.
For the last seven years, al-Huda and her four daughters have lived in Ghazze. Her husband, her other son and two sons-in-law were killed in the Syrian war.
On August 30th, she took part in a demonstration on the occasion of the International Day of the Disappeared organised by the Families for Freedom movement in the Ghazze-Bekaa area.
The protesters handed out roses in memory of Syrian activists, both men and women, who were forcibly disappeared by the Syrian regime, and those who were recently confirmed to have died, many as a result of torture.
'Thousands who suffer like me'
"There are thousands who suffer like me," al-Huda said.
Among them is Hala Abdul Rahim, who told Al-Mashareq that her husband was arrested on March 11th, 2015, in the Inshaat area of al-Zabadani.
"My husband is a tile layer, and his only fault is he wrote poetry to express his demand for freedom and democracy," she said.
Abdul Rahim said she and her four children live in hope that he will return safely to them, and expressed her hope that "all detainees would be released and all the forcibly disappeared would return".
She has tried to find out where he is via family members who remain in Syria, but no one dares to inquire about him, for fear of being arrested, she said.
Families for Freedom, launched in February 2017, is working to address the issue of prisoners and the forcibly disappeared alongside a number of organisations.
The goal is to commemorate Syrian activists "who were forcibly disappeared by the Syrian regime and were recently confirmed to have died under torture", said Ghada Abu Mesto, one of the movement's founders
Abu Mesto's husband was arrested on September 9th, 2012, she told Al-Mashareq, along with a large number of workers, while cultivating his land in rural Damascus. She remains unaware of his fate.
Keeping the issue alive
The roses handed out during the recent protest, and others like it, were "meant to emphasise that our detainees are detainees of the peaceful revolution", Abu Mesto said, noting that the detainees come from all religious groups.
Some have been detained by the Syrian regime, while others have been abducted or imprisoned by extremist groups such as the "Islamic State of Iraq and Syria" (ISIS), she said.
"Through our movement, which comprises Syrian women from the detainees' families living in European and Middle Eastern countries, including Lebanon, we work to reach decision makers to get them to support our cause," she said.
They aim to keep this human rights issue front and centre, she said.
Efforts are under way to "determine the [detainees'] fate, and to get international humanitarian organisations to enter prisons, improve health conditions in them and secure the release of detainees held by all parties", she added.
On October 10th, 2017, Families for Freedom launched the Freedom Bus initiative in London. The bus has been touring European capitals in September to raise awareness about the Syrian detainees held in regime prisons and elsewhere.
The bus aims to visit the relevant official and human rights bodies concerned, to ask them to pressure the Syrian regime and other parties to the conflict to reveal the fate of the detainees and of prisoners of conscience.