The Lebanese cabinet announced a renewal of its policy of dissociation at its first session since Prime Minister Saad al-Hariri announced his resignation.
At the December 5th session, al-Hariri officially announced he was rescinding that resignation, and said the government would renew its policy of dissociation.
"The Lebanese government, with all its political components, has decided to commit to dissociating from any conflicts, disputes or wars that harm Lebanon's political and economic relations with Arab countries," he said after the session.
The government's decision sought to quell the political crisis that erupted after al-Hariri announced his resignation on Saudi television on November 4th, a move that sparked fears Lebanon would be paralysed by regional tensions.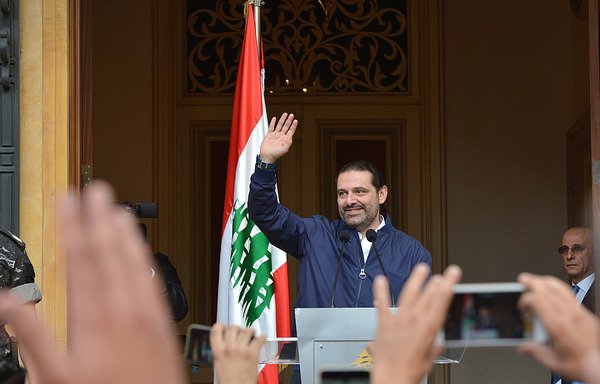 Al-Hariri's shock resignation came amid mounting Saudi accusations against Hizbullah's involvement in Yemen's war and of its involvement in Syria.
Public opinion is divided
Public opinion is divided into two main camps in Lebanon, Lebanese MP Shant Chinchinian of the Lebanese Forces bloc told Al-Mashareq.
One camp is convinced of the need for Lebanon to remain neutral in regional conflicts and is fully committed to the principle of non-intervention, he said.
"The other group, led by Hizbullah, insists that Lebanon be part of the conflict in the region, so I do not think it will adhere to non-intervention, and the coming days will prove that," he added.
A failure to respect the principle of dissociation will renew political conflict in Lebanon and will affect the government's performance, he said, which could lead to the resignation of some ministers and a deterioration of the economy.
"The aim of the principle of non-intervention in Lebanon is to limit Hizbullah's interference in the countries of the region," said Lebanese American University professor of international relations Imad Salamey.
Non-intervention is essential for the independence of any state, he told Al-Mashareq, but for smaller states such as Lebanon, it is harder to function without political and economic ties to other countries.
The policy of dissociation is therefore "no more than a political and media principle to soothe citizens and give them a kind of psycho-social security", he told Al-Mashareq, noting that it is not an operational principle.
Lebanon needs dialogue
"The decision on non-intervention was taken after regional conflicts escalated and Hizbullah interfered in a number of countries in the region," said Bahaa Abu Kroum of the Lebanese Progressive Socialist Party.
The responsiveness of Lebanese political parties to al-Hariri's demand for dissociation stems from their realisation that Lebanon will be unable to bear the consequences of involvement in regional conflicts, he told Al-Mashareq.
"The agreement on non-intervention has been the result of a national consensus," he said, and all parties are committed to it, even if there is some variation in levels of commitment.
Some parties are able to commit fully, he said, while others have external links, and their commitment to non-intervention will be partial.
"Even though some breach the commitment, the main thing is that there is a consensus on using dialogue between the parties to overcome problems," he said.
Major efforts are being made today to render Lebanon neutral in regional conflicts under the principle of dissociation, said Rabih Qais, of the Lebanese Foundation for Permanent Civil Peace.
Dissociation is a critical factor for "establishing peace and stability in Lebanon", he told Al-Mashareq.
"There is an international umbrella over Lebanon that fosters stability in the country and prevents it from being drawn into any security unrest," he said.
Therefore, opting for the principle of non-intervention is a good course of action for local political parties to maintain national stability, Qais added.