The United Nations (UN) will soon launch central archives containing millions of digitised documents that it says provide proof of crimes committed in Iraq by the "Islamic State of Iraq and Syria" (ISIS), an official said Wednesday (June 7).
The UN Investigative Team to promote Accountability for Crimes Committed by ISIS (UNITAD), began its fieldwork five years ago in an effort to hold the extremist group to account for its violations.
"For us, it is absolutely clear that only if we work side by side with Iraqi authorities, in particular with our counterparts in the Iraqi judiciary, UNITAD can be successful," said the UN's chief investigator, Christian Ritscher.
The German former prosecutor has been looking into a slew of ISIS atrocities, from murder, torture and mass rape to slavery and genocide.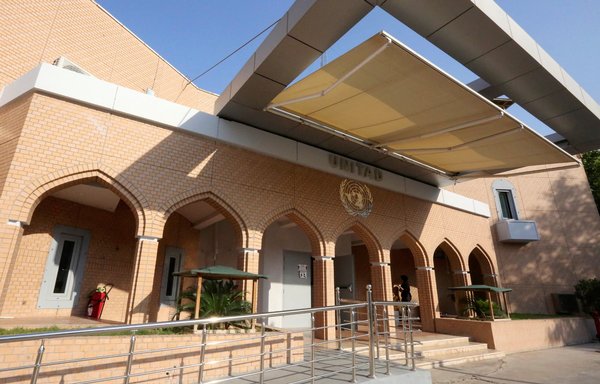 He says success would mean that perpetrators of "heinous international crimes" are held accountable "through evidence-based trials and before competent courts".
Among the components needed for success are "admissible and reliable evidence", he added, noting that "there is no shortage of evidence of ISIS crimes in Iraq".
"ISIS was a large-scale bureaucracy that documented and maintained a state-like administrative system," Ritscher explained.
Because of this, UNITAD launched a huge project to digitise ISIS documents "to ensure that this evidence is admissible before any competent court, whether in Iraq or in other states".
So far, eight million pages of documents in the possession of Iraqi authorities have been digitised and are proving useful in the Iraqi judicial system, he said.
A next step will be "establishing a central archive that will be the unified repository of all digitised evidence", Ritscher added.
In agreement with Iraqi authorities, the archive will be launched "in the coming days" and will be located at the Supreme Judicial Council of Iraq, he said.
The repository "could be a milestone to founding a comprehensive e-justice system in Iraq which can be upheld as a leading example, not only in the region, but also globally", he added.
Legacy of violence, brutality
After overrunning swathes of Iraq and Syria in 2014, ISIS briefly controlled a third of Iraqi territory.
Though Iraq claimed victory against ISIS in December 2017, and in March 2019 the group was ousted from its last stronghold in neighbouring Syria, it has continued to stage sporadic attacks in both countries.
International coalition and partner forces conducted 38 operations against ISIS in Iraq and Syria in May, detaining 31 of the group's operatives and killing eight others, the US military's Central Command said Tuesday (June 6).
Meeting in Riyadh on Wednesday, US and Gulf Co-operation Council (GCC) foreign ministers discussed stabilisation to ensure communities can recover from ISIS violence and efforts to counter ISIS narratives, among other topics.
Their meeting came as the group's legacy of violence continues to play out in Iraq and Syria.
On Wednesday, six women from Iraq's Yazidi minority were reunited with relatives nearly nine years after being abducted by ISIS, joining their families for a celebration at a park in Dohuk.
The women were first sent to Türkiye after being freed before travelling on to Iraq's Kurdish region, said Khairi Bouzani of the region's Kidnapped Yazidi Rescue Office, which oversees cases of missing Yazidis.
Women and girls from the Yazidi community, whose traditional home is in the Sinjar district of Iraq's Ninawa province, were subjected to forced marriages and sex slavery during the group's rule, between 2014 and 2015.
Thousands of men from the Kurdish-speaking community were massacred.
"The women were still children and teenagers when they were first taken captive in 2014," Nobel Peace Prize winner and Yazidi campaigner Nadia Murad said Saturday on the website of her association, Nadia's Initiative.
ISIS kidnapped 6,417 Yazidis from Sinjar, 3,658 of whom have so far been rescued in Iraq, Syria and neighbouring Türkiye, said Hussein Qaidi, director of the Kurdish rescue office.
Nearly six years after Iraq declared "victory" over ISIS, many Yazidis have still not been able to return to Sinjar because of the security situation.
Thousands still live in precarious conditions in camps for displaced persons.