In the volatile waters of the Gulf, a task force operating as part of the multinational Combined Maritime Forces (CMF) remains on standby, prepared to respond to any crisis involving illicit non-state actors.
Currently commanded by the Royal Bahrain Naval Force, Combined Task Force 152 (CTF 152) was set up in 2004 to enhance maritime co-operation in Gulf waters, particularly between Gulf Co-operation Council (GCC) members.
Command of CTF 152 rotates among participating nations, with Kuwait, Jordan, Saudi Arabia and the United Arab Emirates (UAE) previously heading the force.
A variety of other countries assign vessels, aircraft and personnel to the task force, including Qatar, the United Kingdom, the United States and Australia.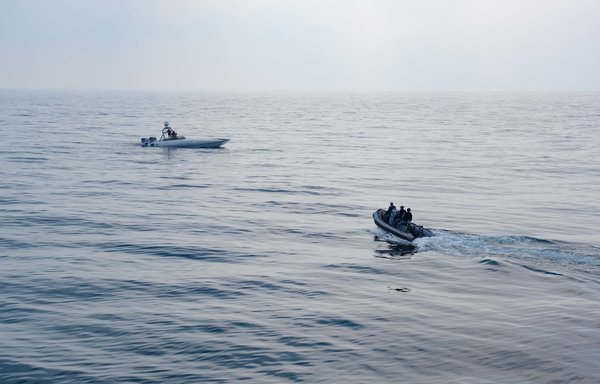 The task force protects the international waters around key maritime infrastructure, including oil platforms, thus safeguarding trade routes and facilities.
CTF 152 is one of five task forces operated by the CMF, a 34-nation maritime coalition that is headquartered in Manama, Bahrain, that works to promote security across approximately 3.2 million square miles of international waters.
The other four -- CTFs 150, 151, 153 and 154 -- handle maritime security operations outside the Gulf, counter-piracy efforts, Red Sea security and multinational maritime training at locations across the Middle East.
CTF 152 staff is made up of personnel from GCC member states and is supported by CMF assets. It co-ordinates maritime security operations in the Gulf, facilitating co-operation and teamwork among regional maritime forces.
A spate of unlawful Iranian seizures of oil tankers in recent weeks has reinforced the importance of CTF 152.
A fleet of high-speed Islamic Revolutionary Guard Corps Navy (IRGCN) craft on May 3 surrounded and seized the Panama-flagged, Greek-owned Niovi as it travelled from Dubai to Fujairah in the UAE.
The vessel's seizure in the Strait of Hormuz came six days after a similar incident in Gulf waters, when helicopter-borne Iranian navy commandos abseiled onto the deck of a US-bound Marshall Islands-flagged tanker, Advantage Sweet.
On May 12, Iranian state media announced that Iran had seized a third tanker, the Panama-flagged Purity.
Agile and prepared
In order to remain agile and prepared to face any potential threat, CTF 152 members take part in regular training together in Gulf waters.
On February 28, 10 vessels from five nations -- GCC members Bahrain, Kuwait, Saudi Arabia and the UAE, as well as from the United States -- completed a three-day joint sail in the Gulf, operating as part of CTF 152.
The joint sail demonstrated multinational presence and enabled the participating crew members to work with each other.
"Conducting operations such as these makes a difference when we work together for the maritime security and stability of the region," said CTF 152 commander Royal Bahrain Naval Force Capt. Rashed al-Ameen.
The month prior, CTF 152 led the Falcon Warrior exercise on January 24 and 25 to practice vessel boarding procedures, while operating with an unmanned surface vessel (USV), or boat drone.
Participating forces met ashore January 23 ahead of the drill, where personnel received briefings on unmanned systems and artificial intelligence platforms.
Vessels from Bahrain, Kuwait and Saudi Arabia sailed in Gulf waters, operating with a MARTAC T-38 Devil Ray USV from the US 5th Fleet's Task Force 59.
Task Force 59, launched in September 2021 in the aftermath of a string of maritime attacks linked to ongoing tensions with Iran, incorporates airborne, sailing and underwater drones.
It was established to enhance maritime domain awareness and increase deterrence.
While operating at sea, the maritime units rehearsed vessel boarding and search procedures to enhance partner collaboration and interoperability.
"The opportunity for the boarding teams to work together and share skills was invaluable," said CMF operations director Royal Australian Navy Cmdr. Matthew Ryall.
"We appreciate the great opportunity provided by exercise Falcon Warrior for crewed and uncrewed teams to work together to provide safety, security, and stability in the maritime environment within the Gulf," al-Ameen said.