Iran has executed more than 300 people this year, with the rate in May during the current surge in hangings the highest monthly figure in the Islamic Republic since 2015, Iran Human Rights (IHR) said Thursday (June 1).
At least 307 people have been executed in 2023 so far, a rise of over 75% compared to the same period last year, the rights group said.
Of this number, at least 142 people were executed in May, the highest monthly figure since 2015, it added, meaning an average of over four people were hanged every day last month in the Islamic Republic.
Campaigners accuse Iran of stepping up executions to strike fear into the population as the leadership moves to quell the protest movement that erupted in September.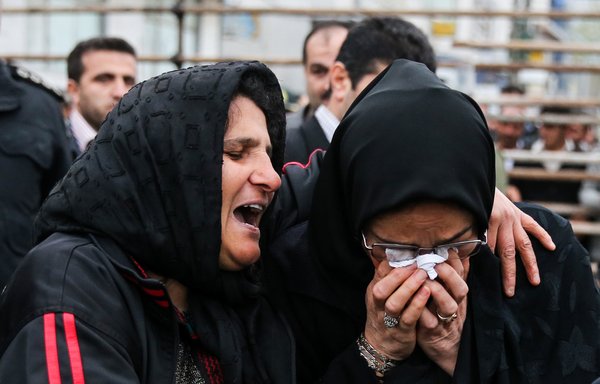 Seven men have been hanged in cases related to the protests, but activists say executions have also surged in lower profile cases, particularly over drug and murder convictions, with ethnic minorities disproportionately targeted.
IHR said 59% of those hanged this year, 180 people, were executed for drug-related charges.
International human rights law prohibits the use of the death penalty for crimes that do not meet the threshold of "most serious crimes" (crimes that involve intentional killing).
"The purpose of the Islamic Republic's intensification of arbitrary executions is to spread societal fear to prevent protests and prolong its rule," said IHR director Mahmood Amiry-Moghaddam.
"If the international community doesn't show a stronger reaction to the current wave of executions, hundreds more will fall victim to its killing machine in the coming months."
Executions in May
Over 20% of those executed in May -- 30 people -- were from the largely Sunni Baluch minority concentrated in the southeast of the country, IHR added.
Three men convicted on drug trafficking charges were executed May 21, the judiciary's Mizan Online news website said.
On May 20, a man convicted of leading a human trafficking and prostitution ring was executed, a day after three men linked to protests triggered by Mahsa Amini's death in September were hanged in Isfahan, the judiciary said.
Iranian authorities on May 15 executed five people over "armed drug smuggling" in Bandar Abbas and Minab prisons in the southern province of Hormozgan.
Less than a week earlier, the judiciary executed three convicted drug cartel members, following warnings from the United Nations (UN) over the "frighteningly" high number of executions in the country.
And on May 8, Iran executed two people following a rare conviction for desecrating the Qur'an and insulting the Prophet Mohammad, prompting US condemnation and outcry from human rights groups.
UN rights chief Volker Turk denounced Iran's "abominable" track record this year.
On May 6, Iran executed Swedish-Iranian dissident Habib Chaab for "terrorism", drawing a sharp rebuke from Sweden and the European Union (EU).
Swedish Foreign Minister Tobias Billstrom, whose country currently holds the EU's rotating presidency, denounced the execution as "inhuman", saying Stockholm had "demanded that the sentence not be carried out".
Iranian state television had aired a video of Chaab in which he claimed responsibility for a 2018 attack on a military parade in Ahvaz that authorities said killed 25 people and wounded almost 250.
In the footage, Chaab admitted to working with Saudi intelligence services.
Such confessions are frequently condemned by rights groups based outside Iran as "forced", arguing they are often obtained under duress.
IHR said Chaab had been "subjected to torture".
Rise in executions
Iran is one of the countries found guilty of state-sanctioned "killing sprees", according to Amnesty International's annual review of the death penalty for 2022, published May 16.
The report shows the 2022 figure for 20 countries known to have executed people increased 53% over the previous 12 months.
This excludes the "thousands" of prisoners put to death secretively in China -- which is believed to have led the way in the ranking -- ahead of Iran, with 576-plus recorded executions in 2022, Amnesty said.
Of the 825 executions recorded in the Middle East and North Africa region, 94% were carried out in Iran, it said.
In Iran, recorded executions went up to 576 in 2022 from 314 recorded in 2021 -- an increase of 83%.
Of the 576 executions in Iran recorded by Amnesty, 279 were for murder; 255 were for drug-related offences; 21 were for rape; 18 were for what the Islamic Republic identified as "Moharebeh" (enmity against God); and three were for unknown crimes.
At least two executions were carried out in public, and 12 women were among those executed.
During the year, Iranian authorities executed five people who were under the age of 18 at the time of the offence for which they had been convicted, and Amnesty believed that other people in this category remained on death row.
International human rights law strictly prohibits the use of the death penalty for people who were below the age of 18 at the time of the offence for which they have been convicted.
Increases in recorded executions for murder and drug-related offences were largely responsible for the 83% spike in recorded executions in Iran.
"The Iranian authorities continued to use the death penalty as a tool of political repression and to disproportionately execute members of ethnic minorities as part of the long-term, entrenched discrimination and repression of these groups," Amnesty said.
"Many of the executions carried out in Iran in 2022 followed grossly unfair trials," it said, noting that "confessions" that may have been extracted through torture or other ill-treatment were used to convict and sentence people to death.