As the high frequency of counter-smuggling operations in the Arabian Sea and surrounding areas highlights, the region has increasingly emerged as a hotspot of illicit trade -- much of which can be traced back to Iran and its proxies.
Militias linked to Iran's Islamic Revolutionary Guard Corps (IRGC) have been playing a pivotal role in facilitating the smuggling of narcotics in the Middle East for years.
Areas bordering Iran have become major narcotic trafficking routes for illicit drugs, including crystal meth, Captagon, hashish, heroin and opium.
Just this month, naval forces part of the multinational Combined Maritime Forces (CMF) have seized over $100 million worth of illegal drugs from vessels originating from Iran.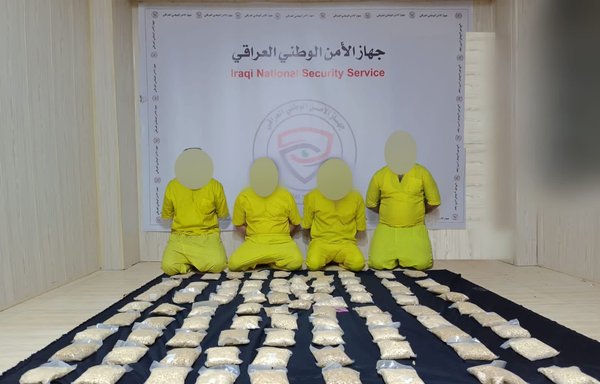 Two fishing vessels that departed from the Iranian port of Chabahar on May 8 and 10 were interdicted by a US Coast Guard fast response cutter as they transited the Gulf of Oman.
One carried $30 million worth of heroin and methamphetamine, commonly known as "crystal meth", and the other $80 million worth of heroin.
Also on May 8, a frigate from the United Kingdom Royal Navy seized $6 million worth of hashish from a fishing vessel transiting the Arabian Sea.
These represent only the most recent incidents.
So far this year, CMF have seized more than $250 million worth of illegal drugs in the region.
Reaping benefits, harming neighbours
The IRGC is accused of directing and supporting the smuggling operations through its militias, which are reaping huge profits from drug trafficking that they then use to buy weapons and finance their activities, say observers.
Another important objective for the IRGC is "to harm neighbouring nations, disrupt development, construction plans and youth initiatives, and spread criminal activities", said Iraqi political analyst Abdul Qader al-Nayel.
This serves to weaken the societal fabric of these countries for the benefit of Iran's expansionist policies, he told Al-Mashareq.
Crystal meth, an illicit drug that can cause severe physical and psychological problems, and other illegal drugs are smuggled through the borders from Iran and Syria into Iraq and sold at a cheap price, al-Nayel said.
They are smuggled via secret crossings and water channels in the marshlands, and onward through the region.
Iran is trying to turn Iraq into "a country that consumes and manufactures various types of drugs, not only crystal meth, and that serves as a major transit point to the rest of the countries in the region", al-Nayel said.
Iraqi authorities are making efforts to control the borders and regularly carry out security operations against thousands of drug dealers and traffickers.
In the most recent operation, the Iraqi National Security Service (INSS) in Basra on May 9 arrested four drug dealers and seized 200,000 Captagon pills in their possession.
On April 11, INSS also thwarted the entry of 20kg of crystal meth and 10kg of hashish from Iran after an exchange of fire with the smugglers.
On the same day, it announced that the most dangerous drug network in southern Iraq's al-Muthanna province -- a network with 15 members -- had been dismantled.
In December, Iraq burned some six tonnes of illegal drugs, including vast piles of cannabis, Captagon, crystal meth and cocaine, in what officials said was the largest destruction operation in over a decade.
In southeastern Iraq, work is under way to construct an earthen berm and trench along the border with Iran along the course of the Shatt al-Arab river.
Construction began last June on the new fortifications, which are meant to block the drug trafficking routes that smuggling networks use.
A shared interest
The Syrian state is at the centre of the global Captagon trade, which has spawned an illegal $10 billion industry that props up the regime of Bashar al-Assad and has turned Syria into a narco state.
Jordan has had a recurring problem with cross-border drug smuggling from Syria, where the southern provinces of Sweida and Daraa have become a hub for Lebanese Hizbullah's regional drug smuggling operations.
Syrian researcher Turki Mustafa, who specialises in Iranian affairs, told Al-Mashareq that villages near the Jordanian border, especially those in southern Sweida, "are hot transit corridors for drug trafficking and smuggling into Jordan".
"Hizbullah and Syrian regime security elements employ smugglers from among Sweida province residents to infiltrate drugs into Jordan," he said.
Since 2020, Jordanian authorities have witnessed an increase in drug trafficking from Syria, amounting to hundreds of millions of US dollars worth of illegal drugs entering Jordan, Col. Mustafa al-Hiyari, director of military media in the army, told the state-owned Al Mamlaka TV last May.
"We are facing a war along the borders, a drugs war led by organisations supported by foreign parties. These Iranian militias are the most dangerous because they target Jordan's national security," he said.
According to al-Hiyari, drug traffickers operate in three to four groups of 10 to 20 people each along the Jordan-Syria border.
He warned that Jordan is becoming both a destination and a transit hub to Saudi Arabia and Gulf countries, noting that profit from the drug trade has increased ten fold in recent years.
Saudi Arabia has also been waging its own war on drug smuggling and dealing networks, succeeding in seizing large quantities of illicit narcotics over the past months thanks to constant monitoring operations and civilian tip-offs.
"Drug and arms smuggling operations are a threat to us and to fellow Arab countries," Jordan's King Abdullah said last July.
He said Jordan is co-ordinating with other countries to counter this threat, "and we are all aware that facing it is a shared interest".