The A-10 Thunderbolt II aircraft provides the US military and its allies a versatile and powerful tactical weapon that can be used in a wide range of battlefield circumstances, and has proven to be lethal against an array of targets, including tanks and surface ships.
The twin-engine A-10 "offers excellent manoeuvrability at low airspeeds and altitude while maintaining a highly accurate weapons-delivery platform", according to the US Air Force.
A-10s can "loiter near battle areas for extended periods of time" and "their wide combat radius and short takeoff and landing capability permit operations in and out of locations near front lines".
A-10 pilots can operate the aircraft in all weather and in darkness using night vision goggles.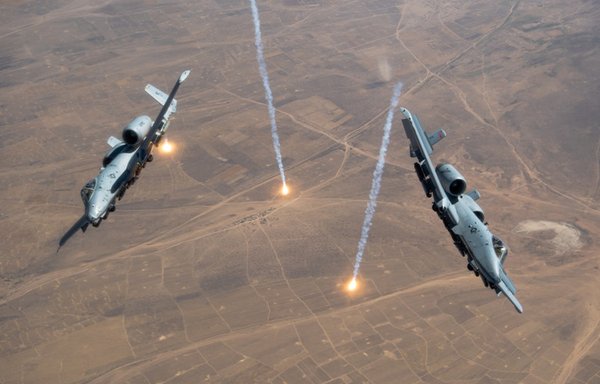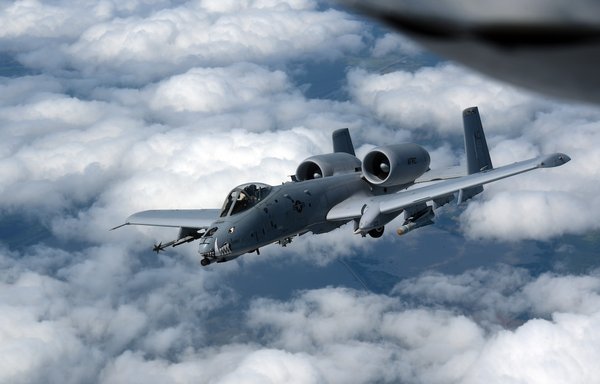 The aircraft is built to enter highly contested environments as the cockpit and essential systems are protected with titanium armour, enabling it to "survive direct hits from armour-piercing and high explosive projectiles up to 23mm [in diameter]" and continue flying.
Dreaded firepower
The A-10 is feared for its ability to devastate enemy infantry and ground targets, as has been proven in conflicts around the world since 1976.
Unlike strategic bombers that fly high in the atmosphere, it operates relatively close to the ground, so its pilots can easily eyeball the enemy.
Often pilots can operate 30 meters off the ground.
"If I get close enough and low enough, I can see the difference between good guys and bad guys and shoot," A-10 pilot Ryan Haden told Business Insider in 2017.
The Thunderbolt's main weapon is the 30mm Gatling gun that can fire 3,900 rounds a minute -- 65 a second.
The normal ammunition package for the Gatling gun is a mix of armour piercing incendiary rounds and high explosive incendiary rounds.
The armour piercing rounds use a depleted uranium core, which allows the A-10 to devastate armoured targets, such as tanks and fast attack ships, in close battles.
"A typical A-10 gun employment uses 120 rounds, which means an A-10 is capable of employing fires on nine to 10 targets before exhausting its gun munitions," said Maj. Kyle Adkison, 422nd TES A-10C division commander, according to the 1945 website, during a recent demonstration of the aircraft's abilities.
"Against large fielded forces, A-10 formations are capable of engaging nearly 40 armoured vehicles with 30-millimeter munitions. That's a significant amount of firepower."
The Gatling gun "can put basketball-sized holes in vehicles after a strafe", the National Interest wrote in 2021.
Analysts say the A-10s would be particularly devastating against fast attack boats, such as the ones used by the Islamic Revolutionary Guard Corps (IRGC) near the Strait of Hormuz.
The Thunderbolt II can also employ a wide variety of conventional munitions, including general purpose bombs, cluster bomb units, laser guided bombs, joint direct attack munitions (JDAM), and a variety of missiles.
The JDAM is a guidance tail kit that converts existing unguided free-fall bombs into accurate, adverse weather "smart" munitions. JDAM enables multiple weapons to be directed against single or multiple targets on a single pass.
A secondary function of the A-10s is to direct other aircraft in attacking ships and ground forces through the use of advanced communications and guidance systems.