The first US Air Force A-10 Thunderbolt II ("Warthog") attack aircraft arrived at al-Dhafra air base in the United Arab Emirates (UAE) on Friday (March 31) as the United States bolsters its airpower in the region, military officials said.
Two squadrons of pilots and aircraft maintainers arrived with it in a deployment that was moved forward by several weeks following a series of attacks on US forces in Syria attributed to Iran-affiliated militias, the Pentagon said.
The deployment will support the international fight against the "Islamic State of Iraq and Syria" (ISIS).
During the month of March, US forces, alongside international coalition and other partners, conducted a total of 37 operations targeting ISIS in Iraq and Syria, the US military's Central Command (CENTCOM) said Tuesday.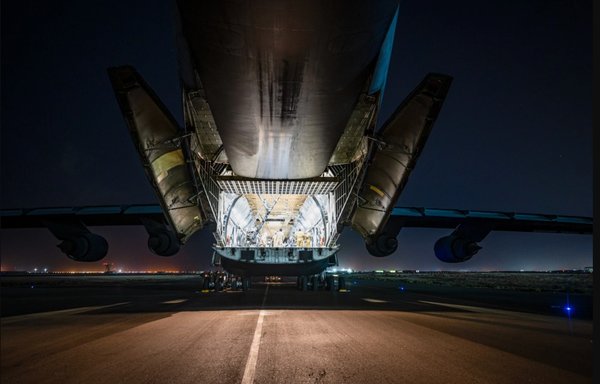 The United States is committed to the mission to defeat ISIS, Pentagon spokesman Lt. Col. Phil Ventura said in a statement published by CNN.
But it is also "prepared to respond to a range of contingencies in the Middle East if needed", he said.
Following the attacks in Syria, the US military in late March ordered George H.W. Bush Carrier Strike Group to remain in the Mediterranean Sea for an additional two months to support US forces in the Middle East.
Led by the nuclear aircraft carrier USS George H.W. Bush, the strike group also includes the guided missile cruiser USS Leyte Gulf, the destroyer USS Delbert D. Black and the support ship USNS Arctic.
"Collectively, these actions demonstrate the United States' ability to rapidly reposition forces across the globe and underscore that all necessary measures will be taken to defend US forces," Ventura said.
Established airpower
The arrival of the A-10 "Warthogs" at al-Dhafra "will enhance our ability to deliver airpower and defend the region", said US Air Force 380th Air Expeditionary Wing Commander Brig. Gen. David R. Lopez.
It also will provide "additional opportunities to partner with our Emirati hosts", he said.
The A-10 -- the first aircraft designed specifically for close air support -- has provided air support to ground troops for nearly five decades.
The aircraft's 30mm gun can fire 3,900 rounds a minute and can destroy adversary forces and infrastructure, including tanks and attack ships.
Analysts say the A-10s would be particularly devastating against fast attack boats, such as the ones used by Iran's Islamic Revolutionary Guard Corps (IRGC) near the Strait of Hormuz.
The A-10s complement the US military's vast array of tried-and-tested air-based intelligence collection platforms in the region, some of which have been proving their worth for more than three decades.
Among them is the RC-135 Rivet Joint, "the world's premier intelligence, surveillance and reconnaissance aircraft", according to Capt. James Francis, 763rd Expeditionary Reconnaissance Squadron mission planning cell team chief.
The E-3 Sentry Airborne Warning and Control System (AWACS) and the E2-D Hawkeye Airborne Early Warning (AEW) aircraft also provide intelligence and communications capabilities.
In addition to the more specialised aircraft, the United States and its allies are leading the way to further extend and improve data collection and processing using fifth generation F-35 Lightning II and F-22 Raptor fighters.
With their stealth capabilities, these aircraft can operate as mini-AWACS, providing battle management by surreptitiously approaching the enemy and gathering information from its sensors and other sources.
They can then use onboard computers to fuse the data into a coherent picture to transmit to co-ordinate efforts with fourth-generation aircraft, such as the F-15 Eagle, F-16 Fighting Falcon and the Eurofighter Typhoon.
Enhancing partnerships
The US Air Force conducted a bomber task force (BTF) mission on March 12 that sent a B-52 Stratofortress across the region, "showcasing the ability to rapidly deploy integrated airpower".
The B-52H integrated with fighter escort aircraft from seven nations as it traversed the Middle East, US Air Forces Central Command (AFCENT) said.
The BTF mission, like others before it, aimed to build partner capacity and "to expand our combined global reach and military power projection capabilities", said 9th Air Force deputy commander Maj. Gen. Mark Slocum.
In January, approximately 6,400 US troops and 1,100 members of Israel Defence Forces participated in Juniper Oak 23.2, a week-long live-fire drill in Israel and the Mediterranean Sea.
The exercise involved more than 140 aircraft, 12 naval vessels, High Mobility Artillery Rocket Systems (HIMARS) and multiple-launch rocket systems.
On September 16, the US Air Force wrapped up an extensive training exercise that saw participating units conduct rapid deployments in a region extending from Egypt to Kazakhstan.
Operation Agile Spartan III (OAS III) was AFCENT's third agile combat employment (ACE) capstone event.
ACE refers to an operational concept in which the Air Force rapidly deploys to an area and conducts dispersed, sustained operations using networks of well-established and austere air bases, pre-positioned equipment and airlift.
AFCENT personnel "are gaining combat experience every day", said Combined Forces air component commander Lt. Gen. Alexus Grynkewich, who flew an F-16 Fighting Falcon as part of OAS III.
"You cannot put a price tag on that kind of preparation," he said.