Comprised as it is now of small, cash-strapped cells, the "Islamic State of Iraq and Syria" (ISIS) is weakened but still has a sting in its tail as it remains capable of inflicting harm on civilians, Iraqi officials and other sources said.
Earlier this month the Iraqi army, backed by special units, raided several ISIS hideouts in the west and east of the country, killing a large number of extremists, including foreign fighters and the group's leaders.
One of the highest profile operations in March targeted a secret camp the extremist group had established in the Anbar desert near al-Rutba a few months ago, known as "Abu Yahya al-Jumaili camp".
(Ayad al-Jumaili, also known as Abu Yahya al-Iraqi, reportedly deceased, had been tapped as a potential successor to the late ISIS leader Abu Bakr al-Baghdadi. He was killed in 2019.)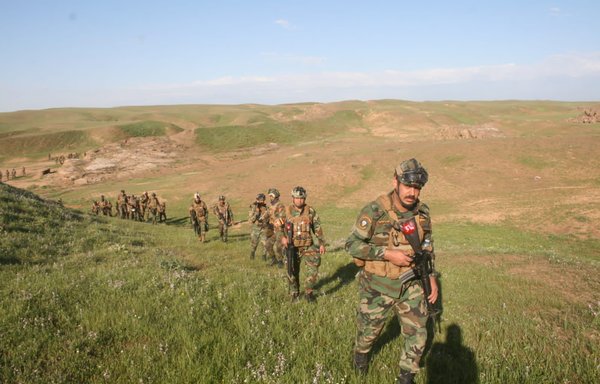 Iraqi forces killed "22 terrorists", including foreign fighters, during the assault.
During a March 12 news conference following the raid, Joint Operations Command deputy commander Lt. Gen. Qais al-Muhammadawi announced that "14 bodies" had been identified through DNA tests.
Some of the corpses belonged to ISIS leaders, he said, notably that of Barzan Hussein Ali, a well-known judge and former governor of Fallujah who went by the names Abu Khaled al-Qadi and Sheikh Abu Abdul-Aleem.
Sheltering in rugged areas
Iraqi Counter-Terrorism Service (CTS) commander Lt. Gen. Abdul Wahhab al-Saadi, also speaking at the news conference, said finding the hideout "came as the result of an outstanding effort by the Iraqi intelligence service".
The camp was located through technical efforts and human resources, he said, "even though it is located in a remote area in the middle of the desert".
The camp had served as "the main headquarters of ISIS, from which orders were issued to the rest of the group's cells", he said.
Al-Muhammadawi said the extremist group had over the last year and a half lost the support it once relied on in some areas, which had enabled it to establish "safe houses" close to cities from which to stage attacks in urban areas.
As a result of the military pressures on ISIS "and its inability to engage in direct combat, it resorted to sheltering in rugged terrain", he said.
Between 400 and 500 ISIS elements remain in Iraq, he said, moving around in small detachments on foot or on motorcycles.
They are scattered among six or seven specific sectors in remote desert and mountainous areas such as al-Ayth and Makhoul in Salaheddine, Hatra in Nimrud, Anbar's western desert and Hamreen in Diyala, he said.
Despite the small number of ISIS remnants, al-Muhammadawi cautioned, "they are capable of carrying out acts that harm people".
But security forces have "ample data and information" about their hideouts and movements, he said, as a result of the development of intelligence work.
The Joint Operations Command has "means of surveillance to track targets, and there is a joint security effort to eliminate them with carefully planned attacks", he added.
Cross-border threat
To keep ISIS remnants from carrying out further violence, it will be necessary to sap the group's energy and strength with intensive strikes, military analyst Ahmed al-Sharifi told Al-Mashareq.
"ISIS remains a cross-border threat," he said. "It is true that it is not possible for it to once again be capable of holding territory, but the group is always trying to adapt its tactics."
Its remaining fighters have formed small, mobile groups that carry out sporadic attacks on remote villages or military outposts "launched from mountain ranges, valleys or deserts", he said.
The number of ISIS attacks hit a new low last year compared to 2021, according to a March 16 report from the International Institute for Economics and Peace.
In Iraq, the report said, there were "183 attacks in 2022, down from 344 attacks in 2021".
Most are classified as "non-complex" attacks, meaning ISIS does not use lethal means of attack and does not use large numbers of its fighters.
Many are considered "lone wolf operations", al-Sharifi said, noting that stamping out this type of attack necessitates "the development of technical monitoring tools for suspicious activities".
It also requires human resources, he said, including making better use of the support of local residents and closing the border gaps to prevent the group from strengthening its human and combat resources.
Severing ISIS's revenue stream
Iraqi government sources told Al-Mashareq that ISIS's financial revenues are being "choked off" as authorities track down the group's assets, economic activities and funding from abroad.
According to a United Nations Security Council analytical support group report published in February, the group's financial reserves are much depleted.
The extremist group has an estimated $25 to $50 million in its coffers at present, a drop of more than $250 million in less than three years, it said.
In Iraq, ISIS continues to experience severe financial hardship as a result of security operations targeting its remnants and the imposition of strict controls on the banking sector to combat money laundering that finances terrorism.
But ISIS is still trying to accumulate wealth via money laundering operations through trade, investment and drug trafficking, in addition to other endeavours, including the theft of livestock, extortion and taxes, the report said.