Iraqi forces recently launched one of their most intense operations against holdout "Islamic State of Iraq and Syria" (ISIS) cells, with international coalition intelligence co-ordination and support, security sources said.
The latest security operation in mid-November comes amid reports that the extremist group's strength has declined to its lowest levels.
An Iraqi elite force, backed by F-16 fighter jets, clashed with ISIS elements in the north of the country after ambushing them near one of the group's strongholds in Tuz Khurmatu, the sources said.
All eight ISIS elements were killed, including key leaders.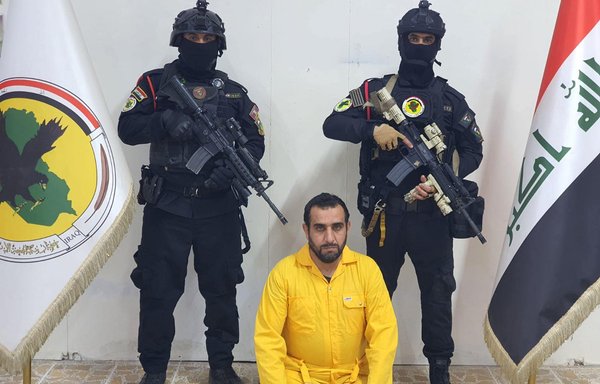 Four were subsequently identified and include the "security official" of ISIS's Wilayat Salaheddine, Firas Shukr Mahmoud al-Ajili ("Abu Hind"), and its general administrator, Ajwad Jassem Mohammed Salih al-Ajili ("Abu Seif").
Also identified were the official in charge of ISIS's cells in Tuz Khurmatu, Ahmed Ali Hammoud Ayyash al-Falah ("Abu Muslim") and "protection unit" element Yahya Abdul Rahman Mohammad Waleed al-Bayati.
Iraq's Counter-Terrorism Service (CTS) previously announced the arrest of ISIS commander Abu Hamza al-Mutwaiti in Kirkuk, and Taha Ali Mohammed Nasser al-Janabi ("Abu Aisha"), who had been preparing to launch attacks in Baghdad.
The CTS also killed Hisham Malallah al-Maamouri, a "dangerous terrorist" known as Izziddine or Izz al-Din, who it said was responsible for "horrific acts" carried out against civilians and security personnel in Diyala province.
Infiltrating ISIS networks
The recent operations stripped ISIS of the ability to follow through with any of its threats to Iraq's security, CTS spokesman Sabah al-Numan told Al-Mashareq.
"The efforts reflect our forces' considerable ability to infiltrate the remnant terrorist networks and locate their secret hideouts," he said.
"We currently have the competence to collect highly accurate information from various intelligence sources and translate it into precision operations that surprise the enemy and defeat him quickly," al-Numan added.
He said ISIS remnants are facing difficulties in finding safe hideouts and concealing their movements from the eyes of the security forces.
They also suffer from a shortage of funds and loss of support from the local population, he said, "and this is what caused the sharp decline in their attacks".
ISIS's ability to carry out surprise attacks around the world has declined to its lowest levels, according to various media reports, including a recent report by Akhbar al-Aan -- but this does not mean it has lost all of its teeth.
The decline is the result of years of aid, combat and advisory support provided by the international coalition, aimed at defeating ISIS.
Loss of influence, effectiveness
Since the start of the war against ISIS in 2014, the group has lost many of its human, financial and logistical capabilities, security analyst Safaa al-Aasam told Al-Mashareq.
"The decline in the group's attacks is the result of coalition-backed military operations and continuous international and regional co-ordination to cut off terrorists' sources of funding and stem their flow across borders," he said.
Previous estimates have put the number of terrorists moving between Iraq and Syria at about 10,000, he said. Many of them lost their lives in the attempt, though a small band of stragglers remain alive, largely operating alone.
The group has lost its previous influence and effectiveness, al-Aasam said. But "it is not completely finished yet, as its attacks continue, albeit at rates that are the lowest in years".
"It continues to a limited extent to steal farmers' crops and extort the population in remote towns to extract tributes from them and use these funds to finance recruitment and terrorist activities," he said.
"The more pressure is put on the terrorist remnants by targeting their sleeper and active cells and strengthening international co-operation and partnership to undermine their sources of strength, the closer we will be to defeating them once and for all," al-Aasam said.