Even as the US Air Force's B-2 Spirit stealth bomber is slated for retirement by the early 2030s, it is still picking up advanced new capabilities and remains the only long-range stealth bomber with global reach.
There are an estimated 20 B-2s in service, which the Air Force plans to operate until 2032, when it will replace them with the B-21 Raider.
Last August, the Air Force and B-2 prime contractor Northrop Grumman unveiled new capabilities for the stealth fighter, including its first long-range stealth missile.
"The B-2 successfully released a Joint Air-to-Surface Standoff Missile - Extended Range (JASSM-ER) during a flight test in December," Northrop Grumman announced at the time.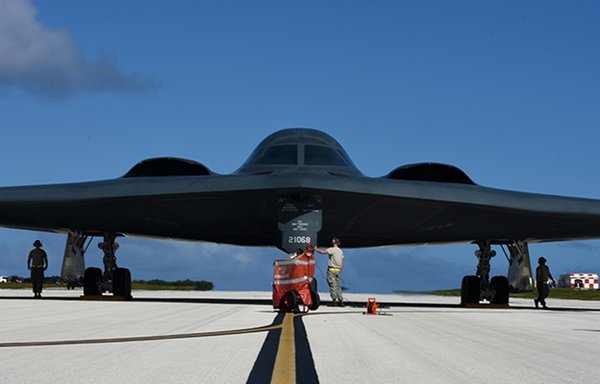 "The JASSM-ER further enhances the B-2's ability to hit any target, anywhere," the company said, noting that its integration "enables the delivery of a low observable asset capable of traveling greater distances than its predecessor".
The JASSM-ER, equipped with 432kg warheads, has a range of approximately 1,000km. When equipped with a weapon data link, it can correct course after launch, enabling it to hit moving targets on land or at sea.
The long-range stealth missile was one of three new advanced capabilities introduced to the B-2 to further modernise the platform.
The other two improvements include integrating crypto modernisation and a Radar Aided Targeting System (RATS).
"The integration of RATS allows the B-2 to fully employ the B-61 mod 12 nuclear bomb. RATS is the key element of the nuclear modernisation, as GPS [the Global Positioning System] may not be available during a bomber task force mission," the company said.
The B-61-12, first produced in 2021, is an air-launched tactical bomb that carries a low-yield nuclear warhead that aims to destroy military targets with minimum collateral damage.
"Crypto modernisation further improves the communications security of various high frequency transmissions. The B-2 may now securely utilise advanced communication devices in the future threat environment," it added.
'Invisible'
The US Air Force maintains the most capable fleet of strategic bombers in the world, empowering the US military to deliver rapid, lethal force to adverse situations and to help allies in need.
The B-2 Spirit stealth bomber is designed to penetrate dense anti-aircraft defences and is capable of delivering both conventional and thermonuclear munitions.
The 34-year-old bomber was a generation ahead of its time. The materials coating the aircraft, combined with the shape of the airframe and engine inlets, render it virtually "invisible" to radar and other sensors.
Undetected, the B-2 can destroy high-value, and even heavily defended, targets deep in enemy territory with little to no warning.
The B-2's stealth means it does not need as many supporting aircraft as other bombers do for air cover, Suppression of Enemy Air Defences and electronic countermeasures, making the bomber a "force multiplier".
The bomber can drop conventional and thermonuclear weapons, such as up to 80 230kg class MK-82 Joint Direct Attack Munition (JDAM) GPS-guided bombs, or 16 1,100kg B83 nuclear bombs.
It can perform ultra-high-altitude attack missions at up to 15,000 metres, has an unrefueled range of more than 11,000km and can fly more than 19,000km with one midair refuelling.
The B-2, the only acknowledged aircraft that can carry large air-to-surface standoff weapons in a stealth configuration, has operated in Libya, Afghanistan and South Korea.
Upgrade incoming
The new B-21 Raider, which is expected to make its first flight this year, draws many of its designs from its predecessor, such as the flying wing concept with its engines embedded and configured to efficiently reduce its radar signature.
The B-21 is expected to serve within a larger family of systems for conventional long-range strike, including intelligence, surveillance and reconnaissance; electronic attack; communication; and other capabilities.
It is nuclear capable and designed to accommodate manned or unmanned operations.
"As the United States continues to innovate, this bomber will be able to defend our country with new weapons that haven't even been invented yet," US Secretary of Defence Lloyd Austin said December 2.
"And the B-21 is multi-functional. It can handle anything from gathering intel, to battle management, to integrating with our allies and partners. And it will work seamlessly across domains, and theaters, and across the joint force," he said.
The Air Force expects to acquire at least 100 B-21s to tackle future threats.
China is on track to have 1,500 nuclear weapons by 2035, and its gains in hypersonics, cyber warfare, space capabilities and other areas present "the most consequential and systemic challenge to US national security and the free and open international system," the Pentagon said in its annual China report.
"We needed a new bomber for the 21st century that would allow us to take on much more complicated threats, like the threats that we fear we would one day face from China, Russia," said Deborah Lee James, the Air Force secretary, when the Raider contract was announced in 2015.
"The B-21 is more survivable and can take on these much more difficult threats."