BAGHDAD -- Haydar Karar spends eight hours a day tidying a carpentry shop and lugging wooden beams, forced like many other Iraqi children into work by poverty and conflict.
Now 13, Karar has been working with his carpenter uncle in the capital Baghdad since the age of eight, his childhood marred by the troubles that have ravaged his country.
"I was expelled from school because of a fight," he said. "The school didn't want me back."
His family decided to find work for him "to build my future and marry me [off]," added the petite boy, who works from 8am until 5pm every day with an hour-long lunch break.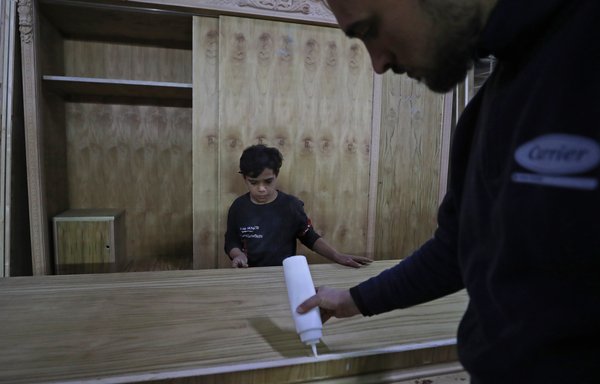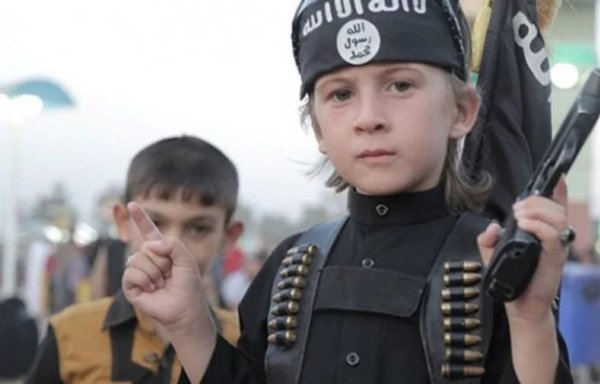 He leans over a wooden armchair to sand it, then moves around metal trestles before carrying large planks of wood about twice his size.
Karar's weekly pay, the equivalent of less than $20, covers his own needs as well as those of his sister. They both live with another uncle.
Children in Iraq work as apprentice mechanics and garbage collectors or in shisha cafés or hair salons. Some wash car windows and sell tissue paper on the side of the road.
"Child labour is constantly rising," said Hassan Abdel Saheb, in charge of the portfolio at the Iraqi Ministry of Labour and Social Affairs, citing "wars, conflict and displacement".
Despite its oil riches, nearly one-third of Iraq's 42 million inhabitants live in poverty, according to the United Nations.
The country has struggled to regain stability after decades of war and a brutal campaign against the "Islamic State of Iraq and Syria" (ISIS), which Baghdad declared defeated in late 2017.
However, ISIS remnants are still active in cells around Iraq. In early February, Iraqi forces tracked down and targeted ISIS remnants during a series of operations in provinces across the country.
Iraq still suffers from endemic corruption, poverty, crumbling infrastructure and lack of public services.
Abdel Saheb noted a rise in child labour -- officially banned by law before the age of 15 -- specifically in provinces that had been invaded by ISIS.
Employing children is punishable by prison time or a fine, he said, but "with many families left without a breadwinner, mothers have been forced to let children work".
Rise in child labour
Abdel Saheb said a study conducted by his office showed a rise in child labour in the northern provinces of Kirkuk and Ninawa -- whose capital Mosul was once an ISIS stronghold -- as well as Baghdad itself.
To counter that trend, the government distributes aid to some of Iraq's poorest families, with monthly allowances of between $96 and $250, depending on the number of children.
Extremist groups such as ISIS have recruited children as soldiers, brainwashed them with extremist ideology and forced them to carry out suicide operations, experts have said.
In May, five members of an ISIS network of financial facilitators that helped the group recruit children from displacement camps in Syria, among other crimes, were slapped with US sanctions.
The Iraqi government has been ratcheting up its efforts to fight the recruitment of minors by ISIS remnants.
In March 2019, the Iraqi Ministry of Defence arrested an ISIS element involved in recruiting children to serve in Heet in Anbar province.
The element, known as Abu Saraqa, "had recruited many children by deceiving and luring them", the ministry stated.
Also in 2019, police in Diyala province foiled several ISIS attempts at recruiting children.
ISIS elements "are unrelenting as they lure and manipulate children to recruit them and use them to launch suicide and bomb attacks", then-Diyala Police Command spokesman Col. Ghalib al-Attiya said at the time.
"The group takes advantage of innocent minors to transport explosives and plant them," he said.
The Diyala Police Command "has thwarted dozens of terrorist attempts over the past couple of years to attract children to their ranks", he said.
Poverty, inequality
Miguel Mateos Munoz, spokesman in Iraq for the United Nations Children's Fund (UNICEF), said poverty and "economic inequality" are among key factors contributing to the rise in child labour in the country.
"The last years have created an environment that is leading many children to child labour," he told AFP.
The International Rescue Committee (IRC) aid group noted in late 2022 an "alarming spike" in child labour in Iraq, particularly in war-ravaged Mosul.
Some 90% of households in the city had "one or more children engaged in labour", according to an IRC survey of 411 families and 265 children.
And about 75% of these children "reported working in informal and dangerous roles" such as garbage collection and construction, the group said.
UNICEF has been working with authorities in Baghdad and in the northern Kurdish region to support a "system of social protection" that could lift children "out of poverty", Munoz added.
He said the UN agency also focuses on developing education and "programmes to build skills" to let children delay their entry into the labour force "until they are over 18".