Already stretched to the limit before last week's devastating earthquake, the residents and volunteer first responders in opposition-held areas of northwestern Syria were at a severe disadvantage right from the start.
The communities served by the White Helmets volunteer group in the northwestern province of Idlib and its vicinity were already ravaged by years of war and neglect, with infrastructure in tatters and services lacking.
The region's population has swelled as a result of the war, with hundreds of thousands of internally displaced persons (IDPs) fleeing Syrian regime and Russian bombing runs seeking refuge in congested camps and shelters.
Buildings have sprung up at random, without oversight that would ensure their safety, while in other cases structures have been cracked or destabilised by bombardment, making them especially vulnerable when the tremor hit.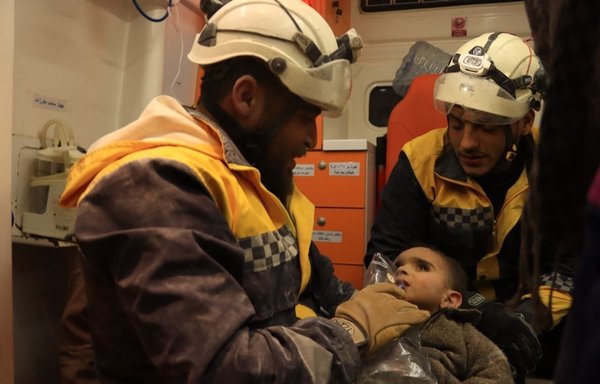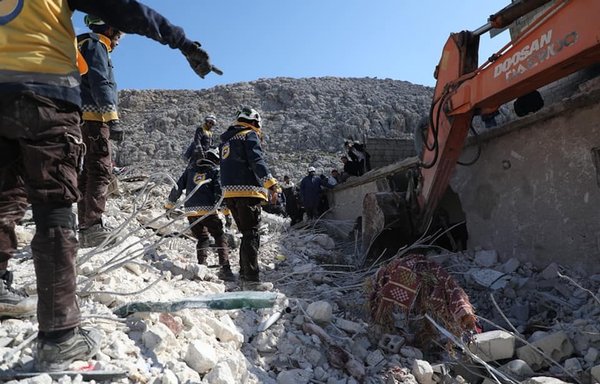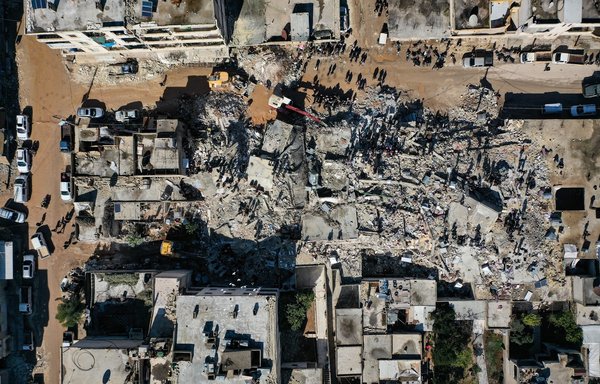 People in these areas who spoke with Al-Mashareq resoundingly blamed the Syrian regime and its backers, particularly Russia, for creating the conditions for a perfect storm.
Conditions in northwestern Syria meant that when the earthquake hit, the death toll in this area was unusually and unnecessarily high, they said.
"The results of the destruction caused by the earthquake are horrifying," White Helmets volunteer Khaled al-Khatib told Al-Mashareq, with the full toll still unknown as "hundreds of families are still trapped under the rubble".
"Dealing with a disaster of this magnitude requires large numbers of machines and people to accelerate search and rescue operations," he added.
"The White Helmets have declared the area a disaster zone and are calling for emergency assistance, which also includes helping thousands of families who have to face strong storms and freezing temperatures without shelter," he said.
On the Syrian side of the border with Türkiye, "the hardest hit area is the city of Idlib", he said, where at least 400 buildings have totally collapsed, 1,200 have partially collapsed and thousands more have cracked.
"International rescue teams must come into our region," White Helmets spokesman Mohammed Shibli told AFP.
Shibli said it was "impossible" for the group to respond to the large-scale calamity alone in the opposition-held northwest, home to more than four million.
Little assistance, support
Deaths in northwestern Syria "are higher than all the other Syrian and Turkish areas that were hit by the earthquake", said Idlib activist Mohamed Assaf.
There are several reasons for this, he told Al-Mashareq, including the high population density as a result of flight from regime-controlled areas.
"The areas also have been bombarded by Russian and regime aircraft for a long time," he said.
"This has caused damage to buildings and rendered them uninhabitable because of cracks, and this explains why whole neighbourhoods have been destroyed in more than one area," he said.
"Many locals and displaced persone were living in those cracked buildings as they couldn't afford repairs," Assaf said.
"In addition, the area isn't receiving any support at all from the government or Tahrir al-Sham and its 'salvation government'."
"I never imagined that living in a displacement camp could be a blessing, until we saw what happened to people when buildings collapsed in the earthquake," said construction worker Naji Bayraqdar, who lives with his family in an Idlib camp.
"Unfortunately, some of the families were forced by bitter cold to seek shelter in some of the houses that sustained damages in air strikes and bombardment from Russian and regime's aircraft," he told Al-Mashareq.
These houses quickly collapsed over their heads.
"Although the earthquake is an act of nature, had it not been for the criminality of the Syrian regime, whose injustice forced people to flee their areas, the number of victims would not have been that high," Bayraqdar said.
"Also, because of the regime's hostility towards most countries and its alliance with Russia and Iran, the number of countries that are helping the Syrian people is very small," he added.
Aid delivery stymied
The death toll from the quake on Monday (February 13) rose above 35,000, with United Nations (UN) relief chief Martin Griffiths at the weekend warning it would "double or more" from the previous toll of 28,000.
Up to 5.3 million may have been made homeless in Syria, with almost 26 million affected by the earthquake in total, the World Health Organisation (WHO) said.
An initial aid convoy reached northwestern Syria last Thursday, an official at the Bab al-Hawa border crossing told AFP.
But much more is needed for millions whose homes were destroyed.
The aid delivery mechanism from Türkiye into opposition-held Syria through Bab al-Hawa is the only way UN assistance can reach civilians without passing through areas controlled by Syrian regime forces.
Other crossings have been closed under pressure from China and Russia.
While Bab al-Hawa itself was not affected by the quake, the road leading to it was damaged, temporarily disrupting operations.
WHO chief Tedros Adhanom Ghebreyesus met Bashar al-Assad in Damascus on Sunday and said the Syrian leader had voiced readiness for more border crossings to help bring aid into the opposition-held northwest.
"He was open to considering additional cross-border access points for this emergency," Ghebreyesus said.
But for many in northwestern Syria, this move, should it come, will come far too late.