BEIRUT -- Arab and Gulf countries have rallied around the victims of the devastating earthquake that hit southern Türkiye and northern Syria on February 6, sending emergency relief and medical assistance to the two nations.
Hours after the tremor, the first batch of medical relief supplies arrived from the Saudi-German Hospital in Dubai, along with a United Arab Emirates (UAE) plane carrying 10 tonnes of food supplies.
That aid was part of a $100 million pledge by UAE President Sheikh Mohamed bin Zayed Al Nahyan, to be split equally between Syria and Türkiye.
The UAE had pledged some $13.6 million to Syria already.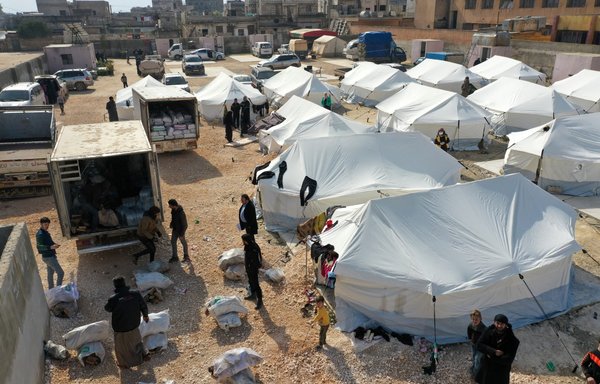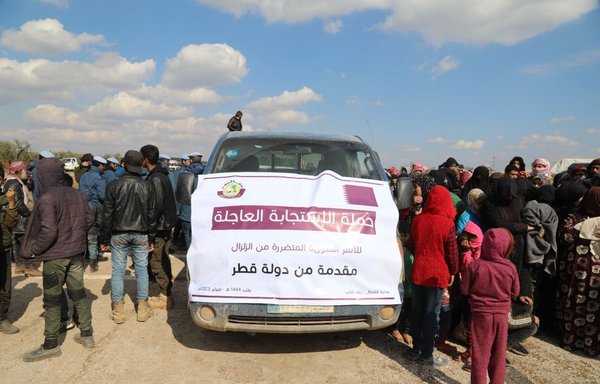 On Friday (February 10), Emirates airline said it would team up with Dubai's International Humanitarian City to deliver up to 100 tonnes of aid to earthquake survivors via an air bridge, the National reported.
The first two aid flights took off on Friday, carrying thermal blankets and family tents, medical kits and shelter items.
An official at Syria's transport ministry on Sunday told AFP that 16 Emirati planes had arrived in Syria since the earthquake hit.
Meeting critical needs
Qatar on Sunday announced it will send Türkiye and Syria 10,000 cabins and caravans that were used during the 2022 World Cup, AFP reported.
The mobile homes, which will house Syrians who lost their homes in the earthquake, were used for a few weeks when Qatar hosted the World Cup.
The Qatar Fund for Development (QFFD) is supporting the White Helmets with search and rescue operations in northwestern Syria, Qatar News Agency reported Sunday.
The support includes much-needed logistical supplies, and will help repair ambulances that are working around the clock.
QFFD also will "assist in meeting the critical demands for fuel to operate heavy vehicles that are deemed essential for rescue operations".
Saudi Arabia on Wednesday began operating an airlift to provide relief, offering medical, relief, food and logistical assistance to Syria and Türkiye via the King Salman Humanitarian Aid and Relief Centre (KSRelief).
KSRelief also kicked off a fundraising campaign via the Sahem app to assist victims of the earthquake, which had by Wednesday night already raised $17.5 million, according to the Arab News.
Jordan sent a plane loaded with medical and logistical supplies, and a team of 90 rescue workers and five doctors from the Royal Medical Services.
Iraq sent two planes with tonnes of medical supplies, first aid, tents, blankets, mattresses and food, as well as 35 civil defence rescue specialists and their equipment.
Egypt sent five military relief planes loaded with medical supplies to support Türkiye and Syria.
Lebanon sent 70 Red Crescent and civil defence personnel and an army's Engineering Corps team to help search for survivors, and opened its airspace and seaports to facilitate the delivery of aid to Syria.
Several Lebanese grassroots campaigns have been collecting medical equipment, foods, blankets, winter clothes and medicine for quake victims in Syria.
Rescue teams need access
Assistance in northern Syria is urgently needed as this area is the hardest hit, especially Jindires in rural Idlib, Sarmada and Salqin, Ahad al-Salibi, a Syrian journalist working for Naher Media, told Al-Mashareq.
The delay of international assistance has prompted 120 organisations in Kurdish-controlled areas in eastern Syria to launch a campaign to collect donations, including furniture, clothes and food for opposition-held areas, al-Salibi said.
"Rescue teams from Arab and Gulf countries have arrived in Syria and are working in regime-controlled areas, such as Aleppo, Latakia and others," Syrian Observatory for Human Rights head Rami Abdul Rahman told Al-Mashareq.
"An Egyptian medical team was able to enter opposition-held areas in northern Syria," Abdul Rahman said.
"The extent of destruction and human tragedies in northern Syria, including Idlib, Harem, Salqin and Jindires, is very horrifying," Syrian activist Mohamed al-Ayed told Al-Mashareq.
"Children's bodies are still under the rubble, and no Arab rescue team has arrived to recover them because northern Syria is besieged by the regime, Russia and Iran," he said.
Al-Ayed stressed the need for "opening border crossings from all sides so rescue teams can go in".
"This is about Syria, and Syrians wherever they are in Syria," he said.
"Each delay means more victims."