The AH-64E Apache Guardian, an upgraded version of the well known US military helicopter, has proven to be an extremely difficult aircraft to detect, offering an unrivalled ability to conduct reconnaissance and combat missions.
The Guardian is the most modern configuration of the Apache attack helicopter designed to fly at very low altitudes to avoid enemy detection and attack in a high-threat environment.
The low-flying tactic involves using geographical features as cover by having aircraft fly in valleys and folds in the terrain rather than over them.
Doing so keeps the aircraft below enemy radar coverage and from being silhouetted against the sky.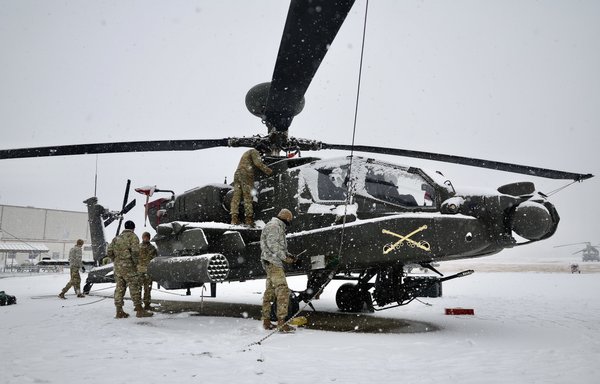 The Apache is specially equipped for such flying.
For example, the rotor blades of older Apaches were designed with leading edges made of titanium, which is strong enough to withstand brushes with trees and other minor obstacles close to the ground.
For its part, the AH-64E has new composite rotor blades designed to withstand hits from 23mm anti-aircraft guns.
The E-model in particular is also equipped with more powerful engines that give it a max speed of 164 knots (189 miles or 304km per hour) and a max range of 260 nautical miles (300 miles or 483km).
Real time co-ordination
The AH-64E is also equipped with an open systems architecture to incorporate the latest communications, navigation, sensor and weapon systems.
That includes an updated Link 16 capability, which allows the helicopter to communicate in real time with other assets -- such as F-35 Lightning IIs and High Mobility Artillery Rocket Systems (HIMARS) multiple rocket launchers -- in engaging targets.
HIMARS have proven to be devastating battlefield weapons in Ukraine against invading Russian forces.
Link 16 at its core is a communication system for transmitting and exchanging real time tactical data among the US military, NATO and other allies.
It provides a secure, jam-resistant, high-speed digital data link that operates at radio and microwave frequencies.
The network enables a range of platforms, including aircraft, surface ships, ground vehicles, missile defence systems, networked weapons and command-and-control networks, to exchange text, imagery and digital voice messages.
Some AH-64E are also now being equipped with a key defensive system called the Common Infrared Countermeasures self-protection system (CIRCM). This laser system gives the helicopters an additional layer of defense against incoming heat-seeking, short-range surface-to-air missiles, including shoulder-fired types that present real threats on modern battlefields, as seen in Ukraine.
Apache deliveries to allied countries
The latest country to receive the AH-64E is The Netherlands.
Boeing, the manufacturer of the Apache, in October delivered the first AH-64Es to the Royal Netherlands Air Force.
The delivery was part of a deal made in 2019 to remanufacture 28 RNLAF AH-64 D-model Apaches, turning them into the advanced AH-64E v6. Delivery for the final E-model Apache to the country is set for 2025, Boeing said in a statement.
"It is an honour to receive the first remanufactured Apache Echo," said Vice Adm. Arie Jan de Waard, the director of the Dutch Defence Materiel Organisation.
"This updated attack helicopter is a great improvement and gives the Royal Netherlands Air Force more combat power and situational awareness. This first delivery is an important step in modernising our entire Apache fleet," he said in the statement.
Poland ordered nearly 100 AH-64Es late last year.
Since 1984, Boeing has delivered more than 2,600 Apaches to the US Army and 17 international customers. More than 1,260 Apaches are operating worldwide, including 665 E-models, according to the company.
Other countries that have Apaches include Egypt, Greece, India, Indonesia, Israel, Japan, Korea, Kuwait, Qatar, Saudi Arabia, Singapore, the United Arab Emirates and the United Kingdom.