Kuwait's adoption of Link 16, a communications system for transmitting and exchanging real time tactical data between the US military, NATO and other allies, signals the expanding partnership of the US and Kuwaiti militaries.
Link 16 terminals operate via 40 different platforms across 30 allied countries, according to the BAE Systems website.
Link 16 enables several users to share a frequency channel by dividing the signal into different time slots, with users transmitting in rapid succession.
It provides a secure, jam-resistant, high-speed digital data link that operates at radio and microwave frequencies.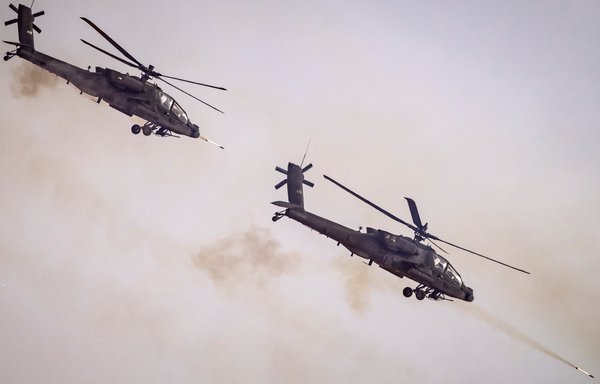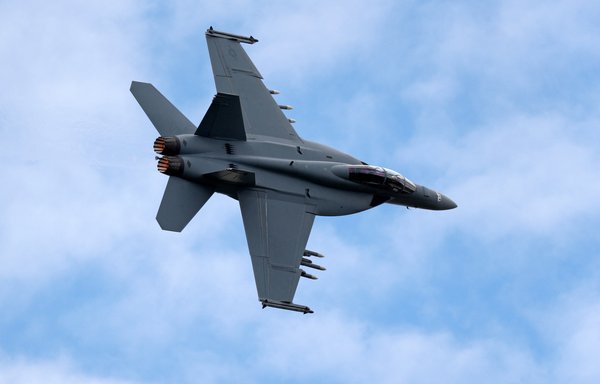 The network enables a range of platforms, including aircraft, surface ships, ground vehicles, missile defence systems, networked weapons and command and control networks to exchange text, imagery and digital voice messages.
In addition, Link 16 provides relative navigation capability and precise participant location and identification, according to BAE Systems.
"Link 16 is the standard by which other systems are measured for secure, airborne situational awareness," the company said.
The US State Department in November 2016 approved the sale of up to 32 F/A-18E and eight F/A-18F Super Hornet aircraft to Kuwait. Also included in the deal were as many as 48 Link 16 systems.
Boeing ultimately completed deliveries of 22 F/A-18Es and six F/A-18Fs to Kuwait in September 2021 under a $2.7 billion deal.
The US government in December 2020 also authorised the sale of eight new and 16 remanufactured AH-64D Apache Longbow helicopters, alongside 27 Link 16 terminals.
A valued partner
The United States and Kuwait are continuing to strengthen their partnership, with US Central Command (CENTCOM) commander Gen. Michael "Erik" Kurilla recently visiting the Gulf state to discuss security matters.
During a July 19 meeting in Kuwait City with Kuwaiti Armed Forces Chief of the General Staff Lt. Gen. Sheikh Khaled Saleh Al-Sabah, Kurilla noted that Kuwait currently leads Combined Task Force 152 (CTF 152).
The task force, which focuses on Gulf maritime security, is one of four operated by the Combined Maritime Forces (CMF), a 34-nation naval coalition.
"Kuwait is a valued partner for the US military. In fact, US Central Command's ironclad relationship with the Kuwaiti Armed Forces goes back to CENTCOM's founding in 1983," Kurilla said in a statement a day after the meeting.
The meeting covered "opportunities to strengthen partnership, not only between the United States military and Kuwaiti military, but also with partnered forces throughout the Middle East", he said.
Other topics of discussion included "a glide path to develop integrated air and missile defence systems", he said.
The two sides also considered "methods to strengthen our security partnership to address the threats in the region, and opportunities to increase co-operation with militaries across the Middle East", Kurilla added.
"As the visit by President [Joe] Biden demonstrated, the United States remains fully invested in military co-operation in the Middle East," he said.
"Furthermore, CENTCOM is firmly committed to stability in the region," he said, referring to Biden's first Middle East trip as president, between July 13 and 16.
"Integrating and innovating with partnered forces such as the Kuwaiti Armed Forces, will ensure a firm American presence in the Middle East."
Regional threats
Tehran's continuing support for its armed proxies and its illicit smuggling to fund and supply such groups are among the threats that Kuwait and the region face.
Iran's Islamic Revolutionary Guard Corps (IRGC) has been caught smuggling weapons, fuel and drugs to its proxies in the region by land and sea on numerous occasions.
The Kuwaiti coast guard in May seized more than 200 tonnes of diesel fuel from an Iranian ship and arrested eight Iranian sailors who confessed to buying smuggled diesel from Kuwait for sale in a neighbouring country.
In addition to smuggling diesel, Iran and its proxies in the Middle East are deeply involved in the illegal drug trade, which they rely on for funding.
Recent busts across the region have revealed the involvement of Iran-aligned groups such as Lebanese Hizbullah and, increasingly, the Houthis in Yemen.
Iran-backed Iraqi militias also smuggle or facilitate the trafficking of narcotics into Iraq from both Iran and Syria, and occasionally into Kuwait.
Arms smuggling also funds Iran and its proxies and is evidence of Iran's malicious intentions towards the security and stability of the region.
Through the Houthis, Iran has turned Yemen into a hub for the export of ammunition and weapons to terrorist groups in Somalia, in violation of United Nations Security Council resolutions.