The use of the High Mobility Artillery Rocket System (HIMARS) by Ukrainian forces against Russia has offered other users -- including the United Arab Emirates (UAE) -- valuable insight into the multiple rocket launcher system (MLRS)'s capabilities.
On August 1 (Monday), Ukraine said it had received more precision rocket systems from the United States and Germany, adding to a growing arsenal of Western long-range artillery it says is changing dynamics on the battlefield.
In a tweet, Defence Minister Oleksiy Reznikov said four more HIMARS rocket launchers had arrived from Washington along with the first in a batch of German MARS-II systems.
Reznikov wrote that he was "grateful" to his US counterpart Lloyd Austin and to President Joe Biden for "strengthening" the Ukrainian army.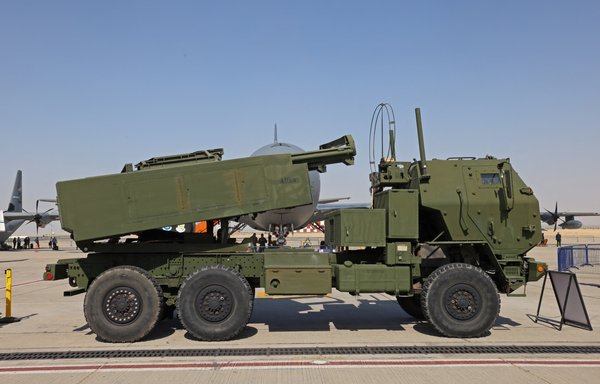 "We have proven to be smart operators of this weapon. The sound of the #HIMARS volley has become a top hit of this summer at the front lines!" Reznikov wrote Monday.
The German-provided MARS II is the third variety of sophisticated rocket-launcher systems -- after HIMARS and M270 MLRS -- to be given to Ukraine to help it battle Russia's invasion.
So far, the United States has agreed to send some 20 HIMARS systems to Ukraine under a major programme to equip Kyiv's forces.
In July, Reznikov asked Washington to send more of the systems, saying Kyiv's forces had used them to destroy about 30 Russian command stations and ammunition depots that were previously too far behind the front lines to be reached by traditional artillery.
At least 100 of these systems are needed for an effective counter-offensive against Moscow's troops, he said.
Washington has hailed the "excellent" use of HIMARS by the Ukrainian army, highlighting their impact on the battlefield.
Precision firepower
Videos posted on social media have shown spectacular prolonged eruptions at ammunition dumps in Russian-controlled Luhansk, Nova Kakhovka and elsewhere, attesting to the power and precision of the US missiles.
"The occupiers have already felt very well what modern artillery is. They will not have a safe rear anywhere on our land," Ukrainian President Volodymyr Zelenskyy said in July.
HIMARS is an agile wheel-mounted launcher of 227mm Global Positioning System (GPS)-guided missiles with a range of about 80km.
Unlike other MLRS's that both sides have used in the war, HIMARS missiles can be directed precisely at targets, meaning they can be used sparingly and reliably.
The first four launchers, which can carry six rockets at a time, were delivered in June.
The rockets have advantages in addition to precision. They fly low enough and fast enough so that Russian air defences cannot intercept them easily. Because the vehicles are so mobile, it is hard for the Russians to find and target them.
"HIMARS is changing the character of the fight in Ukraine," Mick Ryan, a retired Australian general and military analyst, wrote on Twitter in July.
"It is allowing the Ukrainians to target the Russians at greater distance and in areas that have been denied to them because of Russian air defense systems," he added.
HIMARS is part of a broader strategy to damage Russia's logistics and push back its air defences, said Phillips O'Brien, professor of strategic studies at the University of St Andrews in Scotland, said.
Doing so would leave the frontline artillery that is the mainstay of the Russian offensive less protected from Ukraine's air and ground forces.
Kyiv is meanwhile asking Washington for Army Tactical Missile System (ATACMS) missiles that can be launched by the HIMARS and have a 300km range.
Iranian threats
The UAE itself has purchased some 32 HIMARS launchers since the late 2000s.
Using the ATACMS, the UAE's launchers could effectively target Iranian naval assets or port operations in the Strait of Hormuz.
Iran and its Islamic Revolutionary Guard Corp regularly engage in threatening or illegal naval activity in the Gulf, including conducting live-fire military drills and seizing oil tankers.
Iran and its proxies also pose a direct threat to UAE territory.
The UAE was the target of missile strikes from Iran-backed Houthi militants in Yemen earlier this year.
The Houthis used ballistic missiles and armed drones to carry out the January 17 attacks on Abu Dhabi that killed two civilians working for Abu Dhabi National Oil Co., when three petrol tanks exploded near a storage facility.
Six others were wounded in the attack, which also ignited a fire in a construction area at Abu Dhabi airport. Emirati police said "small flying objects, possibly belonging to drones" were found.
On February 2, Emirati forces also intercepted and destroyed "hostile drones" targeting the UAE. A shadowy Iran-affiliated Iraqi militia group calling itself Alwiyat al-Waad al-Haq claimed the attack, in a statement circulated by Iran's proxies.
Houthi military spokesman Yahya Saree later "congratulated" Alwiyat al-Waad al-Haq for the operation, and senior Houthi official Mohammed Ali al-Houthi praised the attackers in a message on Twitter, before deleting the post.
"Thank you, free Iraq and its mujahideen," his message read.
The UAE's ties with Israel have also been a point of contention with Iran.
The UAE normalised ties with Israel in September 2020, and Israel offered direct air defence assistance to Abu Dhabi in July 2020, following the attacks earlier in the year.
Tehran has threatened to strike out at the UAE if it allows Israel to place military installations in its territory, the Wall Street Journal reported in July.