RIYADH -- Saudi authorities have thwarted an attempt to smuggle 47 million amphetamine pills into the country, the Saudi General Directorate of Narcotics Control (GDNC) and Zakat, Tax and Customs Authority announced Wednesday (August 31).
Six Syrians and two Pakistanis were arrested in a raid after the pills, concealed in a flour shipment, arrived in Riyadh and were taken to a warehouse, the Saudi Press Agency (SPA) reported.
A GDNC spokesman said it was the "biggest operation of its kind to smuggle this amount of narcotics into the Kingdom of Saudi Arabia in one operation", the agency said.
The report did not specify whether the pills were Captagon -- typically a mix of amphetamine, caffeine and various fillers -- nor did it say where the pills came from.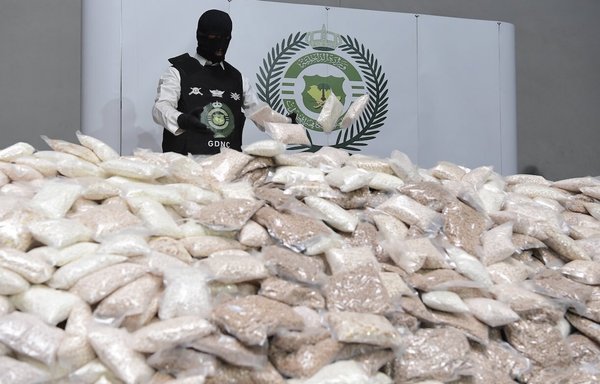 Saudi Arabia is the largest market for tablets bearing the Captagon logo, and the kingdom's customs agency seized 119 million of the pills last year.
The pills are produced mainly in Syria and smuggled to large consumer markets in the Gulf.
Hizbullah, the main culprit
Captagon trade in the Middle East grew exponentially in 2021 to top $5 billion, posing an increasing health and security risk to the region, a New Lines Institute report said in April.
On Tuesday, Saudi ambassador to Beirut Waleed Bukhari told reporters that his country had seized more than 700 million narcotic pills that had entered its territory via Lebanon over the past eight years.
In another smuggling bust on July 22, Saudi authorities discovered almost 15 million Captagon pills at the Red Sea port of Jeddah, according to the SPA.
In another notable bust, Saudi customs officials discovered more than 5 million Captagon pills hidden in a pomegranate shipment from Lebanon in April 2021.
The drug-smuggling attempts prompted the kingdom in April 2021 to ban the import of fruits and vegetables from Lebanon and their transit through its territory.
"The kingdom's authorities have in the past six years foiled attempts to smuggle more than 600 million amphetamine pills" coming from Lebanon alone, GDNC spokesman Maj. Mohammed al-Nujaidi said in March.
He accused the "Hizbullah terrorist militia" of being "the main source smuggling them and manufacturing them".
The kingdom's efforts to combat drugs are "clear and evident to all citizens", Saudi Brig. Gen. Abdullah Muhammad al-Humayqani told Al-Mashareq.
Many of these shipments can be traced back to Hizbullah, with the drugs originating in Captagon workshops in areas of Syria and Lebanon controlled by the Iran-backed party, which has a long history of dealing in narcotics.
Recent smuggling attempts have been thwarted by the vigilance of customs officials and by civilian tip-offs -- including from disgruntled Hizbullah insiders who feel cheated out of their share of the profits, security sources said.