The Lebanese army and military intelligence officers have carried out a string of successful drug busts around the country in recent weeks, seizing large quantities of narcotics such as hashish, cocaine and Captagon.
Amid the ongoing crackdown, security forces have taken illegal drugs and other contraband, such as weapons, out of the hands of Lebanese and foreign nationals, some of whom were wanted by the authorities.
Some had been monitored and tracked down, while others were caught in action.
On January 22, the army command announced that a patrol from the intelligence directorate had arrested two Lebanese and a Syrian in Sahraa Choueifat, south of Beirut, and seized illegal drugs and cash found in their possession, as well as a motorcycle.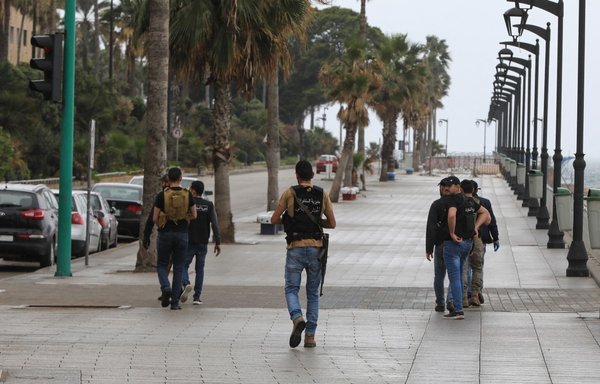 On January 14, a patrol also arrested a Syrian and a Palestinian in Sahraa Choueifat, who were wanted for "abusing and promoting narcotics" and for robbing and attempting to kidnap a girl, the army command said.
Security forces seized 86 sachets of cocaine and 47 sachets of base (crack) cocaine, along with 11 sachets of hashish. They also seized two motorcycles.
The same day, an intelligence directorate patrol arrested a Lebanese national and a Syrian in the town of Antelias, to the north of Beirut, for possessing and promoting narcotics, the army command said.
A day earlier, another patrol arrested a Syrian in Dawra municipality, to the north-east of Beirut, for abusing and promoting narcotics.
Intelligence directorate personnel seized a quantity of base (crack) cocaine, cocaine, Captagon pills and hashish found in his possession.
In Dbayeh, which is part of Mount Lebanon's Metn district, another patrol arrested a Syrian national for abusing and promoting narcotics and seized drug packets found in his possession.
In a January 8 statement, the army command announced the arrest of three Lebanese nationals in the Bekaa Valley town of Majdal Anjar.
The three men were apprehended on suspicion that they had been involved in smuggling a shipment of Captagon pills into Jordan a while ago, it said.
One of the men, a customs broker, cleared the documents for the illicit shipment, which was later seized by the Jordanian authorities, the statement said.
In a statement issued January 7, the army command said an intelligence directorate patrol, backed by an army force, had raided the residences of two suspects in al-Ghobeiri in the Baabda district of Mount Lebanon, south of Beirut.
They arrested two men, and seized ammunition, military equipment and narcotics from one of the residences.
The suspects had formed an armed gang that had been conducting armed robberies and dealing in weapons and ammunition, the army said.
They had participated in the street violence that broke out amid an October Hizbullah/Amal rally to demand the dismissal of Judge Tarek al-Bitar, who is investigating the Beirut port explosion, and in other violent incidents, it added.
Oranges and lemons
On December 30, an intelligence directorate patrol in the Ain al-Remmaneh area of Baabda district arrested a Lebanese national for selling drugs, after catching him driving a motorbike without legal papers, the army said.
Security forces seized a large quantity of drugs found in his possession.
And on December 29, the Interior Ministry said Lebanese authorities had intercepted a shipment of fake oranges that were concealing nearly nine million Captagon pills at Beirut's port, AFP reported.
A customs officer said the cargo was en route to Kuwait, with the Captagon tablets hidden in small bags inside fake oranges among a real fruit shipment.
It was the second regional seizure in a week of Captagon hidden in fruit, with Dubai police on December 23 reporting they had arrested four men for trying to smuggle millions of dollars worth of Captagon into the United Arab Emirates.
The more than one million pills seized in Dubai were concealed in plastic lemons among a shipment of real lemons.
Saudi Arabia suspended the import of fruit and vegetables from Lebanon in April, after the seizure of more than five million Captagon pills hidden in fruit shipments. Many have blamed Hizbullah for the decision.
Kidnapping and organ trading
An intelligence directorate patrol in New Sheileh, Mount Lebanon, on December 26 apprehended three individuals as they travelled in a car together and arrested them for possessing narcotics, the army command said.
They seized nearly 8kg of illegal drugs, including hashish, found inside the car and at the residence of one of the suspects, along with a gun and electrical detonator, it added.
In Hermel, on December 16, an intelligence directorate patrol arrested a wanted man who had been accused of kidnapping people for ransom and smuggling others in exchange for payment.
Warrants issued for his arrest said he also had been involved in organ trading, car theft, raping kidnapped people, falsifying passports, arms trading and firing weapons and rocket-propelled grenades (RPGs), and promoting narcotics.
According to a December 2 statement, an army force backed by a patrol from the intelligence directorate raided the homes of a number of wanted persons and drug-manufacturing laboratories in the Baalbek town of Dar al-Wasea.
They came under heavy fire during the raid but succeeded in arresting one individual and seizing machines, equipment and raw materials used in the manufacture of illegal drugs from one of the laboratories.
They also seized more than 50kg of processed and unprocessed cannabis and a large quantity of Captagon pills, the army said.
Lebanon's armed forces over the past year have continued to receive global support -- including from the United States -- affirming once again their key role in maintaining Lebanon's stability.